Baltimore, MD (IOCC) — Syria's civil war has created the greatest refugee upheaval since WWII, with 4.8 million Syrian men, women and children fleeing their homeland in search of refuge in other countries across the Middle East and Europe. An additional 6.6 million have been displaced in their own country. International Orthodox Christian Charities (IOCC) is providing life-saving humanitarian aid to Syria's displaced and exiled people through programs that provide emergency relief including food, clean water, shelter, medical assistance, education support, crisis counseling and economic recovery.
LEBANON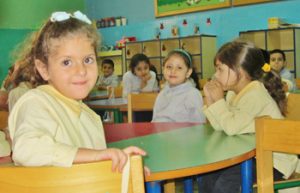 Syria's refugee children face a grim future in foreign lands without an education to provide them with the life and job skills they'll need later in life. Access to learning also restores hope and dignity in children driven from their homes. IOCC is working to help provide an education for thousands of refugee children in Lebanon. Along with support for their education and daily distributions of nutritious school snacks to 10,000 students, IOCC has also upgraded the water and sanitation systems of more than 110 public schools to accommodate the influx of Syrian refugee students and help improve learning conditions for them and their Lebanese classmates.
JORDAN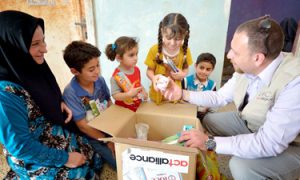 When her village near Aleppo came under attack in 2013, Nahla, 32, led her five young children to the city under the cover of night to avoid snipers. They made it to a Jordan-bound bus and safety in the capital city, Amman. Her husband, who has worked as a day laborer in Jordan since before the war, doesn't earn enough to sustain a family of seven used to living off the bounty of their farm. Each day is filled with uncertainty and the fear of eviction or hunger. IOCC is responding to the urgent needs of hundreds of vulnerable Syrian refugee families like this one in Jordan with rent support, food parcels and hygiene items for home and personal use.
GREECE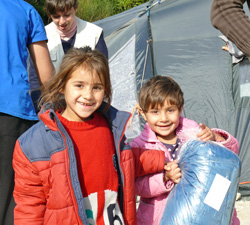 Thousands of Syrian families have endured a long and grueling trip by land and sea to escape war in their country. Their world is packed in the bags they carry with them. More than 55,000 refugees and migrants are stranded in Greece now that the borders to the rest of Europe have been closed to them. IOCC is working to ease the hardships facing these vulnerable Syrian refugee families. Along with providing bunk beds and sleeping bags to travel weary families on Samos, IOCC is also providing hot meals, hygiene kits and baby supplies to them and to asylum seekers on Chios and mainland Greece.
Since 2012, IOCC has provided humanitarian relief to four million Syrian people displaced in their own country, or living as refugees in Jordan, Lebanon, Iraq, Armenia, Greece and Serbia. Today on World Refugee Day, we remember the many people forced to flee violence and persecution around the world. To learn more about how you can help refugees and asylum seekers, visit iocc.org/syria
###
ABOUT INTERNATIONAL ORTHODOX CHRISTIAN CHARITIES
IOCC is the official humanitarian aid agency of the Assembly of Canonical Orthodox Bishops of the United States of America. Since its inception in 1992, IOCC has delivered $580 million in relief and development programs to families and communities in more than 50 countries. IOCC is a member of the ACT Alliance, a global coalition of more than 140 churches and agencies engaged in development, humanitarian assistance and advocacy, and a member of InterAction, the largest alliance of U.S.–based secular and faith-based organizations working to improve the lives of the world's most poor and vulnerable populations. To learn more about IOCC, visit iocc.org.