A Warm Welcome in Southern Lebanon
By Chrysanthe Loizos, IOCC Lebanon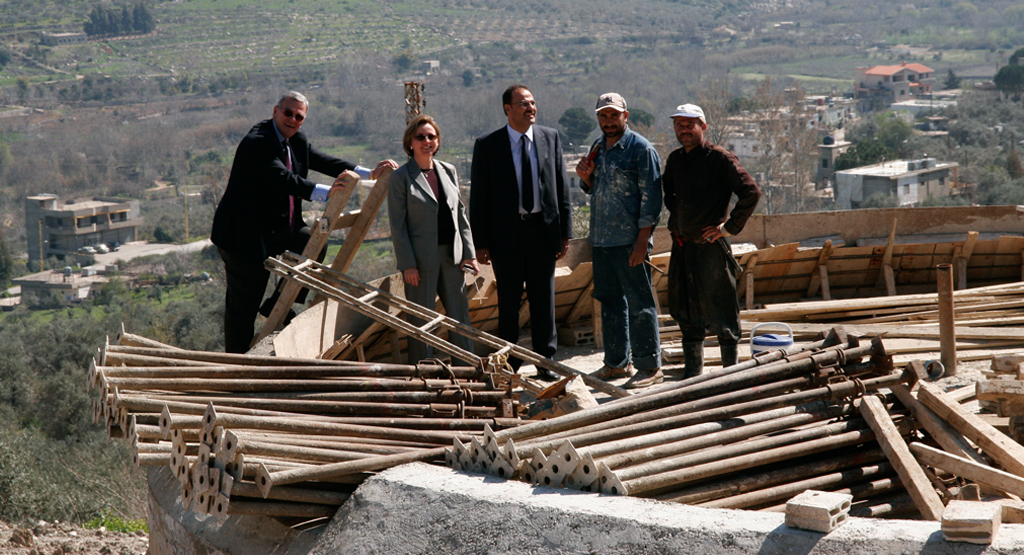 Baltimore, MD (April 26, 2007) — It was a short climb: International Orthodox Christian Charities (IOCC) Chairman of the Board Alex Machaskee and Board Member Anne Glynn-Mackoul scaled a wooden ladder to reach the top of a concrete water reservoir. They were in southern Lebanon with IOCC Executive Director Constantine M. Triantafilou to visit some of the people and villages that IOCC has assisted since last summer's war. Standing on top of the reservoir was the best way to appreciate one of the more than thirty water projects implemented by IOCC in southern Lebanon in recent months.
"We take our water supply for granted in the United States, which is not the case in southern Lebanon," said Machaskee. "By building a reservoir in the village of Kaoukaba, IOCC has assured the inhabitants a continuous supply of this precious commodity."
Kaoukaba is an agricultural village mainly known for its olive groves, and for fruit production along the Hasbani River. The village is blessed with a natural spring, but residents weren't able to maximize its benefits without a place to store the spring's water. "The whole village will benefit from the reservoir," said municipality member Suleiman Salim Nakkour, who personally thanked the IOCC executives. "Even some neighboring villages will come and take water from it. Now we will be able to manage all of our water needs."
Situated only 7 miles from the Israeli border in the shadow of Mount Hermon, nearly all of Kaoukaba's residents evacuated during last summer's conflict, and more than 30 homes were damaged.
The day in southern Lebanon included a visit to the Orthodox Diocese in Marjayoun, where the group was received by His Eminence Elias Kfoury, Metropolitan of Tyre, Sidon and their dependencies. "Recently we felt your presence fruitful [in] helping the people," His Eminence told the group. "We are proud of you, not only because you are Orthodox, but because of your work, your presence and your love of Lebanon."
His Eminence accompanied IOCC to the village of Hebbariyeh, where they were welcomed by members of the community and the village's Sheikh, Abdel Hakim Atwi. Seated beside His Eminence at the head of a long table, Atwi thanked IOCC for the assistance it has provided to the village. "This is charity, and God loves charity," Atwi said. "It's important for people to unite and do good things." Metropolitan Elias also took the opportunity to remind those gathered that "IOCC provides assistance without discrimination."
Hebbariyeh's mayor, Shawki Youssef, thanked IOCC particularly for assisting the village's disabled residents in the aftermath of the conflict. Since the war, IOCC has provided heating fuel, hygiene kits and seedlings to 43 families in the village, 38 of which have a disabled family member. Youssef presented IOCC with an engraved bronze plaque of appreciation, and told IOCC Board Members and staff, "Please consider Hebbariyeh as your town. You are welcome among us anytime."
"We felt most honored by this welcome and recognition in Hebbariyeh, to witness the warm mutual respect among those gathered and to have IOCC's efforts in the area appreciated by the whole community," said Glynn-Mackoul.
Each of the group's visits while in southern Lebanon underscored what for Triantafilou was the most important aspect of the trip. "We are accomplishing our goals together with local partners, and that is very important," he said. "You could see the sincerity, the respect and the commitment in the relationships."
Through a grant by the U.S. Government's Office of Foreign Disaster Assistance (OFDA), IOCC has provided continuous humanitarian assistance to more than 3,500 families in southern Lebanon since last summer's conflict. In the immediate aftermath of the war, IOCC gave families hygiene parcels and blankets. In the months since, they have received a four month supply of diesel fuel to heat their homes during the winter. IOCC is also repairing 23 schools and installing water systems in 30 villages. More than 90,000 women and children who have suffered from war-related trauma will receive psycho-social support. IOCC's relief work in southern Lebanon is also supported by Action by Churches Together (ACT), International.
###