After War in Georgia, a Retiree Struggles to Rebuild His Life
by Ryan Erickson/IOCC Georgia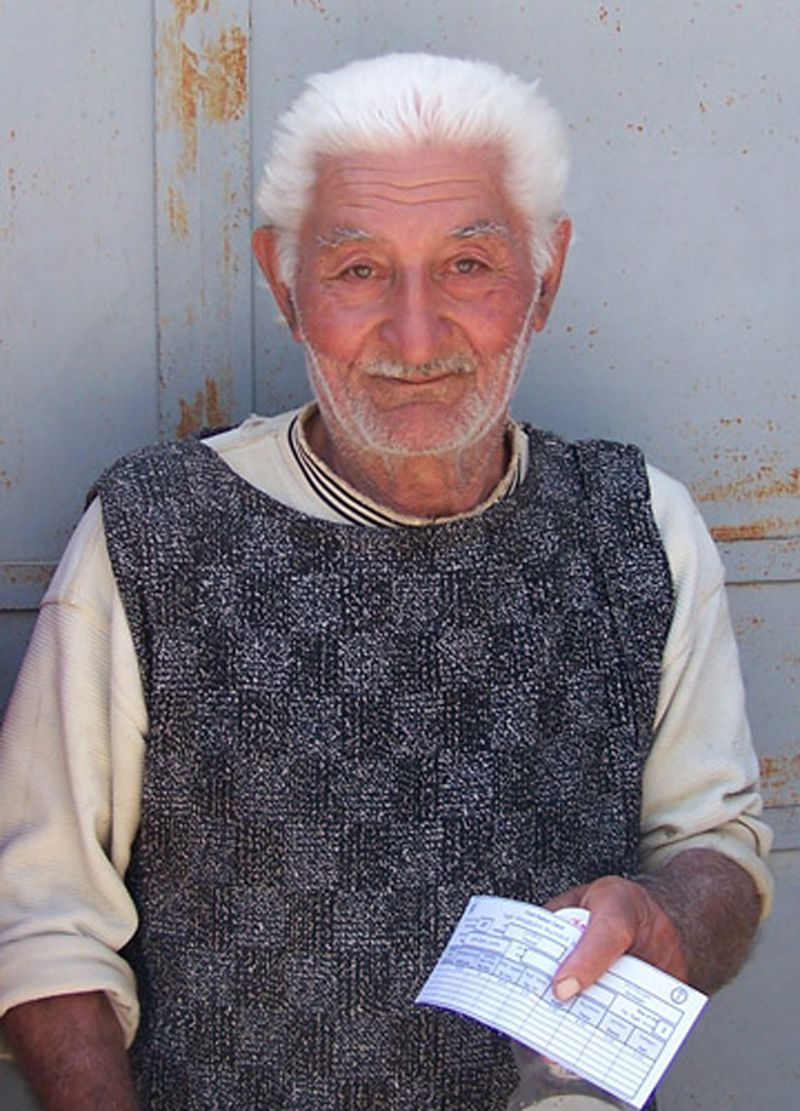 Shida Kartli, Georgia (July 14, 2009) — When Gaioz and his wife moved back to his childhood village of Brotsleti six years ago, they hoped to live out the rest of their lives in peace and quiet. With a proud smile on his worn face, 76 year-old Gaioz recalls life in the industrial city of Rustavi where he supported his wife and two children by working in one of the factories. But upon reaching retirement age, Gaioz longed for the green fields and fruit orchards of his childhood, and so he returned to Brotsleti in the Shida Kartli region of Georgia. To supplement his small pension, Gaioz raised cattle, and this was enough to give them a simple but comfortable life.
But Gaioz's dream of a peaceful retirement was shattered when war broke out last August between Russian and Georgian forces. Just five kilometers from the territory of South Ossetia, the village of Brotsleti was one of the first casualties of the war.
As bombs began to fall on the village, the only safe place to take refuge was in the orchards. "We hid in the orchards for ten days," Gaioz recalls, "At 2 am every night, the bombs and fighting stopped. That's when we would run home and grab food from the pantry."
When the fighting ended, Gaioz and his wife considered themselves lucky when they discovered that though their house had been looted, at least it had not been burned down. Unfortunately, however, all of Gaioz's cattle – his only source of livelihood – had been shot to death. To make matters worse, water that once flowed from South Ossetia and irrigated the fields was diverted in retaliation by Brotsleti's neighbors to the north, depriving other villagers of their livelihoods, too. As a result, this farming village is still struggling to survive several months after the war.
In order to help people like Gaioz, IOCC, in partnership with the United Nations' World Food Program (WFP), has begun distributing essential food items (flour, beans, pasta, oil, sugar, and salt) to villagers in need throughout the Shida Kartli Region.
Active in Georgia since 1994, IOCC was well prepared to respond to the humanitarian disaster following last August's war. With a $200,000 grant from the Office of U.S. Foreign Disaster Assistance, IOCC provided emergency assistance in the weeks following the war. Since then, IOCC has worked with the WFP to distribute food to other war-torn regions of Georgia, and has also teamed up with the Georgian Orthodox Church – IOCC's long-time partner in Georgia – to provide counselors to the traumatized through a psychosocial support program.
Back in Brotsleti, Gaioz clutches his ration card and patiently waits in line under the hot sun. Zaza Macharashvili, IOCC's Field Project Manager, says that despite the hardships they face, Gaioz and his fellow villagers are "determined to remain in Brotsleti. Our hope is that the irrigation issue will be resolved in the near future, and that they can begin to farm again."
To help in providing emergency relief, call IOCC's donation hotline toll-free at 1-877-803-4622, make a gift on-line at www.iocc.org, or mail a check or money order payable to "IOCC" and write "Conflict in the Caucasus" in the memo line to: IOCC, P.O. Box 17398, Baltimore, Md. 21297-0429.
IOCC, founded in 1992 as the official humanitarian aid agency of the Standing Conference of Canonical Orthodox Bishops in the Americas (SCOBA), has implemented over $300 million in relief and development programs in more than 33 countries around the world.
###