Alone in a Foreign Land, Syrian Refugees Face New Fears and Sacrifices
International Orthodox Christian Charities (IOCC) marks World Refugee Day in remembrance of the sacrifices made by refugee families all over the world.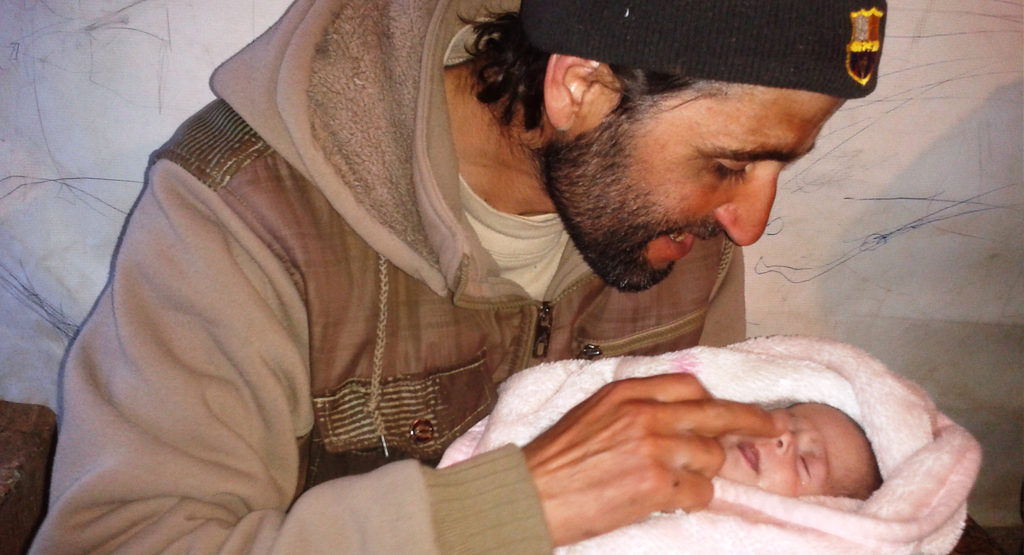 Baltimore, MD (June 19, 2013) — When violent clashes suddenly erupted in his Aleppo neighborhood, Faruk, 33, his pregnant wife, Mona, and their three children left their home in Syria and the only life they had ever known to make the exhausting, 160-mile trek to Lebanon's Bekaa Valley. Arriving safe but penniless and alone in a foreign land, the former construction worker fashioned a small shelter out of scavenged scrap metal for his family. The long and difficult journey made Mona seriously ill. Faruk took her to several hospitals in search of help, only to be turned away from each one because he couldn't pay for her care.
With his wife's life at stake, he pleaded with strangers for any help they could give and eventually scraped together enough money to cover the hospital fees. Mona gave birth to a little girl, but the long journey and harsh living conditions in their makeshift home took their toll on her weakened body and she passed away four days later. A devastated Faruk, who left Syria out of fear for the safety of his family, was now a widower filled with a new fear – how to care for a newborn and three more children with no means to support them.
Faruk's vulnerability as a refugee is shared by the 1.6 million Syrian children and adults who have fled to foreign lands with nothing but a desire to distance themselves from the violence and bloodshed they left behind. The vast majority of refugees are dependent on humanitarian relief, arriving with little more than the clothes on their backs. The life of a refugee quickly becomes a fragile balance of living in safety, but struggling day-to-day to survive without adequate housing, food and healthcare.
IOCC, an ACT Alliance member, is responding to young mothers, like Mona, who are among the most vulnerable refugees fleeing Syria, faced with great risk to their own health and uncertainty about their newborn's survival. In Lebanon, IOCC is working to help protect the well-being of refugee mothers and infants by providing prenatal care for expectant mothers, access to hospital deliveries in Bekaa, and postnatal care. More than 500 expectant mothers have received such assistance from IOCC to date.
The greatest challenge facing humanitarian efforts by IOCC and other relief agencies in Lebanon is meeting the rising demand. According to the UN High Commissioner of Refugees (UNHCR), more than 250,000 Syrians are fleeing their country each month.
"The reported number of nearly 550,000 Syrian people in Lebanon who are registered or in the process of being registered as refugees represents only a fraction of the real number of Lebanon's Syrian refugee population in desperate need of humanitarian relief," said Mark Ohanian, IOCC Director of Programs. "In actuality, there are more than double that number of Syrian refugees in Lebanon who need help and that dilemma is being mirrored in Jordan. The overwhelming need is straining the resources of the host countries and outpacing IOCC's efforts in trying to respond."
Registering with UNHCR as a refugee is the first step in providing them with assistance and protection, but the wait to register can take up to a month because of the spike in the number of Syrians entering into Lebanon. IOCC is working to fill that gap, providing relief to vulnerable refugees whether they have registered or not, and helping to intervene before more families like Faruk's have to sacrifice the life of a loved one.
Since 2012, IOCC has assisted more than 630,000 people displaced inside Syria or living as refugees in Jordan, Lebanon and Iraq with emergency relief supplies including bedding, blankets, cooking items, food, medical care and education assistance.
HOW YOU CAN HELP
IOCC is urging the public to pray for our neighbors in need, and to assist by assembling personal hygiene kits and infant kits for distribution to displaced families. Instructions for preparing Emergency Kits may be found at www.iocc.org/kits.
You can make a difference for refugees and others in need around the world by making a financial gift to the International Emergency Response Fund which will provide immediate relief, as well as long-term support through the provision of emergency aid, recovery assistance and other support to help those in need. To make a gift, please visit www.iocc.org or call toll free at 1-877-803-IOCC (4622), or mail a check or money order payable to IOCC, P.O. Box 17398, Baltimore, MD 21297.
###
IOCC is the official humanitarian aid agency of the Assembly of Canonical Orthodox Bishops of the United States of America. Since its inception in 1992, IOCC has delivered $438 million in relief and development programs to families and communities in more than 50 countries. IOCC is a member of ACT Alliance, a global coalition of more than 130 churches and agencies engaged in development, humanitarian assistance and advocacy.