Ancient Monastery Cultivates Good Will in Kosovo
IOCC's Partnership with the Monks of Visoki Decani Produces Wine and Interethnic Cooperation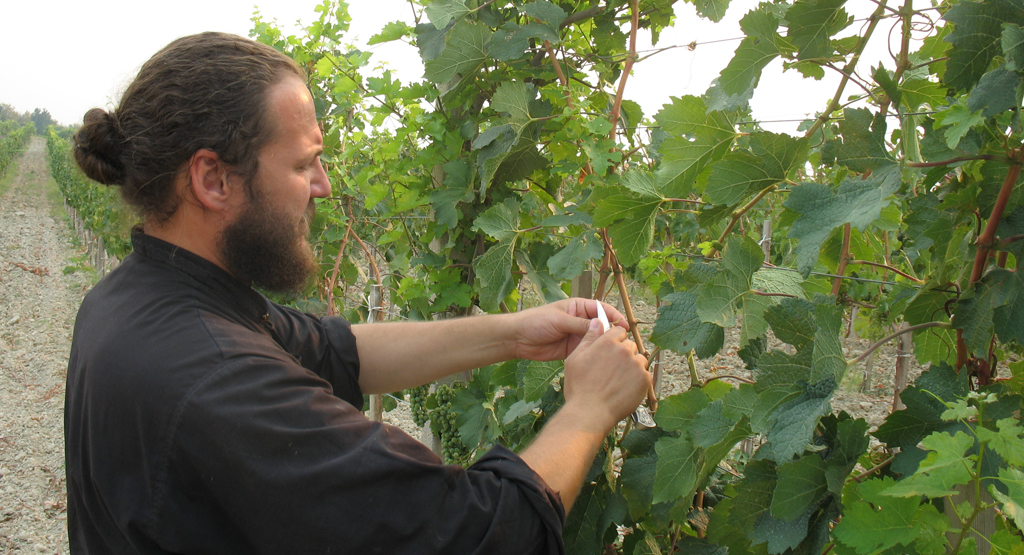 Kosovo, Serbia (August 20, 2007) — As a boy tending his grandfather's vineyards in the Croatian foothills, Dragomir Diklic never imagined that his beloved homeland of Yugoslavia would someday collapse and be divided. In the ensuing years Yugoslavia, now a divided country, descended into civil war and the young boy grew up to become an Orthodox monk and — like his grandfather before him — a winemaker.
Diklic, tonsured as Father Marko, now lives in Kosovo, the spiritual and ancient homeland of Serbia, where for the past eight years he has tended the winery belonging to his monastery, the medieval Visoki Decani. The monks of Visoki Decani have been making wine in the region of Metohija for more than 600 years. Today, through a partnership with the U.S. based humanitarian aid organization, International Orthodox Christian Charities (IOCC), the Visoki Decani winery is being repaired and expanded. This expansion will not only increase wine production and create more job opportunities for the residents of Velika Hoca, the winery's location, but also will encourage greater cooperation between Kosovo's ethnic Serbian and Albanian communities.
"The climate for grape growing is excellent in this region," says Father Marko, who oversees production of about 27,000 liters annually of Cabernet, Merlot and Rakija, Serbian homemade brandy. In partnership with IOCC, the winery has just completed the first stage of a renovation including major repairs to the roof. This is the building's first significant rehabilitation since 1850.
Two 15,000 liter wine barrels from Croatia are due in September and Father Marko hopes to raise further funds for three more barrels. With additional equipment provided by IOCC, the winery will be able to increase its production capacity four-fold to 100,000 liters annually. More wine means more grapes purchased from more ethnic Serbian and Albanian growers resulting in cooperation and better relations between the two communities. "Albanian grape growers have a good attitude towards the winery and to Visoki Decani," says Father Marko who has studied in wineries of France and Italy and shares his knowledge on growing grapes with Serbian and Albanian farmers.
His contact with the Italian United Nations peace-keeping forces guarding Visoki Decani Monastery 24 hours-a-day allowed Fr. Marko to meet winemakers in Tuscany. Like other Serbs, Father Marko is taking a daily risk living in Kosovo. "There continues to be a problem with the lack of movement," he says. "Sometimes people do not have guards to escort them so they travel with two cars for safety. If they go through a village of another ethnic group they go very fast." Community leaders also report that Serbian children must be taken to school under armed escort.
The situation has forced many young Serbs to leave Kosovo in order to seek work and security in central Serbia. They return to Kosovo regularly in order to maintain their residency status, but many have left permanently.
"I felt a calling to be here, and I want to stay here as long as possible," says Father Marko who has lived in Kosovo for the last 17 years. The monks of Decani, who have a history of peaceful cooperation with their Albanian neighbors, sheltered those neighbors during the 1999 NATO bombing campaign. "For Serbs, Kosovo is holy land," says Father Marko, "and Visoki Decani has become the spiritual center for all Serbs today."
IOCC has been active in Kosovo since 1993. During the NATO bombing campaign of 1999, IOCC was one of only three international relief organizations to maintain an operational presence in the region, providing continuous humanitarian assistance to refugees and displaced persons in both Serbia and Montenegro. Since its inception in 1992 IOCC has provided more than $250 million in emergency aid and long-term development programs in 33 countries.
###