Antiochian Orthodox Archdiocese Supports IOCC Hurricane Relief Efforts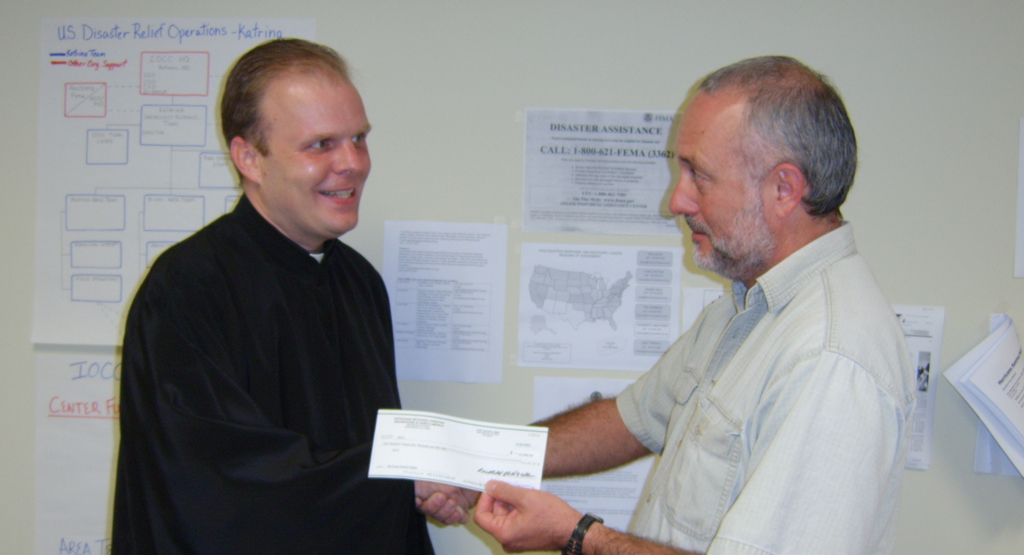 Baltimore (September 27, 2005) — In a presentation made at one of three International Orthodox Christian Charities (IOCC) emergency response centers in the Gulf Coast region, Fr. John Salem of St. George Antiochian Orthodox Church presented a $125,000 contribution to the IOCC hurricane relief efforts on behalf of the Antiochian Orthodox Christian Archdiocese of North America on September 20, 2005.
"It has been, and always will be the policy of this God-protected Archdiocese to help our brothers and sisters around the world who have suffered from natural disasters. In this case, the need is at home," wrote His Eminence Metropolitan Philip in a pastoral letter sent to all parishes of the Antiochian Archdiocese shortly after Hurricane Katrina struck.
The support for the IOCC hurricane relief efforts was the result of collections taken throughout the Archdiocese over two Sundays in September.
Leonidas "Lee" Kapetanakis, an Emergency Response team member from Houston, Texas and IOCC Board Member accepted the contribution on behalf of IOCC.
IOCC's pan-Orthodox Emergency Response Network has established parish-based response centers in Baton Rouge, Louisiana, Mobile, Alabama, and Houston, Texas.
The funds contributed by the Antiochian Archdiocese will be used to assist in responding to the emergency needs as well as to support the long-term recovery efforts in the Gulf Coast region.
Founded in 1992, IOCC is the official humanitarian aid agency of the Standing Conference of Canonical Orthodox Bishops in the Americas (SCOBA).
###