Archbishop Ieronymos Announces IOCC Aid to Greek Hospitals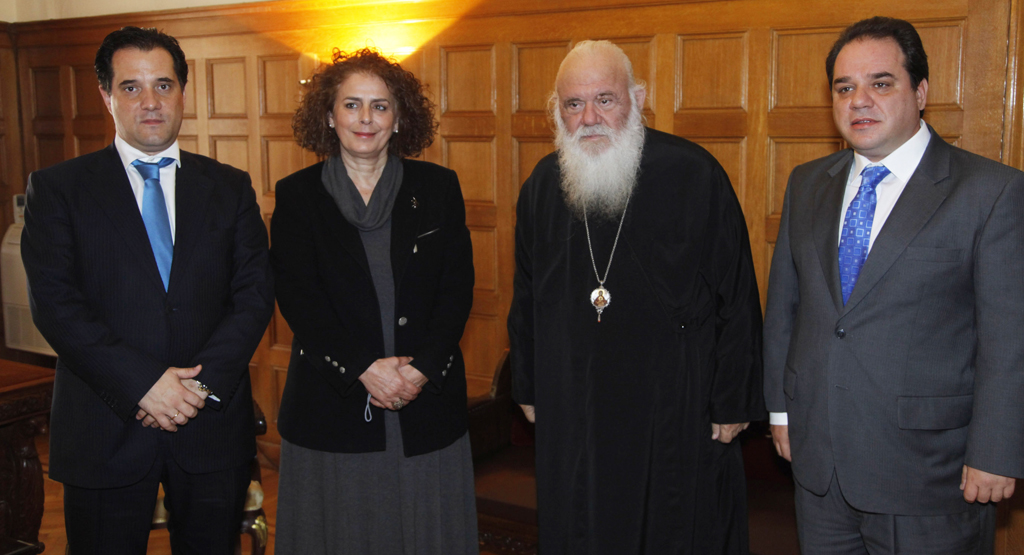 Athens, Greece (IOCC) — His Beatitude Archbishop Ieronymos of Athens and All Greece recently met with the Greek Minister of Health, Adonis Georgiadis, to announce support for Greek hospitals with the shipment of five containers of medical supplies valued at nearly $4 million. The Archbishop was joined by Apostoli General Director, Constantinos Dimtsas and IOCC Program Coordinator in Greece, Despina Katsivelaki, to discuss the most effective way to distribute the aid to benefit public hospitals facing shortages of essential medical supplies.
Through the support of The Jaharis Family Foundation, Inc. and its "Give for Greece" Challenge Gift to International Orthodox Christian Charities (IOCC), the five containers of medical supplies will include disposable medical equipment, syringes, gloves, gauze, bandages and hundreds of other items. IOCC, working in cooperation with the Ministry of Health and Apostoli, the charitable arm of the Archdiocese of Athens, will distribute the provisions to hospitals across the country over the next 12 months.
"I am here with His Beatitude to organize the distribution of medical supplies from the Archdiocese of America and IOCC made possible by the Challenge Gift from the Jaharis Family Foundation, Inc. to hospitals in our country," said Health Minister Adonis Georgiadis. "I want to thank His Beatitude for this donation to Greece at a time when we have very great needs. The offer will cover the needs of the poor and I thank you very much for that."
In 2012, IOCC, the official humanitarian aid agency of the Assembly of Canonical Orthodox Bishops of the United States of America, began responding to emerging hunger and welfare needs faced by a growing number of Greeks as a result of the country's faltering economy and massive unemployment. With the support of The Greek Orthodox Ladies Philoptochos Society, AHEPA, the Pancretan Association of America and private donors, IOCC has provided medical supplies valued at more than $4.5 million over the past two years.
"I am delighted we met today with the Minister on a key issue. Greeks living in the United States and the Archdiocese of America cared and responded to our requests," said Archbishop Ieronymos. "Today we met with the Minister on how to channel this donation. The Minister responded immediately and next week there will be a meeting to determine the recipients."
In addition to medical aid, IOCC is providing vulnerable families in Greece with essential food assistance. Through the support of the Jaharis Family Foundation, Inc., more than 1.7 million people in Greece are slated to receive more than $8 million in food, medical supplies and heating fuel assistance over the next year.
HOW YOU CAN HELP
You can help families in Greece and have your gift doubled through the Jaharis Family Foundation, Inc. Challenge by making a financial gift to the Give for Greece Challenge. To make a gift, please visit www.iocc.org/GiveForGreece or call toll free at 1-877-803-IOCC (4622), or mail a check or money order payable to IOCC, P.O. Box 17398, Baltimore, MD 21297.
###
IOCC is the official humanitarian aid agency of the Assembly of Canonical Orthodox Bishops of the United States of America. Since its inception in 1992, IOCC has delivered $438 million in relief and development programs to families and communities in more than 50 countries. IOCC is a member of the ACT Alliance, a global coalition of more than 140 churches and agencies engaged in development, humanitarian as-sistance and advocacy. To learn more about IOCC, visit www.iocc.org.