Balkans Still Recovering One Year after Catastrophic Floods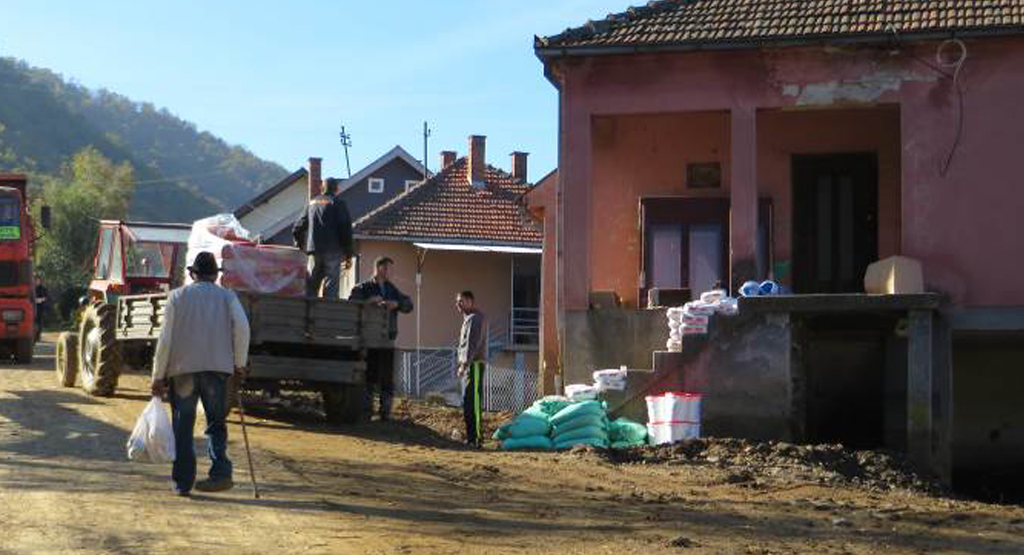 Baltimore, MD (May 19, 2015) — It's been a difficult year since record rainfall drenched the Balkans last spring, unleashing the worst flooding in more than 100 years and leaving a trail of destruction across Serbia and Bosnia-Herzegovina. More than 70 people lost their lives, while hundreds of thousands of survivors had to evacuate as family homes and farms, roads and utilities were damaged or destroyed. Relentless summer and fall rains renewed flooding, which slowed recovery and threatened to keep many families from having warm and dry shelter in time for winter.
"I have never felt so scared and helpless in all my life," recalls Ljubica, of the day last May when forceful floodwaters rushed through the doors and windows of her modest home in Šamac, Bosnia. She and her husband, Živko, both disabled, sat trapped and helpless as cold, muddy waters quickly rose toward the ceiling. Neighbors managed to carry the couple up to the attic where they spent 13 days living on food and water rations delivered by rescue boats and waiting for the floodwater to subside. When it did subside, their wood stove and water heater were all that was spared. Everything else in the couple's home of 40 years was carried away by water or buried under a foot of mud and silt.
In neighboring Serbia, Mladen, 32, a Kosovo refugee, had just moved his pregnant wife, Dragica, and their son, Stevan, 2, from his mother's cramped apartment into a newly renovated two-bedroom cottage near the town of Kraljevo. Mladen purchased the dilapidated house in 2012 with savings from his job at a local trucking company, and then spent the next two years rebuilding it by himself after work and on weekends. It was going to be a fresh start for him and his family. One month after they had settled in, the May floods engulfed the rooms within minutes, destroying everything inside and leaving the young family without a home once again. "I lost my home in Kosovo when I was 17," said Mladen. "Going through it once more was heartbreaking for me and for my wife." "I was beyond tears," added Dragica quietly.
From its offices in Serbia and Bosnia, International Orthodox Christian Charities (IOCC) responded on the heels of the disaster, ensuring the delivery of relief to vulnerable families in the region's hardest hit communities. Through the financial support of church and private donors in the US, Australia and New Zealand, and close cooperation with local partners, the Serbian Orthodox Church and the Red Cross, IOCC's ongoing assistance has helped thousands of survivors like Ljubica and Mladen return to their homes and resume their lives. More than 800 families have received support from IOCC with cleanup, home repair kits filled with construction materials, or replacement stoves and refrigerators.
The raging waters not only damaged homes and businesses, but also swept away desks, books, computers and lab equipment from school classrooms. Schooling came to a standstill for the 950 students of Šamac. Through your support, IOCC has helped restore the learning environment for the community's schoolchildren. Replacement desks, blackboards, computers, and teaching materials now fill the classrooms at Šamac Primary School. At nearby Nikola Tesla High School, future pharmacists and chemists can pursue their studies in the newly equipped chemistry lab. "The children and their families in this community have suffered great losses from the floods," said Principal Milivoje Dzombic. "The restoration of the school, and especially the lab, also restores the morale in these high school students and gives them the will to continue their education."
More than 1,400 schoolchildren from the Serbian towns of Kladovo and Obrenovac suffered similar losses in their communities. The only primary school in the village of Tekija near Kladovo was so badly damaged by waves of mud and debris that the entire student body has had to be bussed daily to a school in Kladovo. IOCC is taking action with the installation of a new roof and heating system to be completed in time for Tekija's children to return to their own school next fall.
In Obrenovac, IOCC provided new teaching tools and replacement equipment for the science labs in the town's two primary schools. IOCC also responded to the tremendous loss of personal school supplies by distributing school kits to more than 30,000 school aged children living in the region's flood affected communities, and to care facilities for orphaned and disabled children.
IOCC, an ACT Alliance member, has had a humanitarian presence in the Balkans since 1992 when it opened its Belgrade office at the invitation of the Serbian Orthodox Church to respond to the humanitarian crises created by the break-up of the former Yugoslavia. Two decades later, IOCC continues to focus on long-term, self-sustaining activities aimed at addressing the diverse and changing needs of the society.
###
IOCC is the official humanitarian aid agency of the Assembly of Canonical Orthodox Bishops of the United States of America. Since its inception in 1992, IOCC has delivered $534 million in relief and development programs to families and communities in more than 50 countries. IOCC is a member of the ACT Alliance, a global coalition of churches and agencies engaged in development, humanitarian assistance and advocacy.