Born into Uncertainty, Syria's Youngest Refugees Struggle to Survive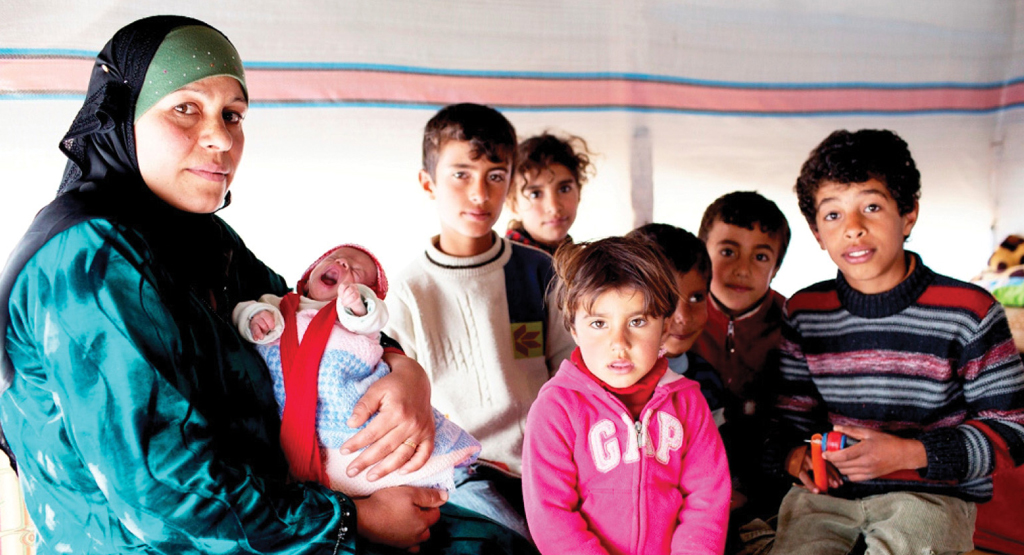 Baltimore, MD (February 28, 2013) — Samira, 32, was eight months pregnant when she was forced to flee her home in Syria with her six small children. After a grueling 12-hour journey, Samira and her children arrived at a settlement in western Lebanon's Bekaa Valley with nothing other than her identity papers. They now live in a crudely constructed tent of wood and billboard vinyl, with a small diesel heater that does little to keep out the cold and damp. "I am not comfortable here," Samira says. "The situation is very bad for my children. I am worried about their health." Samira's youngest child, Ahmed, just a few weeks old, is underweight.
Expectant and new mothers are among the most vulnerable refugees fleeing Syria, faced with great risk to their own health and uncertainty about their newborn's survival under such precarious conditions. International Orthodox Christian Charities (IOCC), a member of the ACT Alliance, is working to help protect the well-being of displaced Syrian mothers and infants by providing prenatal care for expectant mothers living in the harshest conditions, providing access to hospital deliveries in Bekaa, and following up with post-natal care. More than 150 expectant mothers have received healthcare support from IOCC, and 100 refugee women have delivered their babies with assistance from IOCC and local relief partners.
The focus on mothers and infants is aimed at decreasing the heightened risk of mortality among vulnerable women and infants. UNICEF reports that the stress of the conflict is having a damaging effect on expectant Syrian mothers; a rise in early deliveries, miscarriages and double the number of Caesarean sections compared with the same period last year. Working in partnership with University of Balamand in Lebanon, IOCC is also hosting support group sessions to educate mothers on emergency infant nutrition through breastfeeding. According to the World Health Organization, small children are the most vulnerable groups of refugees, as they face a triple risk of death from diarrhea, pneumonia and under-nutrition. "While sickness and displacement are perhaps the most visible problems for refugee mothers and their children," says IOCC Lebanon Program Manager, Linda Shaker-Berbari, "the lack of proper early nutrition in infants is costing precious lives. We need to arm refugee mothers with the knowledge that breastfeeding provides the most portable and most protective nourishment possible for their baby's survival."
More than 30 Lebanese healthcare workers trained by IOCC on nutrition and proper infant and young child feeding practices in emergencies are passing that knowledge onto pregnant and lactating refugee women living in the Bekaa region, and helping mothers establish breastfeeding to help preserve the health of their babies. Samira received regular visits from IOCC healthcare workers throughout her pregnancy, and continues to receive assistance since the birth of her son. She is grateful for the lifesaving support she has received, but still fears for baby Ahmed and her other children. "I don't think the situation in Syria will improve anytime soon, it will not be solved soon. I wish I could return, but I can't now."
Since March 2012, IOCC has assisted more than 330,000 Syrian people displaced in their own country, or living as refugees and the neighboring countries of Jordan and Lebanon. Vulnerable children, women, families and elderly have been provided with emergency relief such as food parcels, winter clothing, cooking and heating stoves, rent assistance, trauma counseling and remedial education.
HOW YOU CAN HELP
You can help the victims of poverty and conflicts around the world, like those in Syria, by making a financial gift to the International Emergency Response Fund which will provide immediate relief as well as long-term support through the provision of emergency aid, recovery assistance and other support to help those in need. To make a gift, please visit www.iocc.org or call toll free at 1-877-803-IOCC (4622), or mail a check or money order payable to IOCC, P.O. Box 17398, Baltimore, MD 21297.
###
IOCC is the official humanitarian aid agency of the Assembly of Canonical Orthodox Bishops of the United States of America. Since its inception in 1992, IOCC has delivered more than $400 million in relief and development programs to families and communities in 50 countries. IOCC is a member of the ACT Alliance, a global coalition of more than 130 churches and agencies engaged in development, humanitarian assistance and advocacy.