Center a Haven for Romania's Poorest Children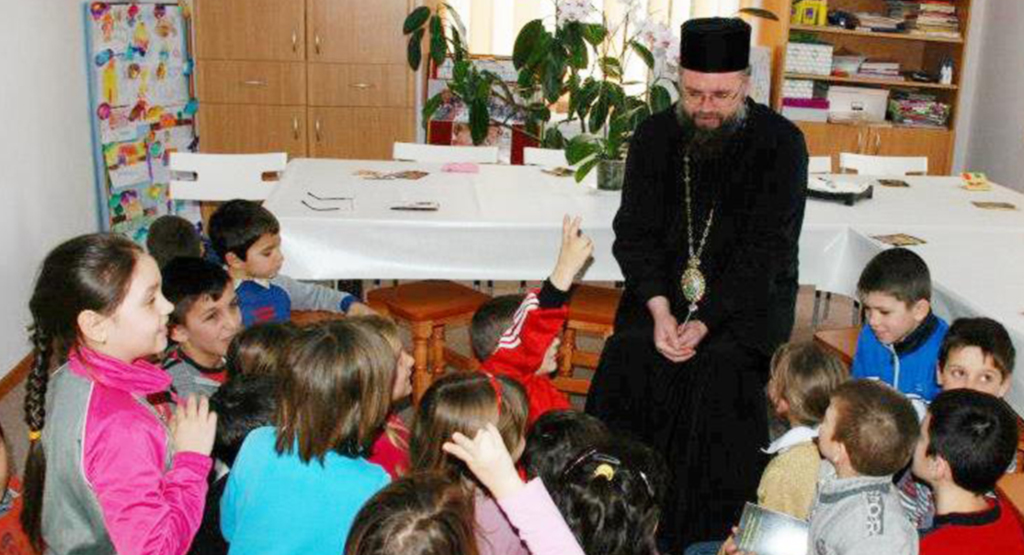 Baltimore, MD (April 8, 2013) — It's a big day for the youngsters at Joy Aid Foundation daycare center in Urlati, Romania. They are filled with questions for His Eminence Archbishop Nicolae of the Romanian Orthodox Archdiocese in the Americas, the Episcopal Liaison between IOCC and the Assembly of Canonical Orthodox Bishops of the United States of America, who visited the center during his recent trip to Romania.
The center, which serves as a haven for 25 school children from underprivileged families in the community, was founded by local priest, Father Manuel Radu. The fundraising skills he learned through an IOCC training program equipped Father Manuel to better serve the social needs of his community's children. Through support from local donations as well as produce sales from Father Manuel's 150 fruit trees, he and his volunteer team of high school teens, professors, a social worker and a doctor provide these children with everything from after school tutoring on ten donated computers to clothes, shoes and a hot meal each day. Since 2005, IOCC has worked in partnership with the Romanian Orthodox Church and trained more than 2,100 priests, religion teachers and social service providers on how to better respond to the social needs of vulnerable Romanian families and strengthen Romanian communities.
###
IOCC is the official humanitarian aid agency of the Assembly of Canonical Orthodox Bishops of the United States of America. Since its inception in 1992, IOCC has delivered $438 million in relief and development programs to families and communities in more than 50 countries.