Chicago Faith-Based Groups Join with
IOCC to Deliver Books for Local Children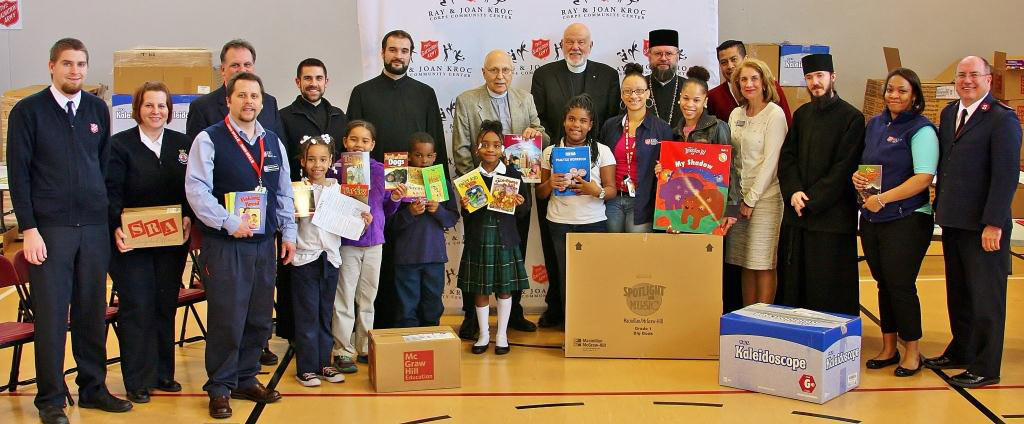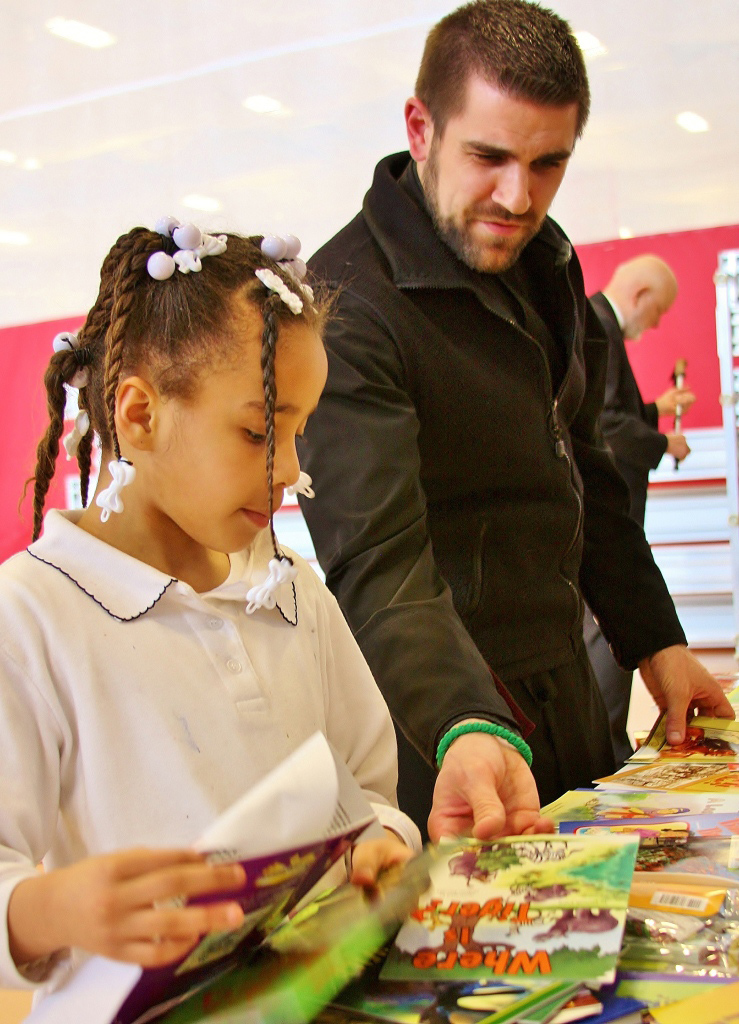 Baltimore, MD (May 6, 2014) — Joined by wide-eyed youngsters from some of the city's most impoverished Southside neighborhoods, religious leaders gathered at the Ray and Joan Kroc Corps Community Center in Chicago to dedicate more than 10,000 new books provided by International Orthodox Christian Charities (IOCC). The trove of colorful, age-appropriate reading materials will benefit thousands of schoolchildren participating in after-school enrichment opportunities, mentoring and summer learning programs in the Chicago area.
The books will be distributed directly to educational programs and outreach efforts by members of the Council of Religious Leaders of Metropolitan Chicago (CRLMC), an alliance of chief religious leaders of the Greater Chicago faith communities. The books will also benefit the educational programs and schools of the CRLMC. Bishop Demetrios of the Greek Orthodox Metropolis of Chicago, past president of the Council of Religious Leaders of Metropolitan Chicago, facilitated the gift on behalf of Orthodox Christians in Chicago.
His Eminence Archbishop Nicolae of the Romanian Orthodox Archdiocese in America and Canada gave the book distribution his blessing at a ceremony on April 29, and praised IOCC's ongoing effort to help support literacy and education. "This was a gift from IOCC on behalf of the entire Orthodox community in Chicago and the USA," said Archbishop Nicolae. "A book is a wonderful gift. We can discover a whole world through reading and we can receive the wisdom we prayed for during the service of blessing the books. I urge the children to make good use of the books and to enjoy the gift." The Reverend Paul Rutgers and the Reverend Dr. Stanley L. Davis, Jr., Co-Executive Directors of the Council of Religious Leaders of Metropolitan Chicago, along with Major David Harvey of the Salvation Army joined the Orthodox clergy in dedicating the new resources.
The books are part of a broader effort by IOCC to provide assistance in the United States where, since 2005, the organization has distributed $47 million in educational support and emergency assistance to more than 20 states. The book distribution in Chicago is the second such event in response to the continuing educational needs of the community's children.
###
IOCC is the official humanitarian aid agency of the Assembly of Canonical Orthodox Bishops of the United States of America. Since its inception in 1992, IOCC has delivered more than $438 million in relief and development programs to families and communities in 50 countries. IOCC is a member of the ACT Alliance, a global coalition of churches and agencies engaged in development, humanitarian assistance and advocacy.