Clean Water Provides Pivotal Start for Cameroon's Youth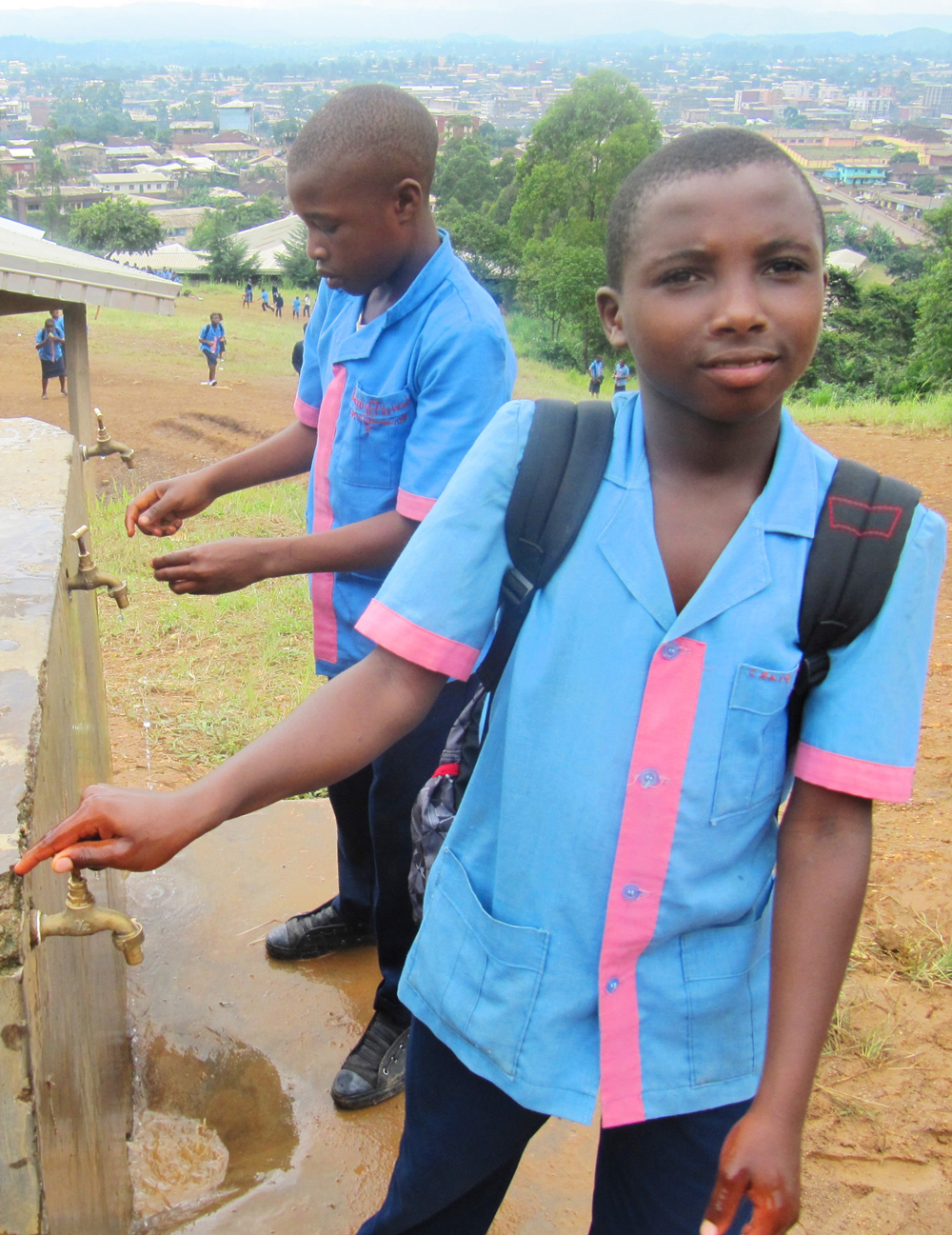 Baltimore, MD (November 2, 2013) — A drink of fresh, clean water is a luxury for many people in Cameroon. While some areas of the country can receive as much as 75 inches of rainfall each year, 40 percent of the people, a majority of whom live in remote rural areas, don't have access to clean water. Women and children tasked with the job of collecting water for the family often walk several miles to fill large plastic jugs and carry them back. Even worse, the water often comes from contaminated sources and exposes them to life-threatening diseases such as cholera, diarrhea and dysentery. Children are especially vulnerable, with waterborne and water vectored diseases the leading cause of childhood deaths in Cameroon.
The lack of clean water has created a national health crisis among the children and youth who make up more than half of its nearly 20 million people. A generation of children is growing up in poor health, unable to attend school and destined to face a life of poverty and hardship. International Orthodox Christian Charities (IOCC) is working to break that cycle of poverty and replace it with healthy and hopeful futures for young people.
Through the generous support of the Katherine Valone "St. Photini" Water Program and in cooperation with the Holy Orthodox Metropolis of Cameroon and Light of Africa, the humanitarian arm of the Greek Orthodox Patriarchate of Alexandria and All Africa, IOCC is improving health and hygiene conditions with access to clean water for more than 9,000 schoolchildren and teachers living in north west Cameroon. Rainwater harvesting systems installed on two large secondary schools will use rooftop gutters, water filters and collection tanks to capture and store rainwater runoff, and provide an estimated 380,000 gallons of potable water each year. Plans for a third system installation at a local primary school are underway.
IOCC is also offering teachers at the school with technical training on the system's upkeep, and providing hygiene kits and personal care instruction to 11,000 schoolchildren in the region in an effort to achieve healthier outcomes for young people.
The rainwater harvest systems and hygiene education projects in Cameroon are part of a broader effort by IOCC to improve the educational environment for the children of Cameroon. Along with improving access to clean water, IOCC is also providing schoolchildren with textbooks and school supplies needed to advance their education and develop skills needed to secure jobs and support themselves as they enter adulthood.
Since 2008, IOCC has worked in cooperation with the Holy Orthodox Metropolis of Cameroon and the country's Ministries of Education to help improve the well-being of children and families with better access to clean water, education and healthcare.
###
IOCC is the official humanitarian aid agency of the Assembly of Canonical Orthodox Bishops of the United States of America. Since its inception in 1992, IOCC has delivered $438 million in relief and development programs to families and communities in more than 50 countries.