Combating the 'Silent Killers' among Syria's Iraqi Refugees
By Arianna Rondos/IOCC Lebanon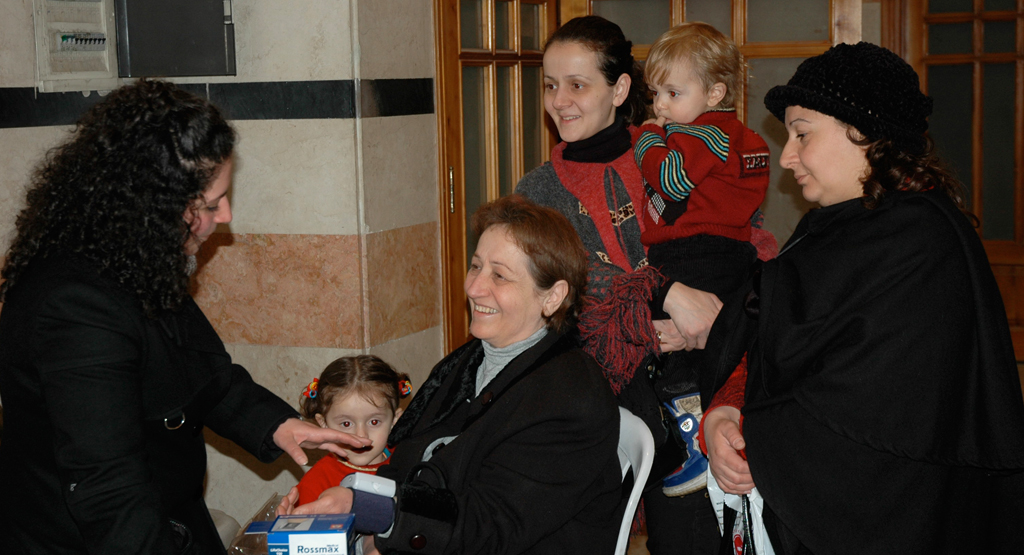 Aleppo, Syria (March 20, 2009) — On a rainy evening in this ancient city famed for its pistachios and historic mosques and churches, 120 Iraqi refugees gather in a church's basement to learn about the "silent killers" of their community: diabetes and high blood pressure. The prevalence of both diseases is rising among the estimated one million Iraqis who have fled to Syria from Iraq since 2003.
Dr. Rana, an Iraqi refugee who came to Syria in 2008 after completing her medical degree at Baghdad University, has organized the gathering. She pulls out test kits and begins to teach each patient how to measure their blood pressure and their glucose level. Dr. Rana explains that diabetes and high blood pressure are prevalent in refugee communities where unemployment is high and people lack access to regular health care. "Many Iraqis do not go to the doctor because they spend time worrying about their families and so do not have the very important regular tests for these illnesses," she says.
Dr. Rana is one of 70 Iraqi volunteers who have been trained by International Orthodox Christian Charities (IOCC) to design and implement their own community social service project to benefit their community. Participants were trained in making assessments and in designing and implementing a project that would assist about 100 people. Thirty-five community projects will be implemented, reaching a total of 3,500 individuals.
The project is part of IOCC's $4 million program to assist Iraqi refugees in Syria by providing vocational training for young people, school tuition and school supplies for children, and emergency supplies for impoverished families. The program, which benefits an estimated 65,000 Iraqi refugees and 22,000 disadvantaged Syrians, is funded by the U.S. State Department's Bureau of Population, Refugees and Migration (BPRM) and implemented by IOCC's major partner in Syria, the Greek Orthodox Patriarchate of Antioch.
Anna, an Iraqi mother, says that her 7-year-old son was diagnosed with diabetes soon after a bomb went off near their home in the northern Iraqi city of Mosul. She had been using out-of-date and unreliable testing equipment brought with them from Iraq when they came to Syria in 2003. Now, armed with a new kit from IOCC, as well as training in how to use it, Anna says she feels more equipped to handle her son's condition: "We can now be more secure in the care we give our son, having accurate readings of his glucose levels."
IOCC, founded in 1992 as the official humanitarian aid agency of the Standing Conference of Canonical Orthodox Bishops in the Americas (SCOBA), has implemented over $300 million in relief and development programs in more than 33 countries around the world.
###