Community Partnership Celebrated in West Bank as Village Opens School Annex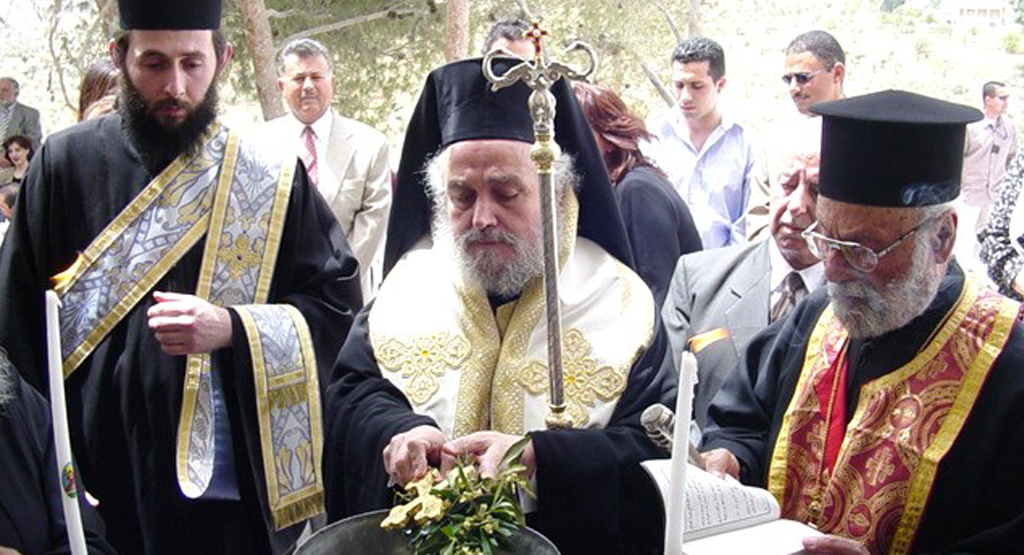 Jerusalem (May 11, 2004) — When the Taybeh Greek Orthodox Patriarchal School was originally established in 1870, the area was still part of the Ottoman Empire. The school, which today serves 260 students grades K-12, is starting to show its age.
"It's falling apart. It's cold in the winter. It leaks. There are bars over the classroom windows," said Nora Kort, director of International Orthodox Christian Charities' Jerusalem office.
On Thursday, May 6, IOCC-Jerusalem and its local partners celebrated the opening of a Taybeh school annex that will improve the quality of education for the Christian and Muslim children who attend there.
"What we've done is quite distinct, when you compare the old building with the new building," said Ms. Kort, who participated in the May 6 dedication ceremony, along with a host of dignitaries.
Helping dedicate the building was a group of second-graders who sang a song and a group of fourth-graders who performed a skit.
The school annex, part of a larger project being implemented by IOCC throughout the West Bank, includes four classrooms, an office, a bathroom and a new kindergarten facility that students will be able to use right away.
Since February 2002, IOCC has been implementing a $2.6 million rural development and employment project in 24 isolated villages, including Taybeh, throughout the West Bank.
Supported by the U.S. Agency for International Development (USAID), IOCC has created jobs for unemployed Palestinians; trained women in marketable skills such as bee-keeping and embroidery; constructed or repaired community centers, classrooms and health clinics; built agricultural roads; conducted clean-up campaigns in and around the villages; and increased awareness of public and maternal health issues.
Ms. Kort said education also has been a focus of the IOCC-USAID project. "Students have to have an adequate, healthy environment where they can learn," she said. "It's an urgent priority because the current infrastructure is not adequate or appropriate for children. I'm sad when a child sits behind a desk that is 60 years old."
Since 2002, IOCC-Jerusalem and its local partners have constructed 20 classrooms, six kindergartens, two school multipurpose halls, one school library and one school lab, and have repaired 33 classrooms and two school playgrounds. The Taybeh project was the first such collaboration between IOCC and the Patriarchate's Department of Education.
Taybeh and Patriarchate officials consulted with IOCC on the most pressing needs in the village and decided on an addition to the school. In all the 24 villages where IOCC has worked, IOCC has involved local leadership in the needs-assessment and decision-making process.
Among those in attendance at the May 6 ribbon-cutting ceremony was His Beatitude Patriarch Irenaeos of Jerusalem, who led a short service of blessing for the school and gave an award of appreciation to IOCC and its local engineering partner.
Also in attendance were U.S. Consul General David Pearce; Margot Ellis and Thomas Dailey of USAID/West Bank & Gaza; Greece Deputy Consul General Sophie Stamateli; the Very Rev. Fr. Innokentios Exarchos, superintendent of Patriarchate schools; Taybeh Mayor Fuad Taye; Orthodox priests and bishops from the Patriarchate; and representatives from the Pontifical Mission for Palestine.
In addition to improving the school, IOCC is training Taybeh women from low-income families in bee-keeping skills that they can use to earn critical income for their families. Across the West Bank, IOCC has prepared women for leadership and employment through training in honey production, traditional embroidery, home-based agriculture and public health.
IOCC's programs in the West Bank serve women, girls and other vulnerable people suffering from unemployment, poverty, malnutrition, lack of opportunity, and restriction of movement.
Founded in 1992, IOCC is the humanitarian aid agency of Orthodox Christians. To learn more about IOCC's humanitarian programs in the Holy Land and elsewhere around the world, please visit www.iocc.org.
###