Disaster Preparedness Protects
Lives and Communities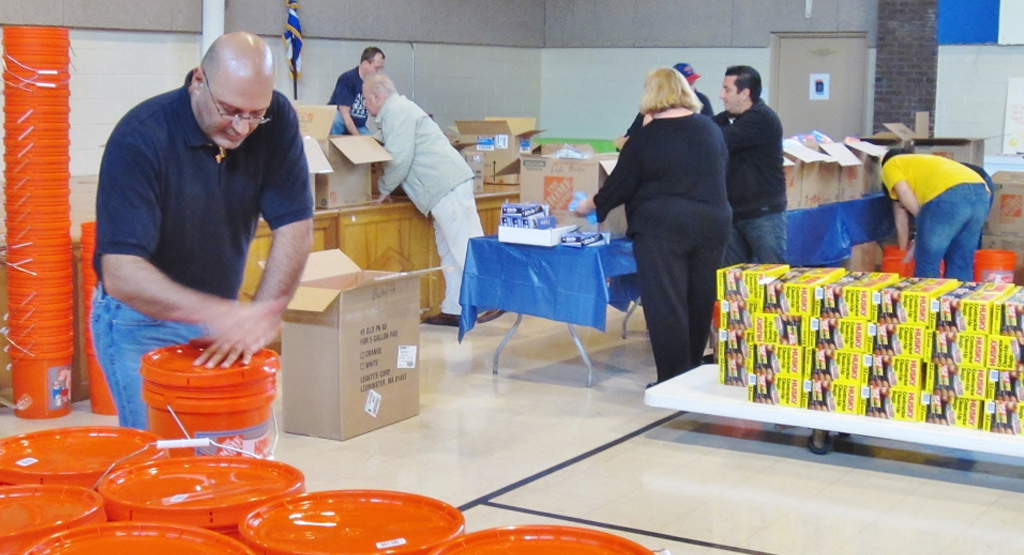 Baltimore, MD (March 17, 2015) — When Superstorm Sandy slammed into the East Coast and obliterated entire neighborhoods along New York's and New Jersey's shorelines two years ago, St. Barbara's Greek Orthodox Church in Toms River, New Jersey, stood ready to weather the storm and its aftermath. The parish hall was stocked with emergency cleanup buckets to help 300 families salvage their homes damaged by flooding and intense winds. Tables were filled with blankets, clothing, bottled water, and food for distribution to Sandy survivors living in the coastal communities surrounding the church parish.
"Being prepared proved to be very comforting to our parishioners who were directly affected, and allowed us to respond to our community with spiritual assistance as well as provide the necessary supplies for the cleanup of personal property," said Father Paul Pappas, parish priest at St. Barbara's Greek Orthodox Church. "Since that experience, the community really looks to our parish as a place that they can turn to in time of need."
International Orthodox Christian Charities (IOCC), which has been delivering emergency relief to disaster survivors worldwide since 1992, offers a four-point emergency checklist to help keep you and your loved ones safe until help arrives. The plan includes action steps to prepare emergency supplies and ways to get involved in helping others.
In the early days following Superstorm Sandy, Father Paul Pappas was joined by members of the IOCC Emergency Response Network, who assisted in comforting survivors and supporting the relief efforts of local volunteer firefighters. Also known as the "Orthodox Frontline" the more than 100 Orthodox clergy and laity volunteers from across the nation are specially trained to provide emotional and spiritual support as well as hands-on assistance to disaster survivors.
###
IOCC is the official humanitarian arm of the Assembly of Canonical Orthodox Bishops of the United States of America. Since its inception in 1992, IOCC has delivered $534 million in relief and development programs to families and communities in more than 50 countries. IOCC is a member of the ACT Alliance, a global coalition of 140 churches and faith-based agencies engaged in development, humanitarian assistance and advocacy, and a member of InterAction, the largest alliance of U.S.–based secular and faith-based organizations working to improve the lives of the world's most vulnerable people.