Divac Lauded for Humanitarian Work with IOCC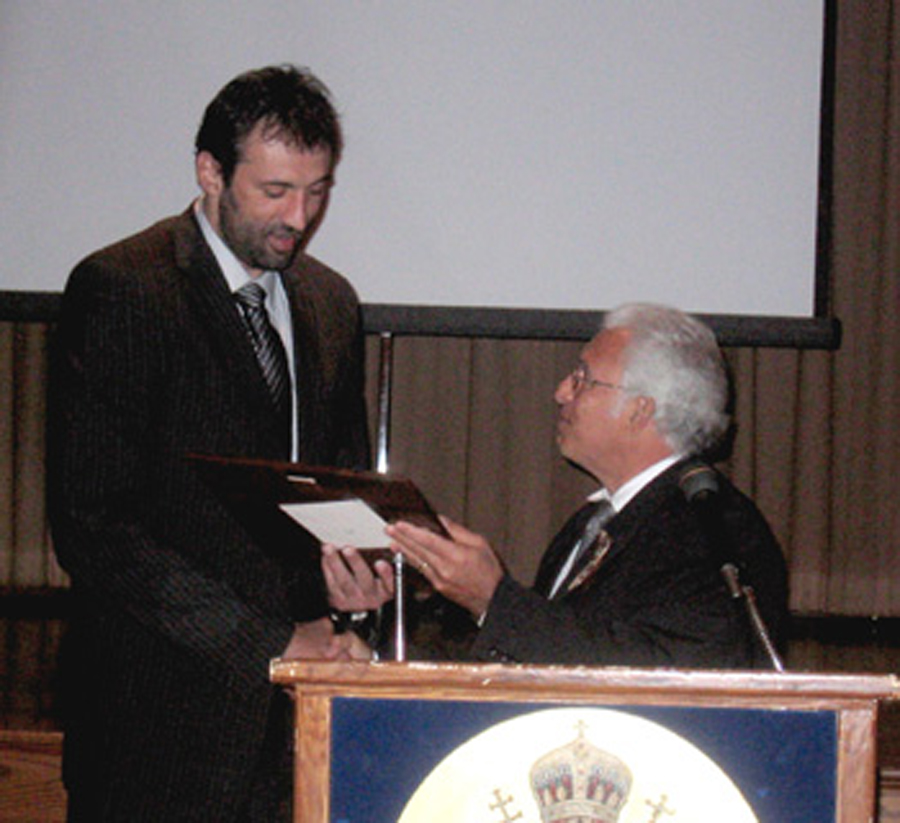 Los Angeles, CA (December 9, 2004) — Famous for a stellar NBA career, Vlade Divac was honored Sunday, Dec. 5, for his off-the-court achievements on behalf of children in need.
Divac, star center for the NBA's Los Angeles Lakers, received the Good Samaritan Award from International Orthodox Christian Charities for his years of distinguished service in support of IOCC's humanitarian mission.
Divac has helped IOCC, the humanitarian aid agency of Orthodox Christians, provide half a million dollars in humanitarian assistance in his native Serbia-Montenegro and elsewhere since 1997.
"I encourage all of you to continue working together through IOCC, so that the difficulties of my people and other suffering people around the world can be overcome," Divac told the audience of 250 people at St. Steven's Serbian Orthodox Cathedral in Alhambra, Calif.
IOCC co-founder Charles Ajalat presented the award, while Cathedral Dean Fr. Nicholas Ceko and emcee Obren Gerich welcomed Divac back to his "home parish."
In addition to recognizing Divac, the December 5 awards-banquet raised $35,000 toward the humanitarian mission of IOCC and celebrated the spirit of Orthodox philanthropy in the Los Angeles area.
His Grace Bishop Longin of the Serbian Orthodox Church, Western Diocese, thanked Divac and encouraged the pan-Orthodox gathering to follow Divac's example in supporting the work of IOCC.
"I think Orthodox Christians realize that a united effort can achieve so much more than a separate effort," Bishop Longin said. "They understand the importance of working together on behalf of suffering people around the world."
The evening ended with a silent auction that included a shoe, two jerseys and photos autographed by Divac. Auctioned off live were two tickets to the Lakers-Miami Heat game on Christmas Day. The competition for the tickets led Divac to offer another pair of tickets to the competing bidder.
All proceeds from the event, chaired by Judie Christopoulos of Pasadena, Calif., with the assistance of the IOCC Los Angeles Metropolitan Committee, will benefit IOCC. The dinner was underwritten by an anonymous donor.
IOCC and the Vlade Divac Group 7 Children's Foundation have worked together to give clothing sets to children living in refugee shelters in Serbia, school-supply kits and winter shoes to children in Montenegro, and food parcels to refugee families in Serbia.
In 2004, IOCC and Group 7 began a new initiative to connect students in Serbia-Montenegro and Bosnia-Herzegovina through the Internet.
Titled "Connecting Kids," the $230,000 project uses information technology as a tool to strengthen education in Serbian and Bosnian schools and to foster dialogue between students in Serbia and students in Bosnia.
From 2001-2003, Divac supported IOCC's "Healthy Teeth-Beautiful Smiles" project. The dental hygiene education and awareness campaign reached more than 24,000 elementary school children in Serbia's eight largest cities, providing them with dental kits and training, and encouraging them to make healthy lifestyle choices.
###