Emergency Medical Aid Fills Need for Care of Syrians
February 19, 2016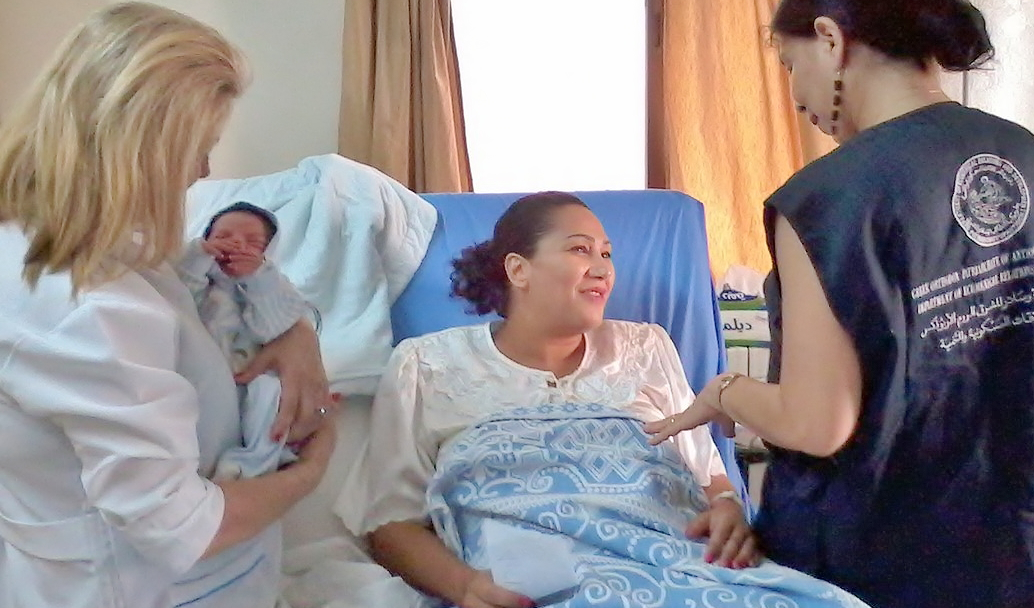 Baltimore, MD (IOCC) — International Orthodox Christian Charities (IOCC) is responding to the urgent need for medical assistance in Syria. The number of injured people continues to rise due to the escalating violence brought on by five years of civil war, with UN estimates that over 250,000 people have been killed and more than one million people wounded by the conflict.
Dreams of a peaceful retirement with his wife were shattered for Mohammad, 65, on the day his neighborhood of Al Zahra in Homs came under attack. His home was damaged, killing his wife and severely injuring him. He was rushed to a local public hospital where an overburdened healthcare staff closed his wounds, but missed a piece of shrapnel still embedded in his face. The widower's health began to deteriorate, but he couldn't afford the surgery to have the shrapnel removed. "It was getting more and more painful each day," recalled Mohammad. "I tried to manage, but it affected my face muscles badly and eventually prevented me from opening my mouth."
With less than half of the country's hospitals still functioning and Syria's public health system severely crippled due to the conflict, the lack of access to immediate or proper treatment is emerging as a leading cause of life-altering disabilities. The situation is particularly dire in cities such as Hasakeh and Homs where none of the public hospitals are operational. Those that remain open in other parts of the country are overburdened and often have to reject people in need of urgent care.
IOCC with the Department of Ecumenical Relations and Development (DERD), the humanitarian arm of the Greek Orthodox Patriarchate of Antioch, is addressing the growing crisis by providing lifesaving and disability-preventing surgeries for thousands of Syrian war victims like Mohammad.
Alaa, a 25-year-old shopkeeper, credits IOCC/DERD for saving his life after he suffered the loss of an eye and serious internal injuries when his shop was hit during an attack. "My injuries were bad and life-threatening," said Alaa. "Though I lost one eye it could be worse if you didn't help me quickly with surgery."
In addition to providing critical surgeries, IOCC/DERD is also providing medical support for the care of expectant mothers, medicine for the treatment of cancer and chronic illnesses, as well as equipping local hospitals with specialized medical equipment needed to carry out critical lifesaving treatments.
IOCC supports one of the largest established networks to deliver life-saving humanitarian aid inside Syria where more than 12.2 million people are currently in need of assistance, 7.6 million of which are internally displaced. Since 2012, IOCC has provided relief to nearly three million people inside Syria affected by the crisis.
You can help the victims of disasters around the world, like the Haiti Earthquake, by making a financial gift to the IOCC International Emergency Response Fund, which will provide immediate relief as well as long-term support through the provision of emergency aid, recovery assistance and other support to help those in need. To make a gift, please visit www.iocc.org, call toll free at 1-877-803-IOCC (4622), or mail a check or money order payable to IOCC, P.O. Box 17398, Baltimore, Md. 21297-0429.
###
About International Orthodox Christian Charities
IOCC, founded in 1992 as the official humanitarian aid agency of the Standing Conference of Canonical Orthodox Bishops in the Americas (SCOBA), has implemented over $330 million in relief and development programs in 33 countries around the world.