Ensuring Donor Dollars Reach Lebanon
IOCC Delivers Heating Fuel to Families through Innovative Distribution Method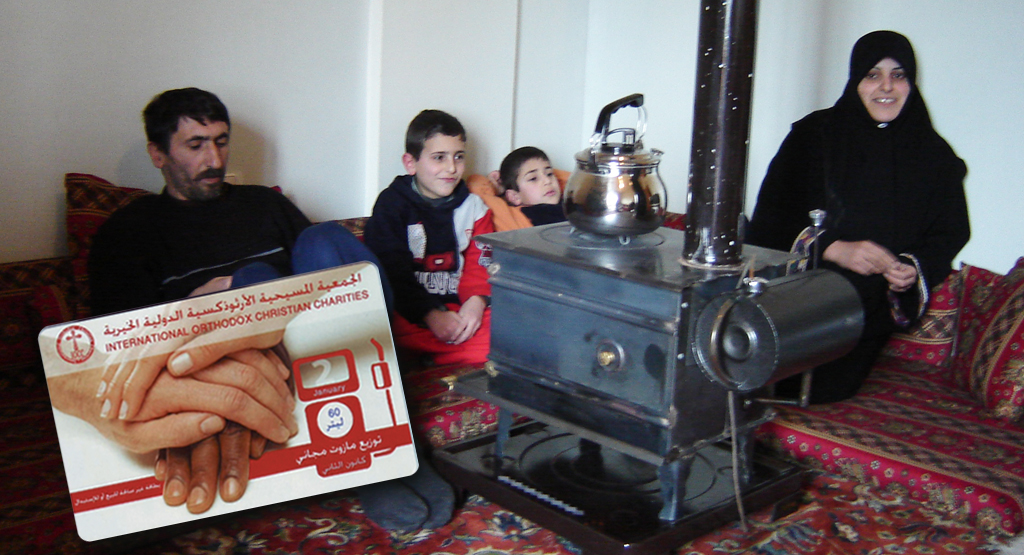 Beirut (February 27, 2007) — International Orthodox Christian Charities (IOCC) has developed an innovative method to ensure that donor dollars are used for what they were intended as it helps to rebuild the infrastructure of 65 villages in Southern Lebanon.
Along with fixing schools, installing water systems, and equipping farmers with seeds and tools, IOCC is also providing diesel for heating the homes of 3,500 families (about 15,300 individuals) this winter. In order to manage the distribution properly, and to ensure that it is done without fraud, IOCC Lebanon staff designed a unique procedure. Instead of ordinary vouchers, which could be easily forged, IOCC printed 14,000 full-color plastic cards.
The fuel cards, which are distributed by municipalities in the presence of IOCC field monitors, feature a hidden scratch code. Individuals take the card to fuel stations, where they must present identification, and then scratch the secret code in the presence of a fuel station employee, who confirms that the code matches the one provided to them by IOCC. Payment to the fuel station by IOCC is based on the number of used cards and signatures of beneficiaries.
According to IOCC Regional Director George Antoun, the fuel cards worked so well that other NGOs have taken similar measures to ensure that their vouchers are not duplicated. "In emergency aid situations like we had in Southern Lebanon last summer," says Antoun, "sometimes the temptation is to rush services to people without attending to all the details. But we've found that creating systems of accountability such as the fuel card is certainly worth the time, the effort, and the expense."
IOCC's rehabilitation of villages in Southern Lebanon is made possible through a grant from the U.S. Government's Office for Foreign Disaster Assistance (OFDA). IOCC, which has been operational in Lebanon since 2001 with a USDA-funded school feeding and nutrition program, is able to draw on its extensive network of cooperation between public schools, municipalities and churches to aid Lebanon in its recovery from last summer's conflict.
IOCC was founded in 1992 as the official humanitarian aid agency of the Standing Conference of Canonical Orthodox Bishops in the Americas (SCOBA). Since then, it has implemented over $250 million in relief and development programs in 33 countries around the world.
###