Equipping Children's Dreams in Lebanon's Public Schools
by Maral Joulouyan/IOCC Lebanon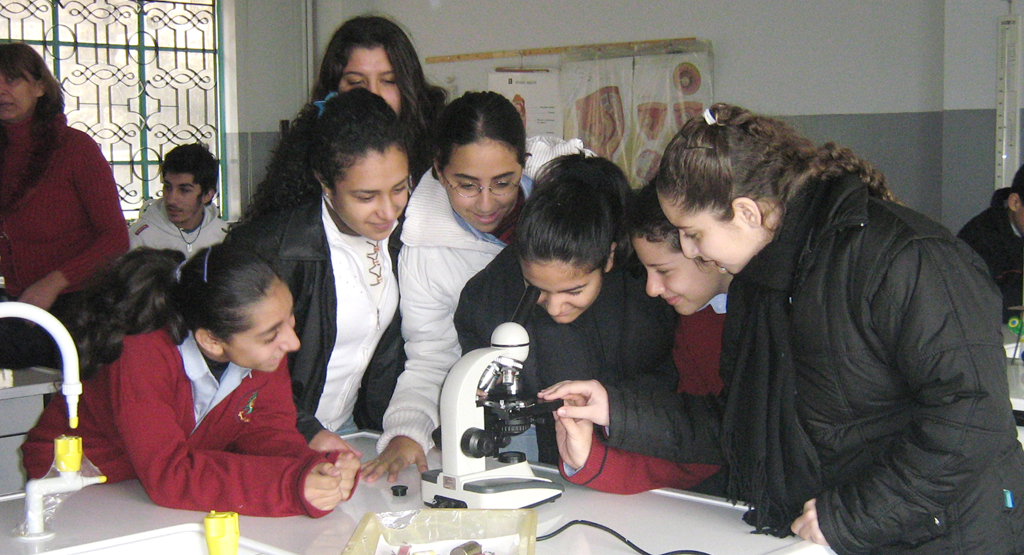 Brummana, Lebanon (July 31, 2009) — Located twelve miles east of Beirut, this sleepy mountain town swells in population from 15,000 to 60,000 when tourists from Gulf Arab nations visit during the summer months. Tourism has picked up again in Lebanon since the 2006 war, but families are still struggling to recover.
Wala, 13, used to attend a private school in Brummana, but her father's restaurant wages were cut and she and her two sisters had to attend the town's public school. "When we're short for cash, I try not to be too demanding so that I can help my Dad get the basics for our family," said Wala. Most poor and lower middle class families in Lebanon are forced to send their children to the nation's public schools, which are woefully underfunded by the central government and lack basic supplies and proper facilities.
However, Wala's school has received a complete science lab from International Orthodox Christian Charities (IOCC), and that has made all the difference for Wala who dreams of becoming a surgeon or pediatrician. "We never had science labs at my old school so we had to carry out boring experiments in the classroom," said Wala. "Today, I race with my classmates to reach the lab first. I used to get 13 out of 20 on physics tests, but after we started to use the lab, I began getting 18 out of 20, and now I'm second in the class."
Brummana's public school is one of 13 in Lebanon that has received a science lab from IOCC. Labs are supplied with everything needed to create experiments including microscopes, magnifiers, thermometers, flasks and test tubes, and are equipped with water, electricity, and gas. "I've been teaching science for 12 years and have never seen students more enthusiastic about going to the lab," says instructor Norma Ibrahim. "Involving students in enriching laboratory activities helps them understand scientific concepts and their relevance in life. This experience changed teaching for me from passive to active."
IOCC's science laboratories are part of a $4.7 million Lebanon Education Assistance for Development (LEAD) program funded by the United States Agency for International Development (USAID). IOCC's program aims to improve the learning environment and academic performance of 75,000 students in 213 public schools in Lebanon.
IOCC, founded in 1992 as the official humanitarian aid agency of the Standing Conference of Canonical Orthodox Bishops in the Americas (SCOBA), has implemented over $300 million in relief and development programs in more than 33 countries around the world.
###