Europe's Closed Borders Leave Thousands
of Migrant Families Stranded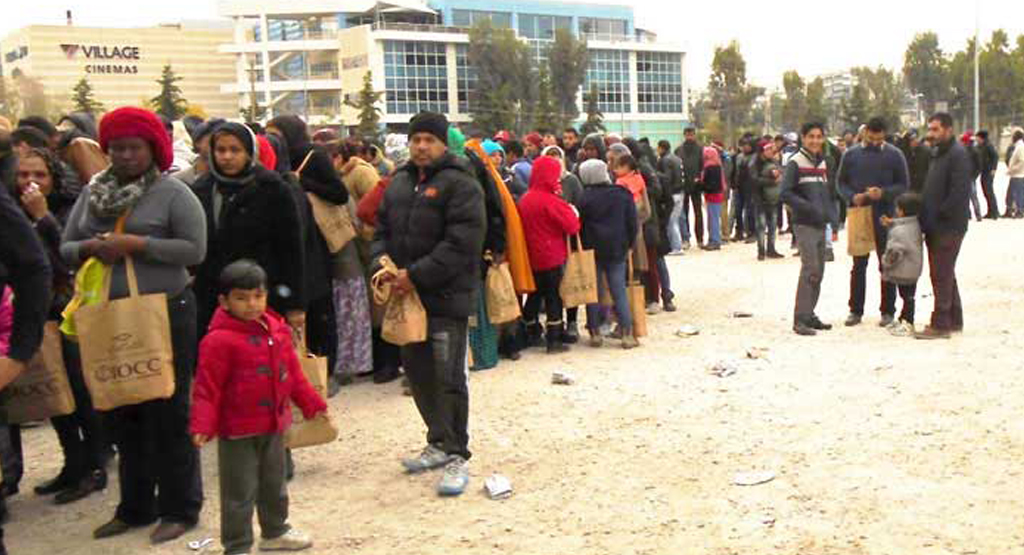 Baltimore, MD (December 14, 2015) — Four countries along the Balkans refugee route to Western Europe have closed their borders to people not seeking asylum from war-torn countries such as Syria, Iraq, or Afghanistan. The decision has cut short the long journey for thousands of migrant men, women, and children fleeing their countries in search of a better life in European nations. They are now left stranded at border crossings or in foreign lands with no resources to return home. Winter weather only worsens their situation.
International Orthodox Christian Charities (IOCC) is responding to the urgent needs of migrants in Greece turned back at the border with the Former Yugoslav Republic of Macedonia after they'd traveled for hundreds of miles or more. Working in cooperation with local partner, Apostoli, the humanitarian arm of the Church of Greece, IOCC is providing hygiene kits to nearly 700 people temporarily housed at the Olympic Tae Kwon Do Stadium in Athens.
While the people housed at the stadium are free to come and go from the facility, most do not have the means to purchase sufficient food or basic hygiene items on their own. The hygiene kits help by filling the need for basic necessities for personal health: soap, a toothbrush and toothpaste, toilet paper, antiseptic gel, and antiseptic hand wipes. IOCC, an ACT member, is also providing women with dignity kits containing feminine care items.
According to the United Nations High Commissioner for Refugees, the Former Yugoslav Republic of Macedonia is not allowing in people from Morocco, Sri Lanka, Sudan, Liberia, Congo, or Pakistan. On the Croatia-Serbia border, Croats were only accepting war refugees from Syria, Iraq, Afghanistan, and Palestine. Slovenia has also closed its border to asylum seekers considered to be economic migrants coming from countries not immersed in war.
Syria's ongoing conflict has triggered the worst humanitarian crisis in modern history, driving more than four million people from their homes in search of safety in countries across the Middle East and Europe. Since 2012, IOCC has provided humanitarian relief to 3.3 million Syrian people, both those displaced in Syria and those who are living as refugees in Jordan, Lebanon, Iraq, and Armenia, Greece, and Serbia.
HOW YOU CAN HELP
You can help the victims of poverty and conflicts around the world by making a financial gift to the IOCC International Emergency Response Fund which will provide immediate relief, as well as long-term support through the provision of emergency aid, recovery assistance and other support to help those in need. To make a gift, please visit iocc.org or call toll free at 1-877-803-IOCC (4622), or mail a check or money order payable to IOCC, P.O. Box 17398, Baltimore, MD 21297.
###
IOCC is the official humanitarian aid agency of the Assembly of Canonical Orthodox Bishops of the United States of America. Since its inception in 1992, IOCC has delivered $534 million in relief and development programs to families and communities in more than 50 countries. IOCC is a member of the ACT Alliance, a global coalition of more than 140 churches and agencies engaged in development, humanitarian assistance and advocacy, and a member of InterAction, the largest alliance of U.S.–based secular and faith-based organizations working to improve the lives of the world's most poor and vulnerable populations.