Farm Offers Way For Argentine Schools To Grow Food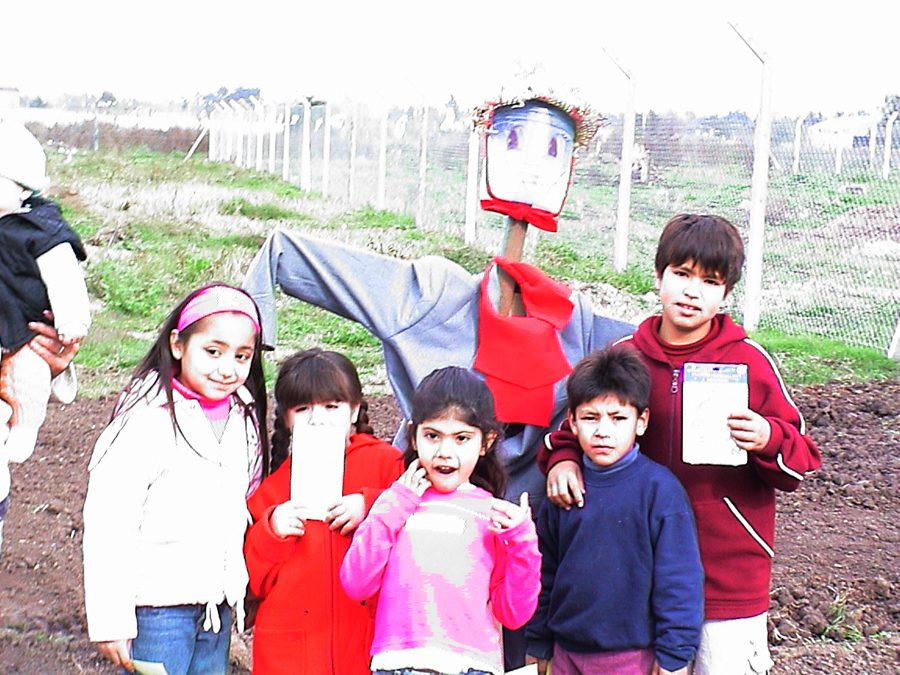 Buenos Aires, Argentina (July 29, 2003) — "Are you here to bring us food?"
The question sticks in Helena Davonis' mind. It's stayed with her ever since the day she and some of her students at Athenagoras High School delivered food to a needy elementary school in a poor part of Buenos Aires.
Ms. Davonis, a Greek-Argentinean teacher, leads a group of young Orthodox Christian volunteers called Puerto Esperanza ("Port Hope"), an agency of the Greek Orthodox Archdiocese of Buenos Aires and South America. Since May 2002, months after the collapse of the Argentine economy, Puerto Esperanza has been working hard to meet the food needs of an increasingly desperate population in Buenos Aires and beyond.
Now Puerto Esperanza is partnering with International Orthodox Christian Charities (IOCC), the humanitarian aid agency of Orthodox Christians. IOCC is in Argentina at the invitation of His Eminence Metropolitan Tarasios of Buenos Aires and South America, to assist in the startup of a church-based humanitarian agency.
Until that agency is formed, Metropolitan Tarasios has given his blessing for Puerto Esperanza to act on his behalf to help the poor of Argentina.
The partnership between IOCC and Puerto Esperanza began with a visit by Ms. Davonis and some of her students to a poor elementary school in the La Matanza district of Buenos Aires, where they took a minibus filled with food and delivered it to the school. As the group was leaving, a little girl from a nearby kindergarten walked up and asked, "Are you here to bring us food?"
The girl took Ms. Davonis by the hand and led the group to Trencito de Papel ("Paper Toy Train") kindergarten, which educates and feeds about 120 underprivileged children in a part of town blighted by trash dumps.
The school, like many others in Argentina, lost its government funding in December 2002 and has been struggling to keep its doors open ever since. Left without the means to pays its teachers, maintain its facilities or care for its students, school officials appealed to Puerto Esperanza for help.
"This kindergarten would have shut down, but some people in the community decided they weren't going to let that happen," said Bill Datch, IOCC's Argentina liaison officer.
Puerto Esperanza and the Greek Orthodox Archdiocese raised enough funds to continue the school's lunch program, donated furniture and equipment to the school, and acquired a nearby 48,000-square-foot plot of arable land for use as an organic farm, or "huerta."
The latter will serve multiple purposes – growing food for the kindergarten students, generating income for the school and its staff, creating jobs – and could become a model for cash-strapped schools throughout Argentina, Datch said.
Such an approach would address a number of the social ills that have resulted from Argentina's economic collapse, including malnutrition, school absenteeism, child labor/begging, juvenile delinquency, and substance abuse.
To date, the "huerta" has been cleared of debris, surrounded by a fence, and equipped with a guardhouse — all with volunteer labor. Winter crops have been planted, and a caretaker has moved into his partially-completed residence, Datch said.
With the first harvest not expected until September, IOCC has contributed funds that will ensure the children, their families and elderly pensioners in the community are fed in the meantime. IOCC also is offering technical support and supervising the labor associated with the project.
Future plans call for the establishment of a henhouse and a bakery, and marketing of the farm's products to raise additional income. "We hope that by the end of the first year, the farm will be self-sufficient," Datch said. "Selling a portion of the produce, the bread and the eggs in the neighborhood will allow the farm to sustain itself."
IOCC also is cooperating with other Orthodox jurisdictions in Argentina, including the Antiochian Orthodox Archdiocese, the Russian Orthodox Church, Moscow Patriarchate, and the Serbian Orthodox Church.
###