Fires Are Out but Greece Still Faces Coming Ecological Disaster
IOCC Plans for Distribution of Livestock Feed and Long Term Relief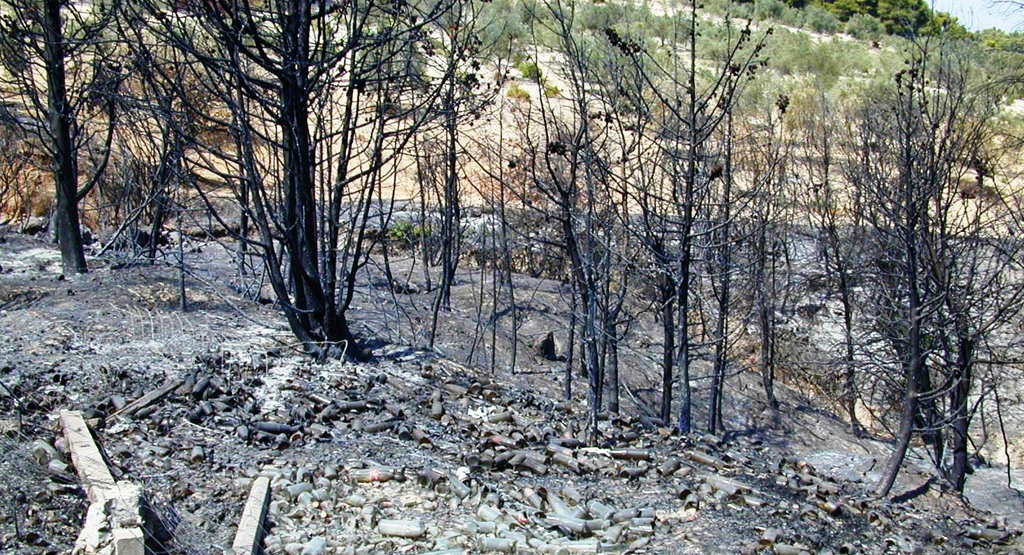 Parnonas, Greece (September 5, 2007) — Members of IOCC's Emergency Response Network in Greece to help with trauma counseling were called upon to assist Greek, French and Russian firefighters to protect the Monastery of Saint Anagyri from a fire on Parnonas Mountain in the Peloponnese. "The fires were advancing on the monastery from three directions," said Father Angelo Pappas of Portsmouth, New Hampshire who reported seeing flames reaching 30-40 feet. "We boarded up windows while a Russian jet flew very low dropping water over the area. Fortunately, winds changed direction saving the monastery."
Father Pappas and Fire Captain Vasillios Pamboukis, also from Portsmouth, are part of IOCC's Emergency Response Network, a pan-Orthodox group of clergy and disaster professionals who are on-call to respond to emergencies. Father Pappas and Captain Pamboukes traveled throughout the Peloponnese and the island of Eboia counseling local villagers who are still suffering from shock over the devastation.
Many have lost their homes, crops, and livestock, and those who still have animals lack feed. IOCC purchased 308,000 pounds of corn and alfalfa to be distributed in cooperation with the local government through ten municipal centers throughout the province of Ileia. IOCC staff is also developing long term plans for livestock and agricultural recovery.
The fires have abated but Greece still faces an ecological disaster. "Without question, it is an ecological disaster," said Father Pappas, "because once it rains, or the snows begin, the runoff of water from the mountains will bring with it all the fine dust, the ash and eroded soil right into the streams and rivers and villages." The eroded soil will complicate agricultural recovery.
The Greek government reports that in the Province of Ileia, where IOCC has concentrated its disaster relief, nearly 9 million square meters of land has been destroyed including 3.5 million olive trees. Almost 100,000 people in the province have suffered some kind of loss due to the fires.
IOCC, founded in 1992 as the official humanitarian aid agency of the Standing Conference of Canonical Orthodox Bishops in the Americas (SCOBA), has implemented over $250 million in relief and development programs in 33 countries around the world.
To help in providing emergency relief, call IOCC's donation hotline toll-free at 1-877-803-4622, click here to donate on-line, or mail a check or money order payable to "IOCC" and write "Greece Fires" in the memo line to: IOCC, P.O. Box 17398, Baltimore, Md. 21297-0429.
###