Flood Recovery Efforts Continue
in Serbia and Bosnia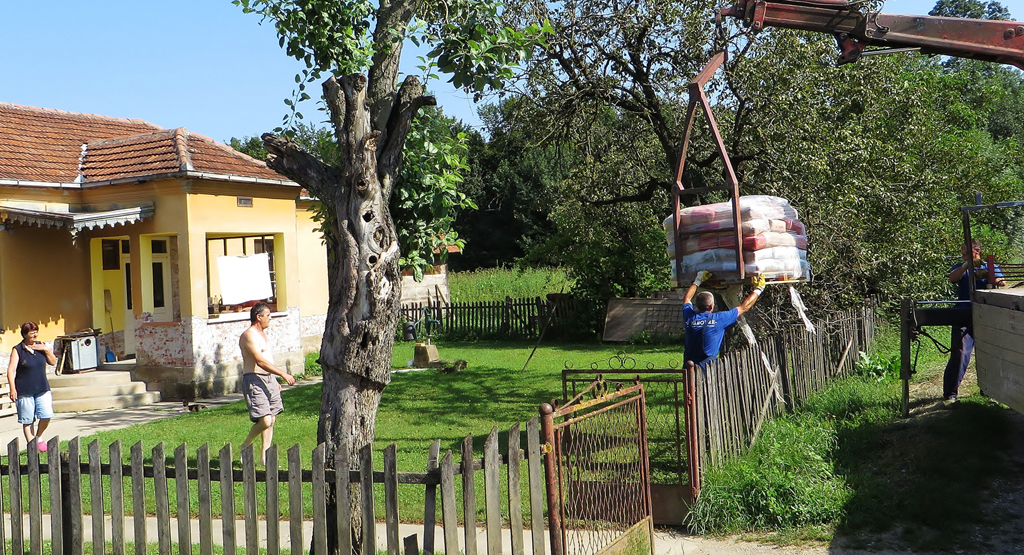 Baltimore, MD (August 29, 2014) — Vladan and his wife welcome the arrival of much needed building supplies to repair their flood damaged home in Grdica, a village near Kraljevo, Serbia. Vladan's home along with hundreds of other homes in the area were submerged under several feet of water for days after a powerful surge of flood waters from Serbia's record breaking spring rainfall engulfed much of the country in May. The waters destroyed nearly everything inside the homes, now stripped bare and awaiting repairs to the walls and floors.
Heavy rains throughout the summer hampered recovery efforts in many areas of Serbia and Bosnia. Repair work to homes is now being stepped up in anticipation of the onset of winter weather in the coming months.
Many of Grdica's survivors, like Radomir (right), were displaced from Kosovo and struggling to make ends meet or elderly farmers on limited incomes. Numerous residents of the village also suffered damage to their homes after a devastating 2010 earthquake and now lack additional resources to rebuild their homes again.
International Orthodox Christian Charities (IOCC), in close cooperation with the Serbian Orthodox Patriarchate and Red Cross of Serbia, is responding to the needs of the most vulnerable flood survivors in the region. IOCC is assisting families living in remote villages by providing them with home repair kits containing construction materials and tools to help restore their homes back to a safe and livable condition.
IOCC is also working in cooperation with the Serbian Orthodox Dioceses of Šabac and Valjevo to provide assistance to flood survivors in Obrenovac, Krupanj, Ljubovija, and Mali Zvornik. From its office in Bosnia, IOCC is working in cooperation with the Tuzla – Zvornik Diocese of the Serbian Orthodox Church and local relief partners to provide the most vulnerable flood survivors with assistance to replace basic furniture, household items, and tools and construction materials for home repairs to families in Šamac and the surrounding villages.
HOW YOU CAN HELP
You can help the victims of the floods in Serbia and Bosnia, by making a financial gift to the Balkans Flood Relief Fund, which will provide immediate relief as well as long-term support through the provision of emergency aid, recovery assistance and other support to help those in need. To make a gift, please visit iocc.org, call toll free at 1-877-803-IOCC (4622), or mail a check or money order payable to IOCC, P.O. Box 17398, Baltimore, Md. 21297-0429.
###
IOCC is the official humanitarian aid agency of the Assembly of Canonical Orthodox Bishops of the United States of America. Since its inception in 1992, IOCC has delivered $488 million in relief and development programs to families and communities in more than 50 countries.
IOCC is a member of the ACT Alliance, a global coalition of more than 140 churches and agencies engaged in development, humanitarian assistance and advocacy, and a member of InterAction, the largest alliance of U.S.–based secular and faith-based organizations working to improve the lives of the world's most poor and vulnerable populations.