IOCC AGRICULTURE PROGRAM SECURES FOOD AND HOPE FOR JORDANIAN FAMILIES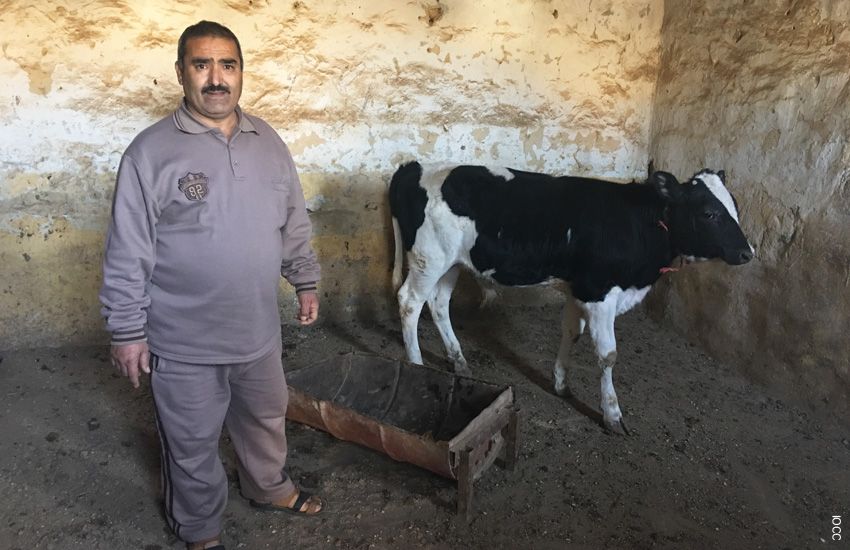 January 20, 2017 (Baltimore, MD) — "We didn't have much money. We were in desperate need of assistance," said Musa, a 50-year-old father of four in Jordan who was anxious to find a source of income to support his family after he lost his civil service job.
Musa considered farming in the rural community where he lived, but did not have the money or expertise to raise livestock. So, he turned to the Jordanian Ministry of Agriculture and learned of a program offered jointly with International Orthodox Christian Charities (IOCC), which provided the training that he needed to begin a new career in farming. The cow and instruction he received have now produced the first calf and given a new outlook to Musa and his family.
Jordan's arid climate makes farming and raising livestock a challenge. Farmers make up just six percent of the labor force in a country where land suitable for growing crops and a shortage of water place considerable constraints on agricultural activity. Already limited resources have been further strained by the influx of over 655,000 Syrian refugees – particularly to rural, less developed areas of Jordan – who are in need of clean water, food and electricity.
To address these problems, IOCC began a pilot project in cooperation with the Ministry of Agriculture in Jordan to support 80 households in Balqa, Jerash, and Karak Governorates who rely on farming for food and income. The food security program, funded with support from IOCC co-founder and former Chairman of the Board Mr. Charles Ajalat, and his wife, Mrs. Marilee Ajalat, gives participants the opportunity to take advantage of their available resources to successfully farm. The program not only provides a more stable source of nutrition, but also provides income and creates a more reliable source of food for their communities.
The program included the distribution of livestock – such as cows, goats, and chickens – to farming families and construction of 15 greenhouses and 25 water catchments to help farmers conserve water essential to their both their land and personal use. IOCC also held specialized training sessions in coordination with the Jordanian Ministry of Agriculture for project participants to teach the fundamentals of livestock care, greenhouse techniques and constructing and maintaining their new water catchments.
"I feel more secure and happy," said Musa. "I am able to breed livestock now. The cow from IOCC has provided immediate help in securing food for my family. And for the future, I have a way to grow my family's income. I hope to increase the number of livestock that I have!"
###
International Orthodox Christian Charities (IOCC) is the humanitarian and development agency of the Assembly of Canonical Bishops of the United States of America. Since its inception in 1992, IOCC has provided more than $661 million in humanitarian relief and sustainable development programs in over 60 countries worldwide. Today, IOCC applies its expertise in humanitarian response to human-caused and natural crises in Europe, Africa, the Middle East, and the United States, offering assistance based solely on need. Learn more at iocc.org and follow us @IOCCRelief on Twitter, Instagram, and Facebook.