Fresh Hope for Families in Greece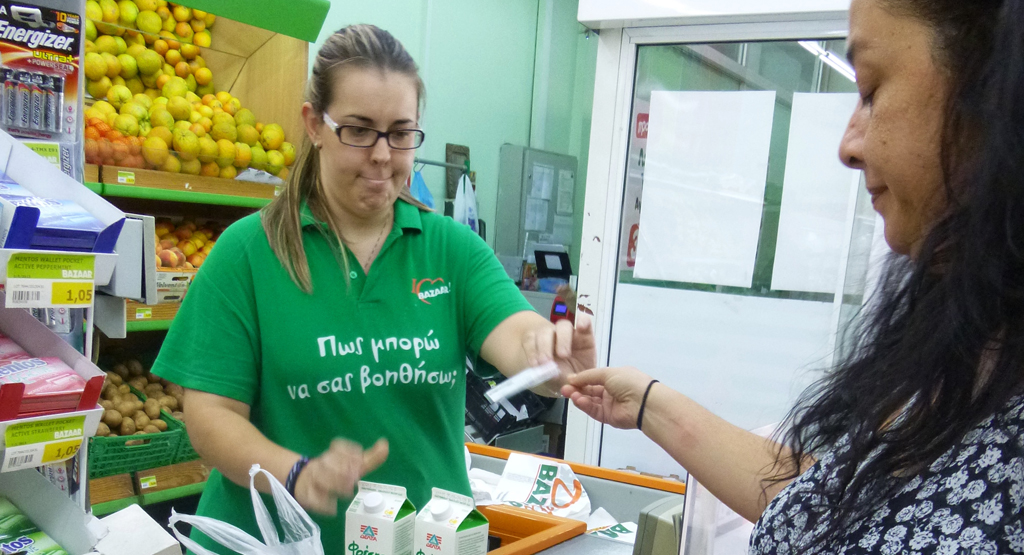 Athens, Greece (September 26, 2013) — Nick, a 61-year-old unemployed construction worker, stands silently in line at a modest storefront in Kallithea, Greece. Doing his best not to be noticed, he and his wife Theodora wait with scores of other people to receive parcels filled with staples from the food bank established by Apostoli, the social service agency of the Archdiocese of Athens, with support from International Orthodox Christian Charities (IOCC).
Admitting that he needs help does not come easily for Nick, who lives in this densely populated working class suburb of Athens. His situation is all too common among the working class in Greece these days where the overall unemployment rate is now estimated at a staggering 27.9% and the jobless rate for construction workers has surpassed 50 percent.
The unemployment benefits Nick received for one year have stopped. His wife is also unemployed, as is their 29-year-old daughter who still lives at home – unable to afford to move out on her own. Their family savings have been exhausted. The dry food parcels and a fresh food card they receive offer the only sources of hope they have.
"Those in need in Greece today are our brother, our child, our friend … people like ourselves," observes Despina Katsivelaki, an IOCC worker assigned to work with Apostoli to respond to the growing needs of proud, hard-working people like Nick who never relied on social services, but must now seek out basic necessities for their families.
Beginning this month, more than 5,500 people will have access to fresh food provided by IOCC to Greek families like Nick's. The program, initially funded through a grant from The Hellenic Initiative and private donors, is focused on providing assistance to families with children to help meet their nutritional needs.
By sourcing the fresh food items locally, the program is also helping to sustain 500 Greek farming families who are providing the fresh vegetables, fruits and milk being offered to program participants. Families registered in the program receive fresh food cards that they can use at a supermarket chain.
"Purchasing items with the fresh food cards allows participating families to obtain important nutrition, and preserve their dignity and some sense of normalcy," explained Constantine M. Triantafilou, IOCC Executive Director. "As the financial woes in Greece continue and peoples' savings are depleted, we anticipate more people will be in need of assistance. This program is designed to deliver help to people now and preserve their hope for the future."
The program, modeled after similar initiatives IOCC has implemented in other areas of the world, has received support from The Jaharis Family Foundation. The Foundation recently announced a challenge grant to support IOCC's efforts to respond to hunger relief and other aid to Greece. Contributions made to IOCC will be matched by the Foundation up to one million dollars.
"I always had a job and my family didn't miss anything. Now, I am ashamed that I have to come here to get food to cover our needs," Nick explains. "Thank you for helping us," he said as he lowered his head and hurriedly placed the food parcel he received inside his own big handbag so that no one would notice where he received his food as he made his way back home. With the new program, Nick will be able to continue to receive the fresh food and fresh hope he and his family need.
HOW YOU CAN HELP
You can help families in Greece and have your gift doubled through the Jaharis Family Foundation, Inc. Challenge by making a financial gift to the Give for Greece Challenge. To make a gift, please visit www.iocc.org/GiveForGreece or call toll free at 1-877-803-IOCC (4622), or mail a check or money order payable to IOCC, P.O. Box 17398, Baltimore, MD 21297.
###
IOCC is the official humanitarian aid agency of the Assembly of Canonical Orthodox Bishops of the United States of America. Since its inception in 1992, IOCC has delivered $438 million in relief and development programs to families and communities in more than 50 countries. IOCC is a member of the ACT Alliance, a global coalition of more than 130 churches and agencies engaged in development, humanitarian assistance and advocacy, and a member of InterAction, the largest alliance of U.S.–based secular and faith-based organizations working to improve the lives of the world's most poor and vulnerable populations.