IOCC & Saint Nektarios Education Fund Expand Cooperation to Develop Ugandan Schools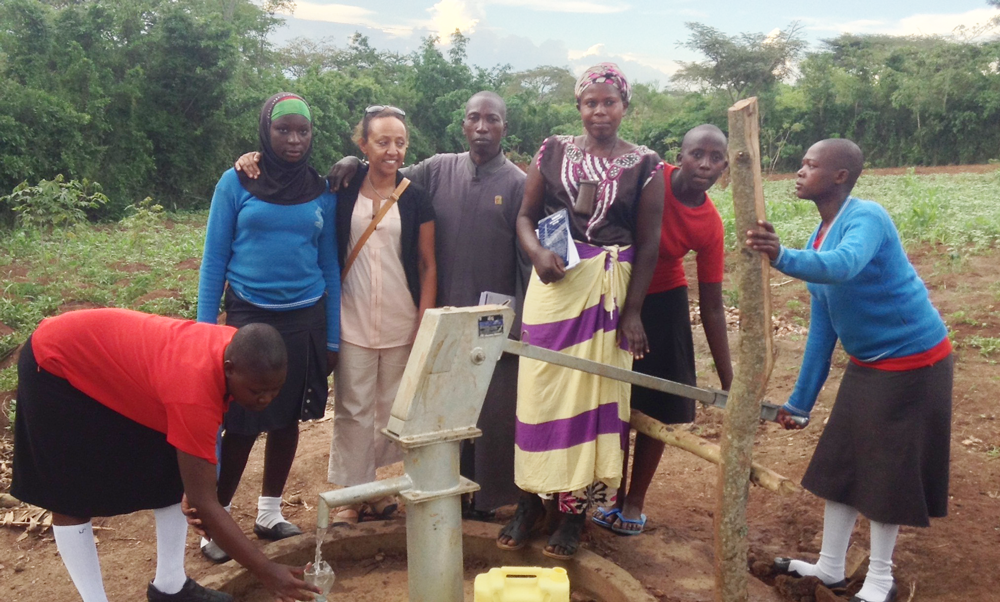 July 13, 2017 (Baltimore, Maryland) – International Orthodox Christian Charities (IOCC) today announced the signing of a new agreement with long-time partner the St. Nektarios Education Fund of Loveland, Colorado to expand their joint efforts to provide education and clean water to children in Uganda.
Since 2009, IOCC and the St. Nektarios Education Fund have collaborated to build three new schools in central and northern Uganda, a region that has been ravaged by decades of civil war, economic decline, and an AIDS epidemic. IOCC and St. Nektarios' schools, which are being operated and sustained in partnership with the Uganda Orthodox Church, aim to address lack of educational opportunities through the provision of well-equipped schools, including sanitary facilities and access to clean water.
IOCC and the Saint Nektarios Education Fund together have constructed three secondary schools in Uganda, providing access to education to over 700 children living in Gulu, Butembe and Lwemiyaga.
The newest initiative will include the completion of a new girls' dormitory, improved sanitation facilities, solar panels, and a new rainwater catchment system at a school previously constructed in Lwemiyaga, Uganda. It is envisioned that this school will become a center for community learning and development, serving as a hub for farmers and others in nearby villages to access water and IT resources. The idea of postioning schools as a community hub will be applied to other the schools furnished by IOCC and the St. Nektarios Education Fund.
"Our partnership with the St. Nektarios Education Fund will extend our important work to provide vital resources focused around education for Ugandan communities," said Constantine Triantafilou, Executive Director of IOCC. "We are so fortunate to have partners like the Saint Nektarios Education Fund, who embrace our common mission to increase educational access in Africa."
The Lwemiyaga school currently provides instruction to 130 children. Improvements to the facility will allow the school to receive accreditation, enabling the students to take national exams in their own school and eliminating the need to travel. In addition, new facilities will provide housing for 80 female students, helping to reduce their risk of exposure to the sexual assault and violence that is prevalent in the region.
Fr. Evan Armatas, parish priest of St. Spyridon Greek Orthodox Church and host of "Orthodox Live" on Ancient Faith Radio, founded the St. Nektarios Education Fund in 2002 out of his seminary dorm room in order to provide educational opportunities to needy children in Africa. In addition to building schools, the Fund has also provided over 450 student scholarships since its founding.
"The St. Nektarios Education Fund's mission is transforming the lives of African children through education and because of our partnership with IOCC, we are able to continue advancing our goal of building model schools in Uganda that not only provide quality education, but also serve the larger communities' needs for water and power," said Fr. Evan.
IOCC has a global reach, and places a focus on educational access for children/youth and their communities, as demonstrated by current and historical projects in Syria, Lebanon, the Holy Land, Greece, Haiti, and the United States. This newest initiative represents a furthering of that area of work in Africa.
# # #
IOCC, the official humanitarian agency of the Assembly of Canonical Orthodox Bishops of the United States of America, has been working in cooperation with the Uganda Orthodox Church to provide educational support, school construction and access to clean water since 2009.
The year 2017 marks IOCC's 25th anniversary of delivering emergency and long-term relief in the spirit of Christ's love. For more information, please visit www.iocc.org.