IOCC Expands Effort To Address Malnutrition In Greece With Aid To Agriculture Cooperatives
February 10, 2015
The Jaharis Family Foundation, Inc. Announces Second $1 Million Challenge Grant
Baltimore, MD (IOCC) — With support from The Jaharis Family Foundation, Inc., International Orthodox Christian Charities (IOCC) today announced a new program to assist the growing number of Greek families in search of work and opportunities in agriculture-related businesses. As many as 25 agriculture cooperatives in Greece will receive support in food production, standardization of farming practices, warehousing facilities, sales and member training. In return for their participation, farmers will commit a portion of the food they produce to people in need in their communities, especially children facing malnutrition as a result of the prolonged economic crisis.
More than 300,000 children in Greece now live in families that cannot afford to provide a healthy diet including meat or fish, according to data from UNICEF. One in four children in Greece live in poverty, and one third are at risk of living in poverty.
"The numbers are shocking and the impact on hard-working people faced with such prolonged unemployment is having deeply felt social, economic and psychological effects on families," said Constantine Triantafilou, IOCC executive director. For the past three years, Triantafilou has been coordinating relief efforts with Apostoli, the social service agency of the Church of Greece.
With the support of The Jaharis Family Foundation, Inc. and private donors in the United States, IOCC has been addressing the growing needs of Greece's most vulnerable families. Over the last year alone, more than $9 million in food, medical assistance and heating fuel have been provided through the "Give for Greece" program launched with the support of The Jaharis Family Foundation, Inc.
"The extraordinary circumstances in Greece continue to have devastating effects on families," said Mary Jaharis of The Jaharis Family Foundation, Inc. "This is not simply an 'economic crisis' for Greece, but a personal disaster being played out for hundreds of thousands of families. We remain concerned for the wellbeing of the people of Greece and have committed an additional one million dollars in support of these efforts, especially for the children."
The commitment by The Jaharis Family Foundation, Inc. is being offered as a challenge grant, with every dollar contributed by donors to be matched dollar-for-dollar by the foundation.
"Many families whom we meet have been stripped of nearly everything – their jobs, their savings, and their plans for the future," observed Triantafilou. "We are trying to provide assistance in ways that make an impact, especially for the children, but do so in a way that doesn't also take away their dignity."
IOCC, working with a grocery store chain in Greece, has provided more than 1,000 pre-qualified families with grocery store cards that allow them to purchase fresh fruits, vegetables and milk. Participants in the program are able to shop alongside their neighbors and purchase items suitable for their dietary needs, rather than collect aid at distribution centers. The agricultural products are all sourced in Greece to support local farmers and milk producers.
"By sourcing food from farmers in Greece, we are looking for ways to help address the underlying need for economic development while also providing essential support for families facing very difficult circumstances," explained Triantafilou.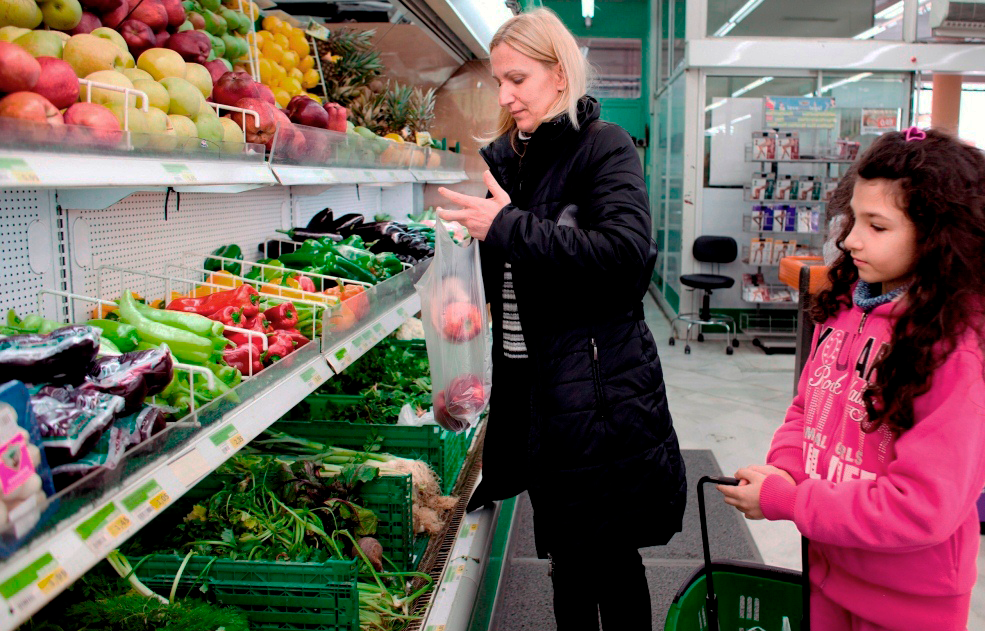 In addition to the assistance to farmers and the grocery card program, IOCC will continue to provide food aid through Apostoli and the Church of Greece, heating fuel to institutions serving the elderly, children and people with disabilities in northern Greece, and support to public hospitals to address huge shortages due to budget cuts in the public health sector. More than 700,000 Greeks are expected to benefit from medical supplies planned for delivery to Greece this year.
The need for assistance continues to grow as an increasing number of Greece's people find themselves without income and access to social services. Many of the unemployed have exhausted their benefits with just 15% of those people who have registered for unemployment now eligible to receive government assistance. Yet, for every available job in Greece, there are 19 unemployed people, according to the European Commission.
In addition to the support from The Jaharis Family Foundation, Inc., IOCC's efforts to assist families in Greece was blessed by His Eminence Archbishop Demetrios of the Greek Orthodox Archdiocese of America and has been made possible with funding from the Hellenic community including the John G. Rangos Sr. Family Foundation, the Styliades Hellenic Orthodox Foundation, the John C. Kulis Charitable Foundation, the Greek Orthodox Ladies Philoptochos Society, The Hellenic Initiative (THI), the American Hellenic Educational Progressive Association (AHEPA), the Pancretan Association of America, the Kallinikeion Foundation, the Gerondelis Foundation, the Chios Society and thousands of individual donors.
###
HOW YOU CAN HELP
You can help families in Greece by making a financial gift to the Give for Greece Fund. To make a gift, please visit iocc.org/GiveForGreece or call toll free at 1-877-803-IOCC (4622), or mail a check or money order payable to IOCC, P.O. Box 17398, Baltimore, MD 21297.
ABOUT INTERNATIONAL ORTHODOX CHRISTIAN CHARITIES
IOCC is the official humanitarian aid agency of the Assembly of Canonical Orthodox Bishops of the United States of America. Since its inception in 1992, IOCC has delivered more than $488 million in emergency relief and development assistance to families and communities in more than 50 countries. IOCC is a member of ACT Alliance, a global coalition of more than 140 churches and agencies engaged in development, humanitarian assistance and advocacy, and InterAction, the largest alliance of U.S.–based secular and faith-based organizations working to improve the lives of the world's most poor and vulnerable populations. To learn more about IOCC, visit iocc.org.