Gulf Coast, Struggling but Not Forgotten
IOCC Sends First Wave of Volunteer Home-Building Crews to Devastated Communities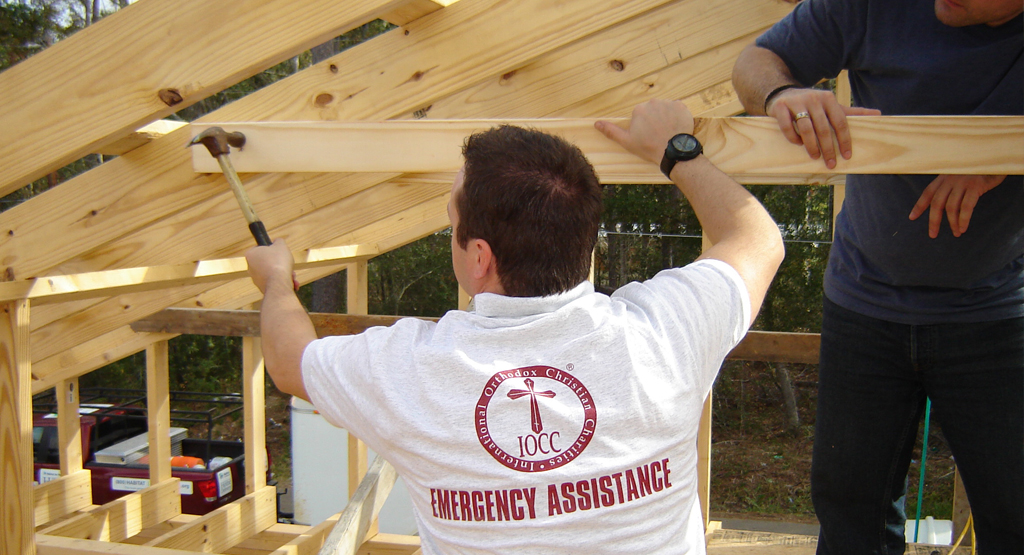 Baltimore, MD (November 27, 2006) — The media's spotlight may have faded from the Gulf Coast, but International Orthodox Christian Charities (IOCC) has not forgotten that there are whole communities where people are still living in tents, motels and FEMA trailers. IOCC will be sending volunteer crews to the area every month through July 2007 to build new homes as part of its comprehensive $4 million relief and reconstruction program for the Gulf Coast. The first wave of IOCC volunteers have already completed a week-long assignment in Covington, Louisiana.
"Housing is the most critical need," says IOCC U.S. Programs Coordinator Nicholas Chakos. "You have to get people back into homes in order to stimulate the return of schools and businesses," he said. Volunteer help is greatly needed considering the extreme shortage of skilled laborers on the Gulf Coast and land values that have doubled and tripled.
IOCC is building new homes in partnership with local Orthodox churches and Habitat for Humanity. Teams will put up dry wall and install windows and insulation. Communities in New Orleans and parts of Mississippi will also benefit from IOCC's home-building initiative.
If you would like to volunteer to help build new homes with IOCC on the Gulf Coast, please visit our web site at www.iocc.org to complete an on-line application, or call toll free at 1-877-803-IOCC (4622).
IOCC was founded in 1992 as the official humanitarian aid agency of the Standing Conference of Canonical Orthodox Bishops in the Americas (SCOBA). Since then, it has implemented over $226 million in relief and development programs in 30 countries around the world.
###