Harry and Liberty Tsakalos Endowment Presented to International Orthodox Christian Charities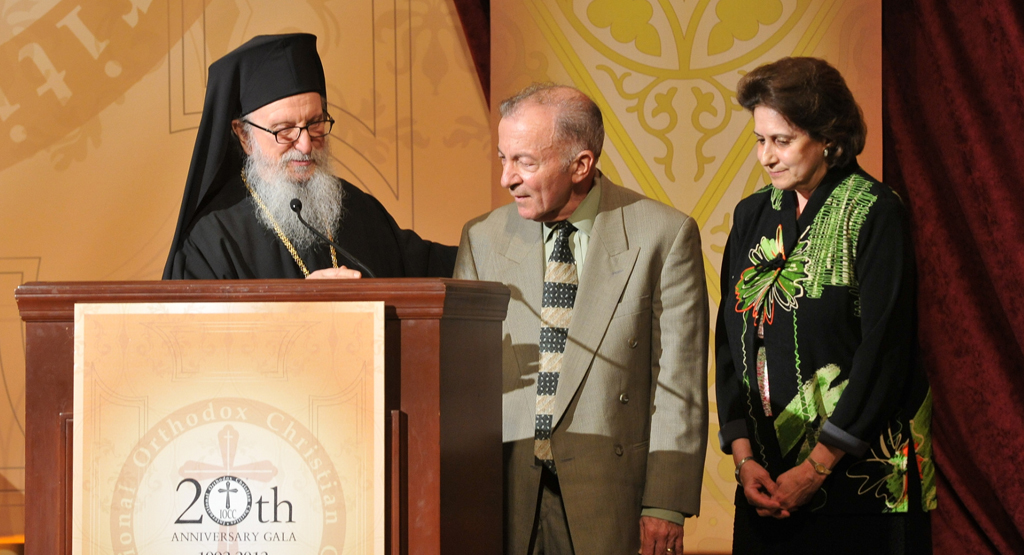 Baltimore, MD (May 9, 2012) — His Eminence Archbishop Demetrios of the Greek Orthodox Archdiocese of America announced the establishment of the Harry and Liberty Tsakalos Endowment for Agriculture Development and Food Security by Mr. and Mrs. Nicholas Tsakalos of Phoenix, Maryland before 350 prominent Orthodox community leaders and guests at a gala celebration held in Washington DC on May 8, 2012 to mark 20 years of humanitarian service by International Orthodox Christian Charities (IOCC).
The generous gift of $100,000 to the newly established fund will advance programs targeting emergency food assistance such as food distribution to people affected by natural disasters and emergencies, agricultural support and training for farmers, and other initiatives that provide effective and lasting solutions to hunger and life-saving nourishment to vulnerable families around the world.
Tsakalos family member, Michael Tsakalos, says his grandparents Harry and Liberty chose IOCC for its ongoing commitment to aid those in need, without discrimination, through the Orthodox Church. "Our business has blessed us and our faith has motivated us to give back and share 'our daily bread' with those who pray for food in a more literal sense," says Tsakalos. "Just as our families came from Greece to make a new life this endowment to IOCC will ensure a new and better life for families seeking lives free from hunger."
The gift was made in honor of the legacy of the Tsakalos family and the success of H&S Bakery, the largest privately owned bakery in the United States. Harry Tsakalos was one of the original two founders of H&S Bakery together with his father-in-law, Isadore "Steve" Paterakis. The family-owned and operated bakery began in 1943 with Harry and Steve making Italian bread by hand out of their Baltimore row house. Today the bakery and its affiliates employ more than 2,000 people in seven states and distribute baked products in 23 states.
###
International Orthodox Christian Charities is the humanitarian agency of the Assembly of Canonical Orthodox Bishops of the United States of America. Since its inception in 1992, IOCC has delivered more than $400 million in humanitarian relief and development programs to families in 50 countries.