IOCC Addressing Nutrition Concerns in Post-War Iraq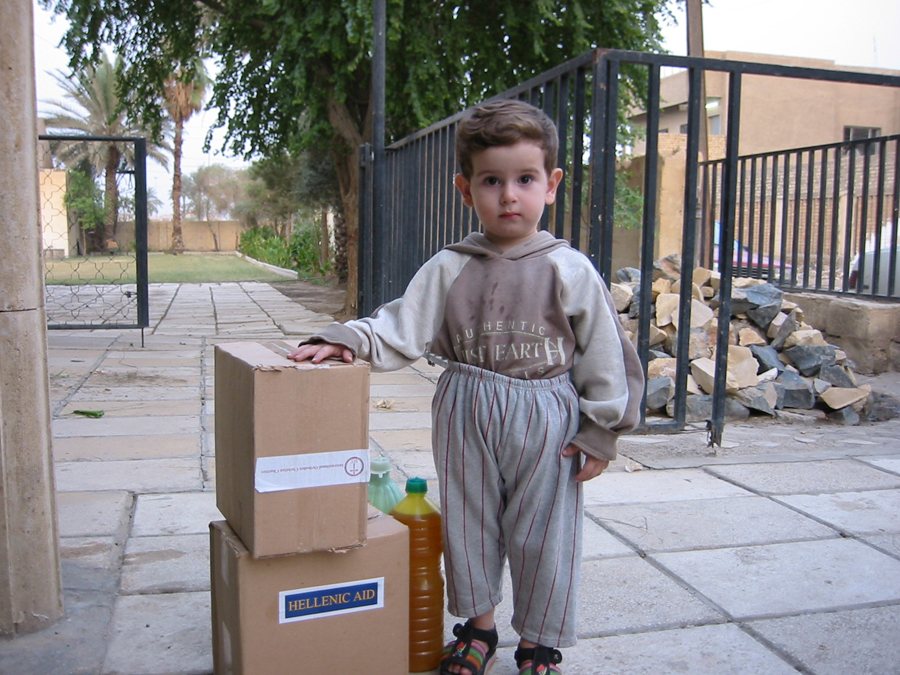 Baghdad (March 19, 2004) — Fawziya and her family live in a long hallway in an abandoned building in Baghdad. They have a roof over their heads but not much else: Half of the corridor is a bedroom, and the other half serves as a kitchen and storage space. Their toilet facilities are in the backyard.
The Kurdish family subsists on the salary of Fawziya's 16-year-old son, Hammad, and whatever the older children can contribute. Fawziya, a 48-year-old widow, cannot find a job because, at her age, she is considered unemployable.
Despite all the uncertainty in her family – and in post-war Iraq – Fawziya has been able to cope with the help of International Orthodox Christian Charities (IOCC), the humanitarian aid agency of Orthodox Christians.
Food parcels from IOCC help supplement the family's monthly food ration, improving the children's diet. And hygiene items such as detergent, soap and toothpaste contribute to the family's overall health and well-being.
Such assistance recently went to more than 23,000 families in Baghdad and Mosul as part of IOCC's ongoing response to the humanitarian needs of poor Iraqi families. On this, the one-year anniversary of the Iraq war, IOCC also is moving forward with post-war reconstruction efforts, refugee assistance and school lunch programs in the two cities.
"The social safety net in Iraq is totally absent," said Drakoulis Bekakos, manager of an IOCC project funded by the Greek Ministry of Foreign Affairs and Action by Churches Together. "You can see so many disparities. In the Muslim community, there is no middle class. They are either rich or poor."
Contributing to problems of malnutrition and hunger in Iraq is the lack of drinking water, the high price of food staples, and nutritional deficiencies in the government's monthly food ration, Bekakos said. According to a report by the UN's Food and Agriculture Organization, the ration is lacking in important vitamins and minerals such as vitamins A and C, riboflavin and iron.
Bekakos said IOCC hopes to address these problems with programs of infrastructure repair and child nutrition. "In Baghdad, there are areas of 10,000 to 15,000 people that don't have a safe drinking water supply," he said. "For many years, Saddam's regime did nothing to supply these areas with drinking water or establish a functional sewage system."
IOCC, in partnership with the packaging company Tetra Pak, also is launching a project to distribute milk to school children in Baghdad and Mosul in the coming months. Building on its successful school lunch programs in Lebanon and the Republic of Georgia, IOCC will give milk to thousands of underprivileged children ages 5 to 12 as part of a larger school lunch program.
"It's important that children in Iraq have their recommended daily allowance of milk and other dairy products," said IOCC Director of Operations Samir Ishak, "because we know that good nutrition contributes to improved school attendance and better academic performance."
Such benefits are especially important in a country where female school attendance – and female literacy – has dropped steadily since the 1991 Gulf War, according to UNESCO. The gender gap in school enrollment during that time increased dramatically because of families' financial inability to send their children to school. When faced with limited resources, many families chose to keep their daughters at home.
###