IOCC Aid 'Lifting Burdens' for Suffering Iraqi Civilians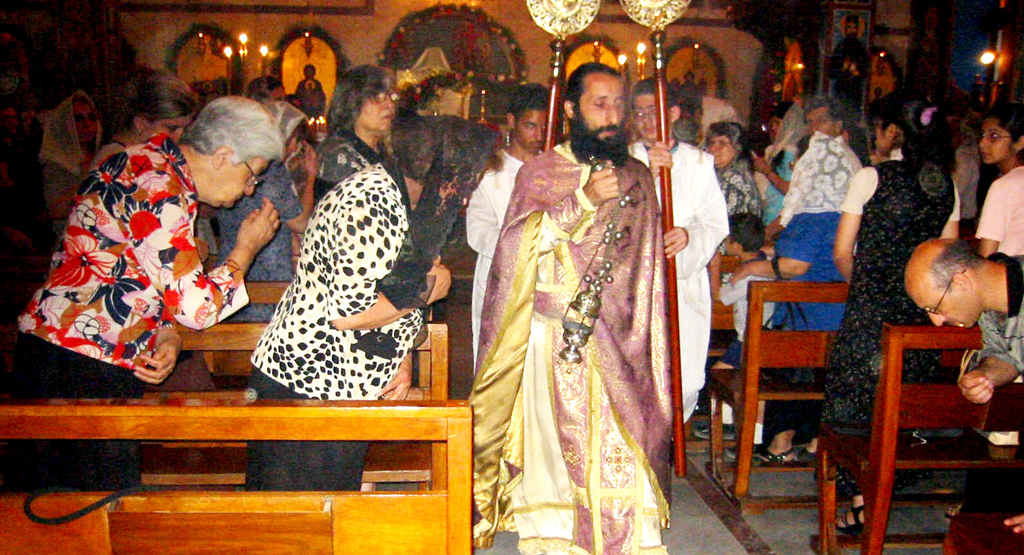 Baghdad (May 1, 2003) — The streets are filled with litter and sewage. The shops are shuttered. Food is still scarce, and unemployment is rampant.
Despite these and other problems faced by post-war Iraq, humanitarian assistance is starting to flow into the country, said David Holdridge, Chief Operating Officer for International Orthodox Christian Charities (IOCC), who has just returned from a five-day trip to Iraq.
"Baghdad has a tremendous humanitarian need, aggravated by the long weeks of bombing, and the lack of electricity and water," Holdridge said. "I didn't have electricity the entire time I was there. There is very little food."
Holdridge was in Iraq from April 24-29 to assess the needs and begin emergency relief distributions on behalf of IOCC, the official humanitarian aid agency of Orthodox Christians. His mission took him to Baghdad and Mosul, where he met with Orthodox leaders and interviewed members of their communities.
Holdridge attended Holy Friday services at an Antiochian Orthodox church in Baghdad and Easter services at a 13th century Orthodox church in Mosul. His 590-mile trip from Amman, Jordan, to Baghdad was without incident.
In another development, IOCC will be able to assist 1,000 Iraqi families with their food needs now that a humanitarian relief convoy has departed from Amman. IOCC will distribute 1,000 food parcels for Iraqi families in need as part of a six-truck convoy organized by the Middle East Council of Churches and Action by Churches Together.
IOCC also expects to set up offices in Baghdad and Mosul in the coming weeks and begin distributions of family food parcels, first-aid kits, stoves and cooking utensils, tents and mattresses, hygiene parcels, and water pumps. Such assistance will meet some of the most pressing needs in Iraq – hunger, malnutrition, lack of clean drinking water and transmission of diseases.
Distributions of emergency food and medicine will be done through local parishes and the Middle East Council of Churches, Holdridge said. "They know who the neediest are in their communities," he said. "It gets down to the individual families very quickly."
Humanitarian relief supplies will be purchased in Iraq or in Amman, Jordan, he said.
During his aid-and-assessment mission, Holdridge met Fr. Younan Yagoob, an Antiochian Orthodox priest in Baghdad. Fr. Younan is the shepherd of a small Antiochian Orthodox community in Baghdad which will partner with IOCC in its humanitarian mission to needy Iraqis of all ethnic and religious backgrounds.
"He has an abiding peace and humor," Holdridge said of Fr. Younan. "He drives a beat-up old car with a broken windshield and a motor which could die at any time. Even so, he insisted on driving me around Baghdad. He kept many families with him in the church during the bombing."
Christians in Iraq constitute 3 percent of the population in this predominantly Muslim country. Most Christians in Iraq belong to the Assyrian Church of the East and the Chaldean Catholic Church, while about 140,000 are Orthodox Christians.
Fr. Younan said some of the most pressing needs in his country include medicine, clothes for children and transportation. "Thank you for your participation in lifting burdens from the people of this country," he said.
Holdridge said the neediest communities in Iraq include the Shiite Muslims of Saddam City, on the outskirts of Baghdad. "It's just a great, sprawling city with a lot of overcrowding, trash lying everywhere and sewage in the streets," he said.
In response to the current crisis, IOCC is appealing for $1 million to provide emergency relief, life-saving medicines and medical supplies to suffering people in the Middle East.
IOCC's parent body, the Standing Conference of Canonical Orthodox Bishops in the Americas, is encouraging all Orthodox Christians to support IOCC's efforts in Iraq through prayer and giving.
IOCC has worked in the Middle East since 1997 and currently has programs in the Holy Land and Lebanon. Since 1992, IOCC has distributed more than $160 million in relief and development assistance in 21 countries.
IOCC is an implementing partner of Action by Churches Together, an international alliance of churches and relief agencies.
###