IOCC Aid Reaches Families Isolated by Typhoon Haiyan's Fury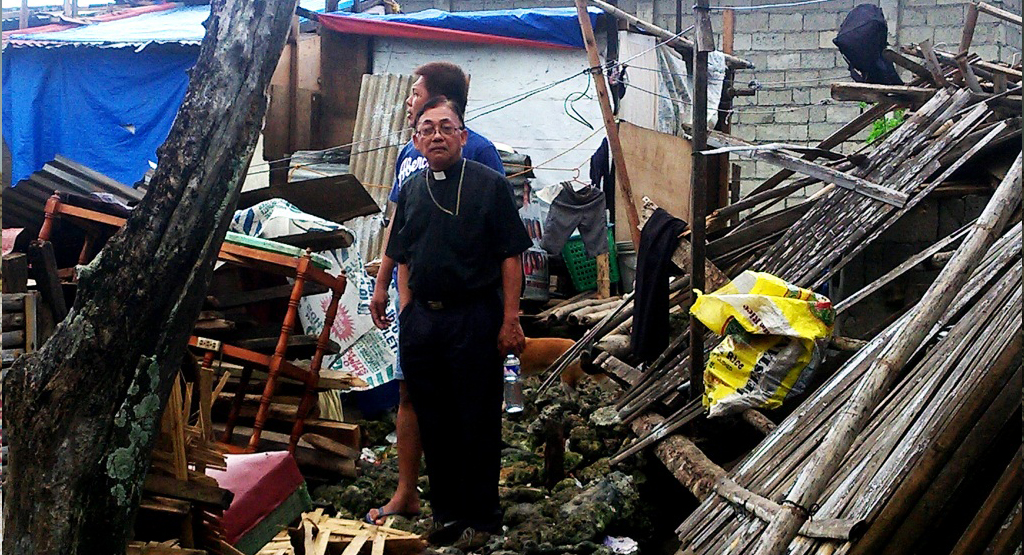 Baltimore, MD (December 5, 2013) — An Orthodox priest looks on in disbelief as a survivor of Typhoon Haiyan leads them through the remains of his home in a remote area of Leyte Province in the Philippines. For nearly two weeks, thousands of storm survivors cut off from the rest of the country endured hunger, thirst and exposure as they waited in desperation for aid they feared wouldn't come in time. No electricity or telephone service, and roads blocked by piles of debris made it nearly impossible for government agencies and relief organizations to respond quickly. As roads are cleared, International Orthodox Christian Charities (IOCC) and its church partners in the Philippines are directing relief efforts to reaching the country's most isolated survivors of the storm.
IOCC is working with Orthodox churches and relief partners inside the Philippines to distribute relief items to survivors stranded in the remote regions of Bohol and Leyte provinces. Nearly 650 people have received food, medicine and first aid care provided by IOCC, as well as water purification tablets to make drinking and cooking water safe. Relief workers continue to slowly make their way through towns and villages, distributing urgently needed assistance to isolated Filipino families.
HOW YOU CAN HELP
You can help the victims of Super Typhoon Haiyan by making a financial gift to the Philippines Typhoon Disaster Fund, which will provide immediate relief as well as long-term support through the provision of emergency aid, recovery assistance and other support to help those in need. To make a gift, please visit www.iocc.org, call toll free at 1-877-803-IOCC (4622), or mail a check or money order payable to IOCC, P.O. Box 17398, Baltimore, Md. 21297-0429.
###
IOCC is the official humanitarian aid agency of the Assembly of Canonical Orthodox Bishops of the United States of America. Since its inception in 1992, IOCC has delivered $438 million in relief and development programs to families and communities in more than 50 countries. IOCC is a member of the ACT Alliance, a global coalition of more than 140 churches and agencies engaged in development, humanitarian assistance and advocacy, and a member of InterAction, the largest alliance of U.S.–based secular and faith-based organizations working to improve the lives of the world's most poor and vulnerable populations.