IOCC Aid Reaches Syria's Youngest Refugees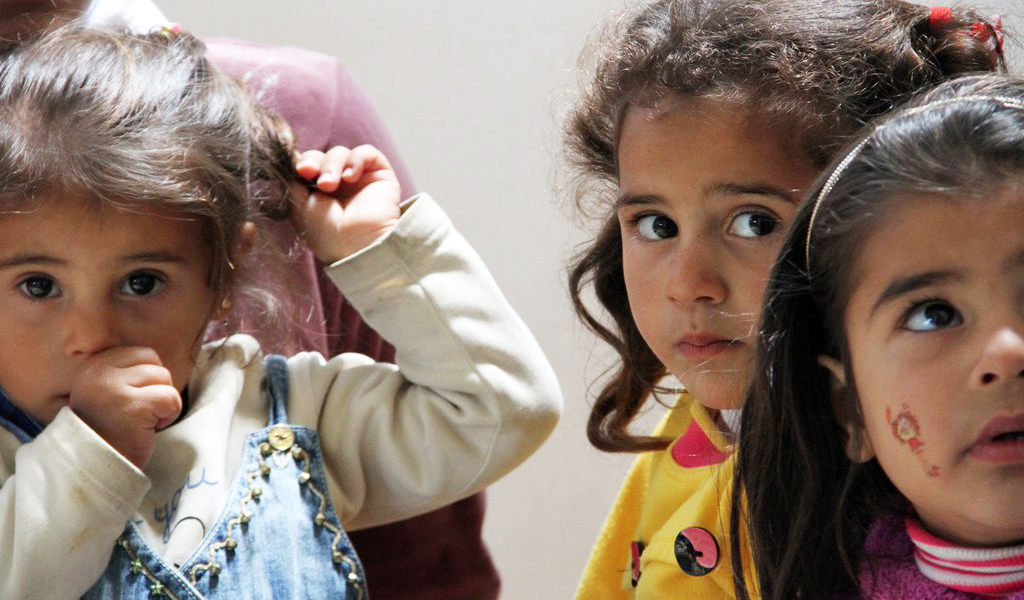 Baltimore, MD (September 21, 2012) — Hiba, 5, clings fearfully to her mother's dress round the clock and wakes up screaming in the middle of the night. Ever since Sami, 4, and his brother Rana, 2, fled Homs with their mother, loud sounds elicit screams and send them diving for cover under tables and beds.
The violence that has engulfed Syria is taking a heavy toll on its children. They make up more than half of the 260,000 Syrian refugees pouring into neighboring countries such as Jordan and Lebanon, according to United Nations estimates. Many arrive with nothing, not even the most basic belongings. International Orthodox Christian Charities (IOCC) is attending to the immediate needs of these young refugees and their families with the distribution of emergency relief items such as health kits, infant supplies and bedding.
IOCC Jordan is working with local churches and relief partners to provide basic necessities like diapers, baby blankets and infant clothing to Syrian mothers seeking shelter at Za'atri refugee camp, where 60 percent of the 28,000 refugees are small children and infants. For older children like Sana'a, who was only three weeks away from graduating, the disruption of fleeing their homes as well as leaving behind school and friends has been especially traumatic. IOCC is assessing the education needs of the school-aged refugee children and working with partner agencies to help improve enrollment into local schools for refugee students.
Through your support, IOCC has also delivered bedding sets and essential personal care kits to more than 1,600 refugee families scattered in urban settlements across five Jordanian cities. In Lebanon's Bekaa region, almost 1,700 refugee families with small children received basic necessities like diapers, baby quilts and pajamas, as well as kits filled with essential hygiene items to help keep children less susceptible to illness from exposure to crowded or unsanitary surroundings. While many of the Syrian refugees are living with host families in Lebanon, a growing number are moving into collective shelters where common facilities are used by large groups of people.
Inside Syria there are some 2.5 million people in need of support because of the conflict and 1.2 million internally displaced, according to the UN Regional Humanitarian Relief Coordinator. Families who remain in the most heated conflict areas are facing the greatest struggle to survive with no jobs or source of income to pay for food or medical care. Working in partnership with the Greek Orthodox Patriarchate of Antioch and All the East, IOCC continues to deliver humanitarian relief to those families still living inside Syria.
HOW YOU CAN HELP
You can help the victims of poverty and conflicts around the world, like those in Syria, by making a financial gift to the International Emergency Response Fund which will provide immediate relief as well as long-term support through the provision of emergency aid, recovery assistance and other support to help those in need.
To make a gift, please visit www.iocc.org or call toll free at 1-877-803-IOCC (4622), or mail a check or money order payable to IOCC, P.O. Box 17398, Baltimore, MD 21297.
###
IOCC is the official humanitarian aid agency of the Assembly of Canonical Orthodox Bishops in North and Central America. Since its inception in 1992, IOCC has delivered more than $400 million in relief and development programs to families and communities in 50 countries.