IOCC and Orthodox Church Reach Uganda's Orphans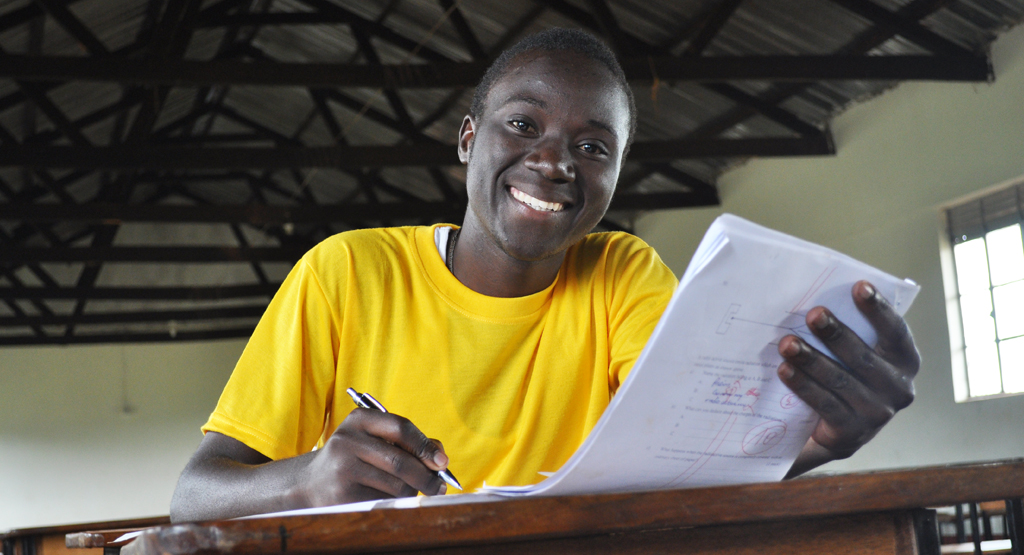 Katente, Uganda (October 30, 2009) — Dawn breaks along the central plain of Uganda, about 60 kilometers north of the capitol Kampala. Far off the main road linking Kampala with the Lake Victoria commercial port of Jinja, children lie in wait near the trenched-ditches along dirt roads, waiting for white ants to climb out of their hills before the heat of the sun drives the insects underground again. With weathered plastic cups in hand they hope to catch as many of these delicacies as possible to bring home for meals.
For many children in this area, these white ants may represent their biggest source of nutrients during the day. The HIV/AIDS epidemic and civil war over the past two decades have decimated countless families in this region, leaving in their wake extreme poverty, lack of opportunities, and large families parentless and displaced from their homes.
Along that same pitted-dirt road, after passing the occasional small dwelling, is a clearing and the site of St. Mary Parish of the Uganda Orthodox Church (UOC). Here at this site, the UOC provides a haven for orphans and vulnerable children to access nutrition, education, and perhaps a little dignity. Through its existing primary and secondary schools at the St. Mary Parish, the UOC is providing sponsorship to hundreds of children throughout Uganda who cannot afford school fees, books, stationary and uniforms.
"I have seen much suffering and violence in my lifetime, and I do not want the same for my brothers and sisters," laments Apostolos, 20, who is the eldest of six orphaned siblings. "After our parents died it was just me left to provide for our family, and I was scared because I was still so young."
International Orthodox Christian Charities (IOCC) is helping to support the St. Mary Parish primary and secondary schools through a new income-generating agricultural project. By constructing a poultry farm and corn mill at the school, students will be able to learn about farming techniques which they can take with them after graduation. Local villagers will also benefit from the ability to mill their corn crop, a staple food crop in Uganda, locally instead of incurring the expense of milling in Kampala. The poultry will be able to live off the leftover millings, and the school will be able to defer some of the costs of sponsoring children through the income brought in by the mill and the poultry.
Additionally, IOCC is providing regulation desks for classrooms, which will allow the schools to be nationally certified for proctoring end of year exams. "Before we had these desks, the school was paying for the costs of students who had to travel long distances to take the year-end exam," remarks headmaster James Kakende. "Now, that money can be spent on sponsoring new children, and local families will have more money left for their survival needs."
After spending more than 6 years living and studying in Katente, and being financially supported by the school, Apostolos is poised to graduate high school next year. "With the help of the school I have been educated, and given income to support my brothers and sisters, and I am no longer scared for the future." Apostolos hopes to be able to attend University and study law.
Since 2004, IOCC has been serving the humanitarian needs of Africans and strengthening the national Orthodox churches to support their communities. Over $16 million has been invested in HIV/AIDS prevention programs and for the delivery of medical supplies and pharmaceuticals to hospitals and clinics. IOCC's new programs for Uganda are part of its expanded Africa Initiative.
To help in providing development and emergency relief, call IOCC's donation hotline toll-free at 1-877-803-4622, make a gift on-line at www.iocc.org, or write a check or money order payable to "IOCC" and mail to: IOCC, P.O. Box 17398, Baltimore, Md. 21297-0429.
IOCC, founded in 1992 as the official humanitarian aid agency of the Standing Conference of Canonical Orthodox Bishops in the Americas (SCOBA), has implemented over $300 million in relief and development programs in 33 countries around the world.
###