IOCC and Philoptochos Help Ethiopian Children Combat Dreaded Disease
Sara Tomczyk/IOCC Ethiopia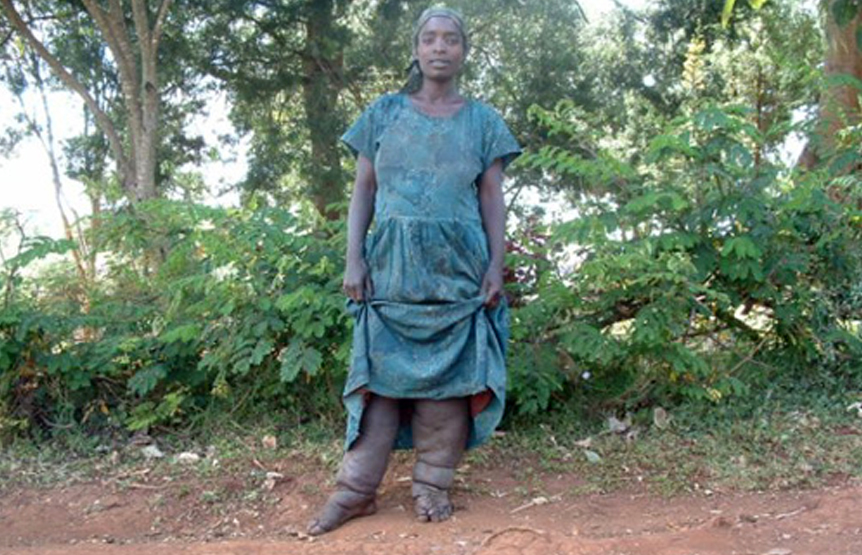 Addis Ababa (May 21, 2010) — Lidya grew up on a small farm in southern Ethiopia and spent sunny afternoons playing barefoot in the fields. At 13, she began noticing a slight swelling in her feet. For a year Lidya hid this swelling from her family and school friends under long skirts. However, the swelling continued and a painful oozing wound appeared between her toes.
Lydia was afflicted by a debilitating disease called podoconiosis, a condition caused by the exposure of bare feet to alkalic clay soil that causes open sores and ulcers, infection, and burning, itching, or swelling of the feet and lower legs.
Like so many who suffer from her affliction and the misconceptions that surround her disease, Lidya's mother reacted harshly and blamed Lydia for bringing a curse upon their family. Yet, for Lidya and approximately one million people who are affected by podoconiosis in Ethiopia, a simple pair of shoes and daily foot treatments can change all of this.
Lydia fell into despair after realizing she must stop going to school and would never marry. Her mother forced her to stay inside the house and hide from the community. Then Lidya's father heard about a relative who also suffered from the condition and arranged for this relative to show Lydia how to wash her feet with soap and water and taught her the importance of shoes and socks. Within four months, the oozing stopped, and the outgrowths on her feet disappeared. She returned to school and raised awareness about the condition and its treatment among her classmates.
"So many Ethiopians, especially the children, face a host of dreadful diseases," said IOCC Ethiopia Country Representative Sigurd Hanson. "The numbers are brutal and stark, but most of these diseases are preventable."
With the support of the Greek Orthodox Ladies Philoptochos Society and private donors, IOCC is working to give hope to affected individuals by distributing shoes and providing foot hygiene training to prevent and treat this painful condition.
In a country of 80 million people, Ethiopians struggle on many health fronts in addition to podoconiosis. Since 2004, IOCC and the Ethiopian Orthodox Church have reached over 9 million Ethiopians through an HIV/AIDS prevention and care program, and a disability outreach project in Addis Ababa has assisted individuals through employment training, teaching life skills, and increasing awareness among the community.
To help in providing development and emergency relief, call IOCC's donation hotline toll-free at 1-877-803-4622, make a gift on-line at www.iocc.org, or write a check or money order payable to "IOCC" and mail to: IOCC, P.O. Box 17398, Baltimore, Md. 21297-0429.
IOCC is the official humanitarian aid agency of the Standing Conference of Canonical Orthodox Bishops in the Americas (SCOBA) and a member of the ACT Alliance, a global coalition of churches and agencies engaged in development, humanitarian assistance and advocacy.
###