IOCC Assists Syrian Families Escaping Bloodshed in Idlib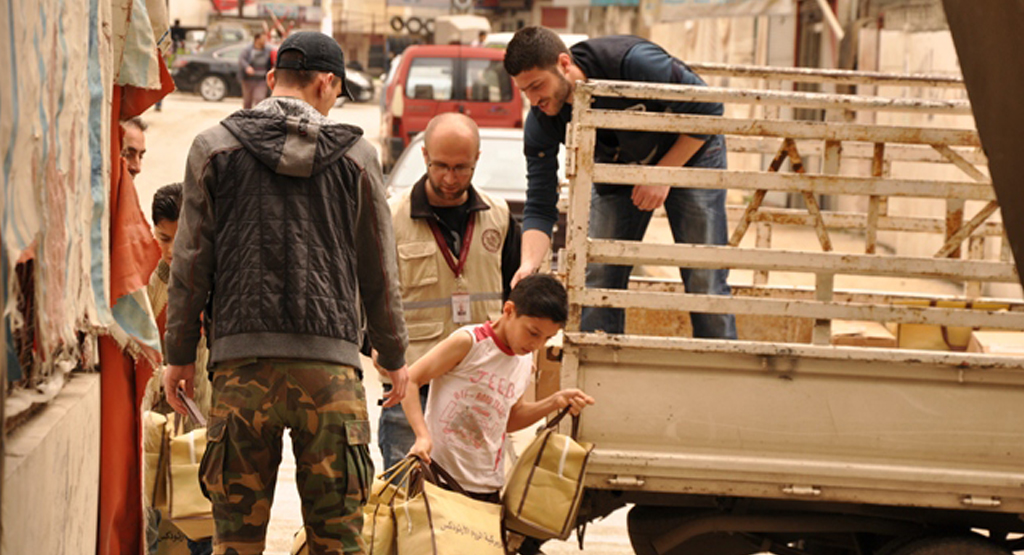 Baltimore, MD (March 31, 2015) — As the security and humanitarian situation in Idlib, Syria, continues to deteriorate following escalated fighting this past weekend, International Orthodox Christian Charities (IOCC), working in partnership with the Greek Orthodox Patriarchate of Antioch and All the East (GOPA), is providing emergency medical assistance, hygiene kits, and personal care items to displaced Idlib families who have fled to the Syrian port city of Lattakia.
According to staff on the ground, approximately 300 of the nearly 5,000 displaced people fleeing Idlib arrived in Lattakia with injuries, many related to flying shrapnel. Some of them arrived alone knowing nothing about the rest of their families, while others managed to get out with their families intact. "I escaped with all of my 14 family members," said Fadi, a displaced Idlib resident. "We barely fit in the small car which was our only transportation. Many cars around us crashed as they tried to flee, because they were shot by a sniper while trying to escape the city."
Rami, who also fled Idlib, said he and his 9-year-old daughter made it out through the city's sewage channels to avoid snipers. They walked all night to reach safety, but he now faces new fears for his family. "My daughter is in complete shock from what she witnessed, and I can't stop thinking about my parents who are still trapped in Idlib." IOCC/GOPA is helping traumatized parents like Rami through counseling that will equip them and their children with the coping skills they need to deal with such difficult experiences.
In addition to those families who fled to Lattakia, IOCC/GOPA rapid action teams are on the ground responding to the needs of other families arriving to the cities of Hamah and Jableh with relief such as shelter, bedding, clothing, and hygiene kits.
The great majority of Idlib's population of an estimated 600,000 people remains trapped inside the besieged city. Should conflict continue to escalate, the United Nations and partners estimate that up to 240,000 people could be displaced into Government-controlled areas of Idlib, Lattakia, Tartous and Hama governorates.
IOCC, an ACT Alliance member, is one of the few humanitarian organizations inside Syria providing immediate assistance to displaced families and elderly who have endured four years of a brutal war. Working in 29 offices across Syria, IOCC has provided relief to 2.3 million vulnerable people inside Syria since 2012.
HOW YOU CAN HELP
You can help the victims of poverty and conflicts around the world by making a financial gift to the International Emergency Response Fund which will provide immediate relief, as well as long-term support through the provision of emergency aid, recovery assistance and other support to help those in need. To make a gift, please visit iocc.org or call toll free at 1-877-803-IOCC (4622), or mail a check or money order payable to IOCC, P.O. Box 17398, Baltimore, MD 21297.
###
IOCC is the official humanitarian aid agency of the Assembly of Canonical Orthodox Bishops of the United States of America. Since its inception in 1992, IOCC has delivered $534 million in relief and development programs to families and communities in more than 50 countries. IOCC is a member of the ACT Alliance, a global coalition of more than 140 churches and agencies engaged in development, humanitarian assistance and advocacy, and a member of InterAction, the largest alliance of U.S.–based secular and faith-based organizations working to improve the lives of the world's most poor and vulnerable populations.