IOCC Assists Syrian Families
Seeking Refuge in Northern Iraq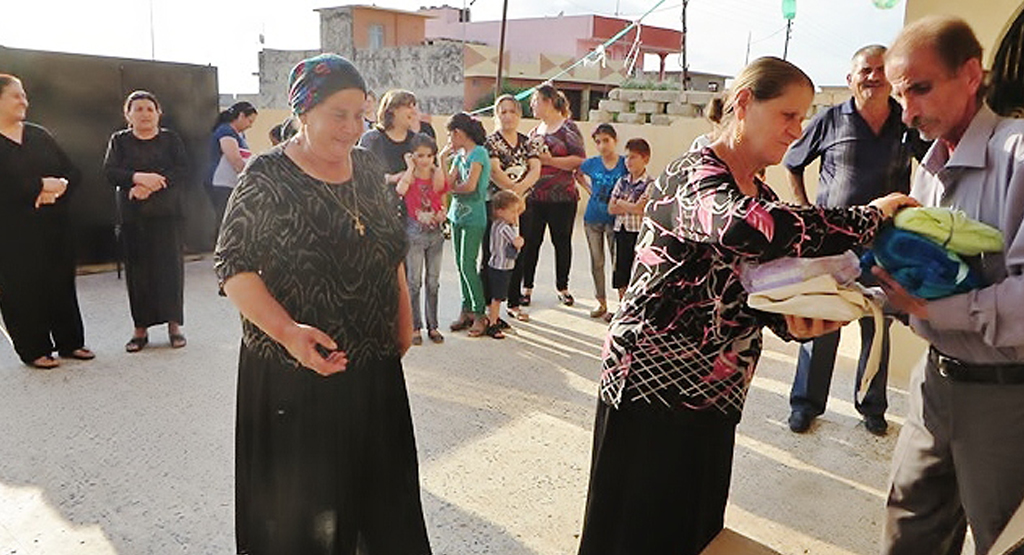 Baltimore, MD (July 30, 2014) — Syrian refugee families wait patiently for their turn to receive emergency relief items from a distribution center in northern Iraq's Kurdistan region. More than 220,000 Syrian refugees have fled here from the violence of civil war – often arriving with nothing but the clothes they wear. Many have sought refuge at Kawergosk Refugee Camp in Erbil, which has already surpassed its capacity to shelter 10,000 people since it opened less than a year ago. The overcrowded conditions of the refugee camp along with scorching daytime desert temperatures over 100 degrees make it a daily struggle to maintain good hygiene and health.
International Orthodox Christian Charities (IOCC) and local relief partners are working to ease the harsh living conditions for vulnerable Syrian refugee families. Bedding as well as hygiene kits filled with washcloths, soap and toothbrushes are being distributed to more than 2,800 refugee families living at the camp as well as in Nineveh Plains and Dohuk governorate. IOCC, an ACT Alliance member, is also distributing school kits to 3,000 school-aged refugee children so that they will have the essential supplies such as paper, pencils and rulers needed to continue their education.
IOCC, working in close partnership with The Greek Orthodox Patriarchate of Antioch and All the East, supports one of the largest established humanitarian relief networks inside Syria. Since 2012, IOCC has provided relief to more than 1.5 million people inside Syria as well as refugees and locally affected populations in Jordan, Lebanon, Iraq and Armenia.
HOW YOU CAN HELP
You can help the victims of poverty and conflicts around the world by making a financial gift to the International Emergency Response Fund which will provide immediate relief, as well as long-term support through the provision of emergency aid, recovery assistance and other support to help those in need. To make a gift, please visit www.iocc.org or call toll-free at 1-877-803-IOCC (4622), or mail a check or money order payable to IOCC, P.O. Box 17398, Baltimore, MD 21297.
###
IOCC is the official humanitarian aid agency of the Assembly of Canonical Orthodox Bishops of the United States of America. Since its inception in 1992, IOCC has delivered $488 million in relief and development programs to families and communities in more than 50 countries. IOCC is a member of the ACT Alliance, a global coalition of more than 140 churches and agencies engaged in development, humanitarian assistance and advocacy, and a member of InterAction, the largest alliance of U.S.–based secular and faith-based organizations working to improve the lives of the world's most poor and vulnerable populations.