IOCC Basketball Clinic Provides At-Risk Youth With Skills On And Off The Court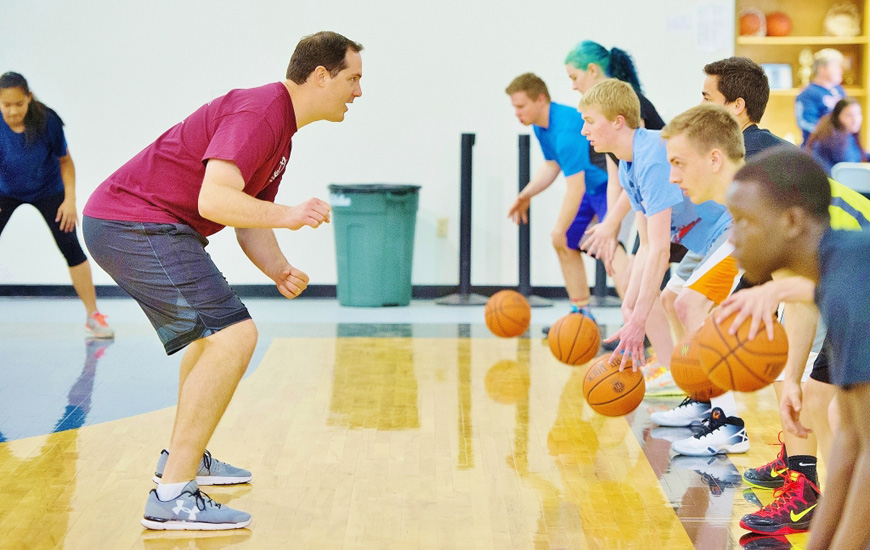 June 10, 2016
Baltimore, MD (IOCC) — A Saturday basketball clinic taught dozens of Alaska youth more than just the basic ball handling skills of the game. International Orthodox Christian Charities (IOCC) hosted one-day youth basketball and mentoring clinics in Anchorage and the village of Napaskiak to provide a fun, sports-focused environment and to reinforce healthy lifestyles and substance abuse prevention. The clinic introduced the at-risk youth to positive role models through the game of basketball and taught them how to build positive practices into their lives to lessen risk-taking behavior.
Retired professional and college players Andrew Cladis, Andrew Snelgrove and Patrick Johnson volunteered as mentors. "The reason I got into coaching was to impact young people, and the opportunity to connect with at-risk kids and hopefully give them some positive messages to take forward in their lives was a no-brainer for me," said Johnson, who played for Duke University and is now head coach of Men's Basketball at Citrus College in Glendora, California. Andrew Cladis, a former professional player in Europe, added, "Basketball teaches qualities of character like working hard and handling adversity, and seeing the young people in Anchorage and Napaskiak demonstrate these traits, even in small ways during the clinics made this a success."
Substance abuse among Alaska Native youth is double the national average. At the same time, the majority of Orthodox priests in Alaska are Alaska Natives. IOCC has been working with the OCA Diocese of Sitka and Alaska and St. Herman Orthodox Seminary in Kodiak, Alaska, to implement a substance abuse prevention training program for seminarians and clergy that will reach some of the most remote villages and communicate these messages to people within the Alaska Native community. "We are grateful for IOCC's continuing support of our seminarians and clergy to learn the most effective methods in preventing substance abuse," stated His Grace Bishop David of Alaska, "and are particularly pleased that these basketball and healthy lifestyles clinics allowed our youth in Alaska to concentrate on building positive habits in their lives that will protect them from so many contemporary negative influences. Battling the effects left from years of negative influences is an ongoing struggle for us, and thanks to the efforts of IOCC, we are now making important steps in the right direction for our clergy and youth."
While substance abuse ravages Alaska Native families, Alaska Native youth are passionate about basketball and eagerly participate – even in the smallest villages where it is difficult to find enough children to form teams in the schools. The clinic provided an ideal outlet to engage the youth in a positive way about topics that are critical to leading healthy lives.
The clinic wasn't just centered around the game. IOCC US Country Representative Dan Christopulos also led a discussion that allowed the youth to interact with the players and learn about the tools needed to deal with every day challenges. "Playing basketball is so much more than sports." said Christopulos. "This program aims to provide youth with healthier lifestyle choices and the rewards that come with making those choices."
###
ABOUT INTERNATIONAL ORTHODOX CHRISTIAN CHARITIES
IOCC is the official humanitarian aid agency of the Assembly of Canonical Orthodox Bishops of the United States of America. Since its inception in 1992, IOCC has delivered $580 million in relief and development programs to families and communities in more than 50 countries. IOCC is a member of the ACT Alliance, a global coalition of churches and agencies engaged in development, humanitarian assistance and advocacy. To learn more about IOCC, please visit our website at iocc.org.