IOCC Begins Distributions in Tbilisi and North Ossetia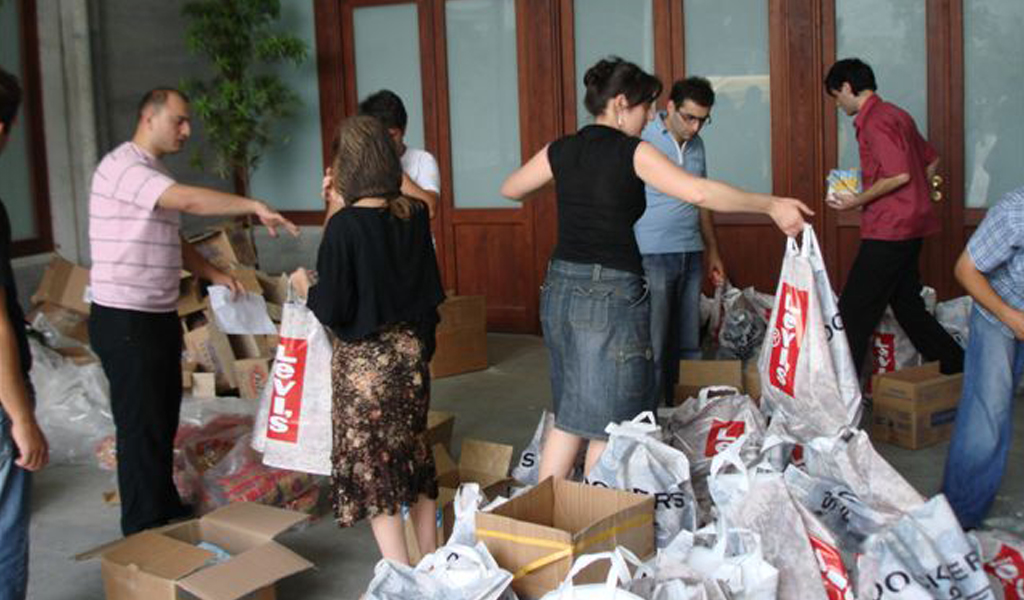 Baltimore, MD (August 15, 2008) — International Orthodox Christian Charities (IOCC) distributed emergency food and hygiene supplies to people who were displaced due to the conflict between Georgian, Russian, and South Ossetian forces. The distribution took place on Thursday in Tbilisi where displaced families took shelter in a school for the blind and in the nearby town of Tskvarichamia. IOCC is also coordinating assistance to refugees in North Ossetia (Russia) in partnership with the Russian Orthodox Church.
"Most people had to flee the fighting in South Ossetia and brought nothing more than the clothes on their backs," said IOCC Georgia Program Manager Darejan Dzotsenidze. The Georgian government and the U.N. are currently registering some 23,000 people who fled the conflict and poured into Tbilisi. Those numbers are expected to increase.
IOCC released emergency funds to its Tbilisi and Moscow offices earlier this week to purchase food items such as pasta, rice, cereal, sugar and tea, and hygiene items including towels, soap and tooth paste. The collective centers where the displaced are housed often have two families in one room.
"Many of those who fled hid in basements and forests until they had to find food," said Dzotsenidze. "Now they are saying, 'please help me to get home – even if you give me a palace here, I would rather go home.'"
IOCC, which has worked on emergency and development projects in Russia and Georgia since the early 1990s, is working in partnership with the Georgian Orthodox Church in the affected areas of Georgia and with the Russian Orthodox Church in North Ossetia.
To help in providing emergency relief, call IOCC's donation hotline toll-free at 1-877-803-4622, make a gift on-line at www.iocc.org, or mail a check or money order payable to "IOCC" and write "Conflict in the Caucasus" in the memo line to: IOCC, P.O. Box 17398, Baltimore, Md. 21297-0429.
IOCC, founded in 1992 as the official humanitarian aid agency of the Standing Conference of Canonical Orthodox Bishops in the Americas (SCOBA), has implemented over $275 million in relief and development programs in 33 countries around the world.
###