IOCC Coordinates Aid with Church Partners in Iraq, Jordan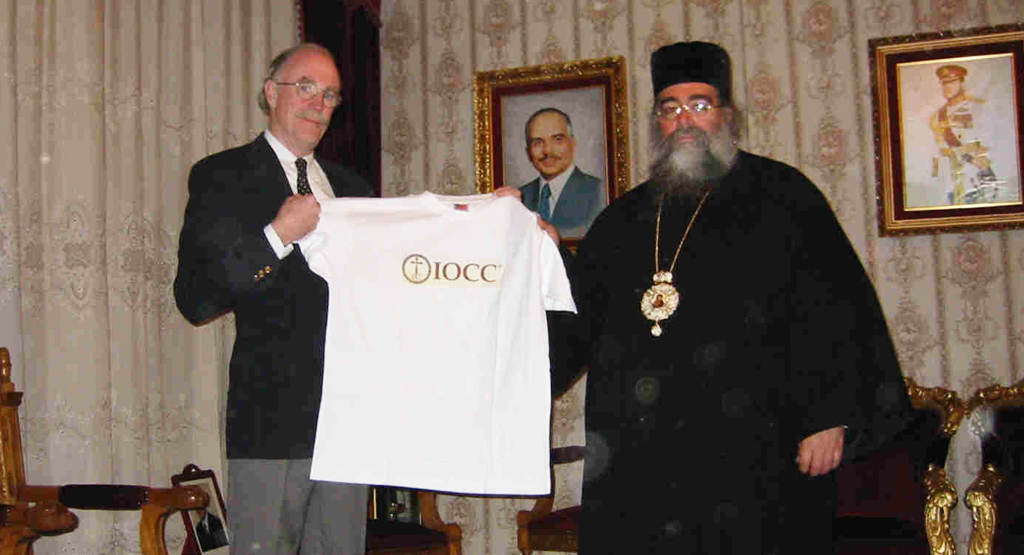 Amman, Jordan (March 25, 2003) — With a humanitarian crisis looming in Baghdad and elsewhere in Iraq, International Orthodox Christian Charities (IOCC) is working with its church partners to arrange distributions of emergency food and medicines in Iraq in the coming days and weeks.
IOCC Chief Operating Officer David Holdridge is in Amman, Jordan, coordinating IOCC's response with the Middle East Council of Churches (MECC) and its member jurisdictions. The MECC has 44 distribution centers set up in churches and mosques in and around Baghdad.
Holdridge said humanitarian needs already are emerging in northern Iraq, where 300,000 to 400,000 people have been displaced, and in Baghdad, where people are suffering from a lack of basic medical care.
"You have an impending crisis," he said. "You have a population – children, the elderly, the frail – that is becoming traumatized. There's no doubt about that. You can imagine what that bombing does night after night to people."
Especially vulnerable are people with respiratory ailments because of the smoke from oil fires and fires caused by the bombardment, Holdridge said. "You're going to see a dramatic increase in healthcare problems," he said.
Holdridge said IOCC, consistent with its practice in other countries, will work to build the capacity of local Orthodox churches in and around Baghdad to provide assistance to their surrounding communities.
"Any sort of distribution program with the (Orthodox) Church will need a strong capacity-building component built into it," he said. "You find the Orthodox community all over Iraq, but it's a small community."
Among the estimated 140,000 Orthodox Christians in Iraq are the parishioners of an Antiochian Orthodox congregation in Baghdad. The Syriac Orthodox Church has 36 congregations in Iraq with an estimated 45,000 members, and the Armenian Apostolic Church has 12 congregations with an estimated 20,000 parishioners, according to the World Christian Encyclopedia.
Christians in Iraq make up about 3 percent of the population in this predominantly Muslim country. Most Christians in Iraq belong to the Assyrian Church of the East and the Chaldean Catholic Church.
IOCC will seek to train and deploy workers from Iraqi parish communities to assist vulnerable Iraqis of all religious and ethnic backgrounds, Holdridge said.
In response to the Iraq crisis, IOCC, the official humanitarian aid agency of Orthodox Christians, is appealing for $1 million to provide emergency relief, life-saving medicines and medical supplies to suffering people in the Middle East.
IOCC has worked in the Middle East since 1997 and currently has programs in the Holy Land and Lebanon. Since 1992, IOCC has distributed more than $160 million in relief and development assistance in 21 countries.
###