IOCC Cyclists Reach Halfway Mark in 3,000 Mile Ride to Assist World's Poor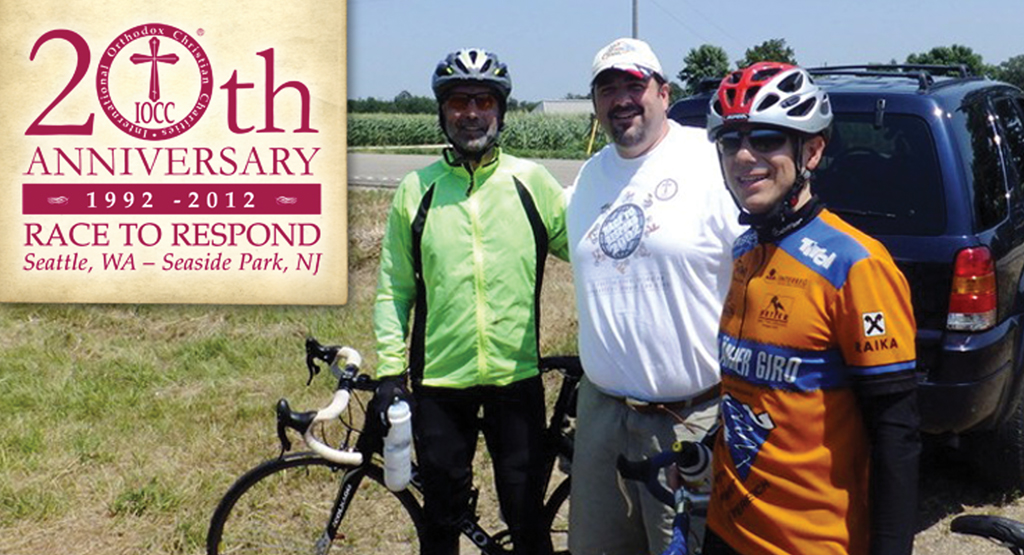 Baltimore, MD (July 17, 2012) — The record heat waves, drought, and wildfire-charred fields and forests that dominated national news over the past 21 days did little to discourage three dedicated men who cycled into the tiny hamlet of Redfield, South Dakota, on Friday to mark the halfway point of their 3,000-mile push across the US. With unusually harsh summer conditions adding to the strenuous physical challenge, the Race to Respond team members continue to bike their way cross-country to raise support and awareness for people living in poverty and those affected by natural and manmade disasters served by International Orthodox Christian Charities (IOCC).
The IOCC benefit is not an actual race but a test of endurance for the team of cyclists which includes team leader Jim Angelus, 55, from Hopewell, N.J., Konstantin Kanelis, 45, from Munich, Germany; and Brett McKey, 28, from Durham, NC. Angelus explains, "Touring the US on bikes, meeting with church groups and IOCC supporters is a tangible way for us to show people across the US how IOCC works to connect communities around the globe. Every day, IOCC is in a "race" to respond to the needs of people suffering from war, disease, natural disaster, poverty and famine."
The physical challenge for these top-conditioned athletes came early as they climbed approximately 24,000 feet in their first seven days after rolling out of a cool and rainy Seattle on a route that would lead them over the Continental Divide and across the Great Plains. While they prepared physically for the distance they would cover, Angelus says he never dreamed that as they headed east over the northern half of the country, usually a cool summer respite, that daytime temperatures would climb over 100 degrees. That coupled with stretches of open space with few towns and services altered their regular riding routine. "To address the heat, we were up at 4am in the morning riding from 5am until noon and then stopping to eat and rest until the next morning. Those early morning starts kept us on schedule." Angelus plans to stick with that strategy as the three Race to Respond riders and their support-and-gear vehicle driver continue on to the Midwest, skirting past the southern shores of Lake Michigan, through a hilly stretch of Pennsylvania, and ending on the Atlantic coast at Seaside Park, New Jersey.
The Orthodox Christian community has been cheering on their efforts starting with a sendoff in Seattle by the Assumption Greek Orthodox Church, as well as welcoming events at Orthodox Christian parishes in Idaho and Montana. In Mankato, Minnesota, the riders were greeted by IOCC volunteers working on a nearby Habitat for Humanity home build. The team of cyclists also received a surprise visit and praise for their efforts from IOCC Executive Director, Constantine Triantafilou, and IOCC US Country Representative, Dan Christopulos, who both readily took to the road for the day as the team's support crew. More support rallies are planned along the travel route including an upcoming evening reception at St. Elias the Prophet Greek Orthodox Church in Dubuque, Iowa , on July 19 and a meet and greet event at St. Constantine and Helen Greek Orthodox Church in Merrillville, Indiana, following Divine Liturgy on July 22.
This isn't the first time Angelus and Kanelis have ridden coast-to-coast on behalf of IOCC. In 2002, they were joined by three other cyclists in a 28-day ride from East to West, covering the hills of Pennsylvania, the plains of the Midwest, the Rocky Mountains of Colorado, and the "loneliest highway" in America: U.S. 50 in Nevada, before finally reaching the Pacific coast north of San Francisco. As IOCC celebrates years of delivering more than $400 million in relief to families and communities in 50 countries, Angelus and his team hope that this time around, their efforts will introduce IOCC to a new circle of friends and inspire Orthodox Christians across the country to rally behind the "race to respond" to the needs of the world's most vulnerable people.
SUPPORT RACE TO RESPOND
Cheer on the Race to Respond team as they pass through your town! To find out where and when they will be visiting Orthodox Christian parishes across the country, visit our interactive map at www.RaceToRespond.org
You can also support Race to Respond with a donation to benefit the humanitarian work of IOCC. Through your support, IOCC helps people in crisis and in need to develop the capacity to rebuild their lives and communities. To make a gift, please visit www.iocc.org, call toll-free at 877-803-4622 (IOCC) or mail a check or money order to IOCC, P.O. Box 17398, Baltimore, MD 21297-0429.
###
International Orthodox Christian Charities is the humanitarian agency of the Assembly of Canonical Orthodox Bishops of the United States of America. Since its inception in 1992, IOCC has delivered more than $400 million in humanitarian relief and development programs to families and communities in 50 countries.