IOCC, Ethiopian Orthodox Church, USAID Sign Agreement to Fight Aids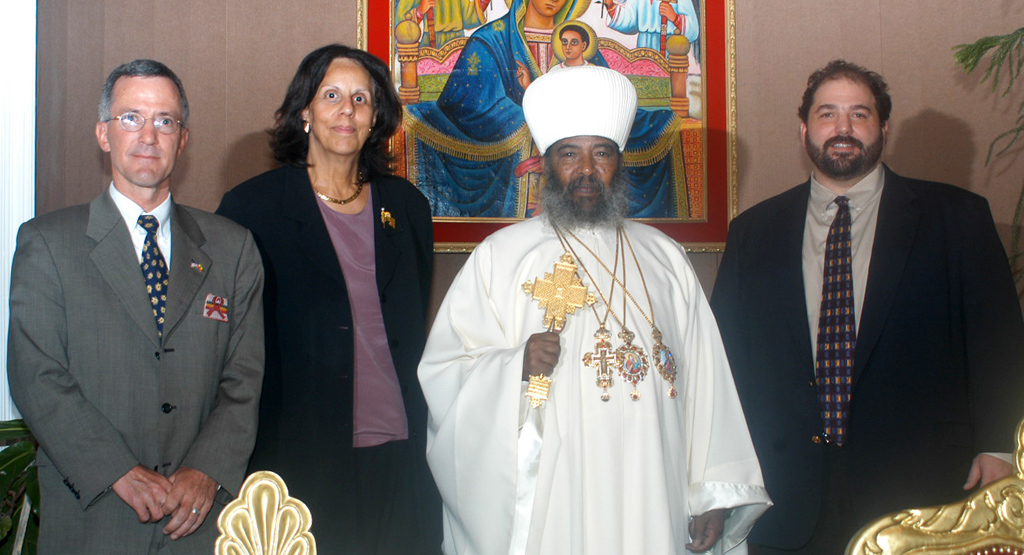 Addis Ababa, Ethiopia (February 25, 2004) — In an agreement described as historic, International Orthodox Christian Charities (IOCC) and the Ethiopian Orthodox Church have launched a new partnership to fight AIDS in Ethiopia.
Officials from IOCC, the Ethiopian Orthodox Church and the U.S. government met on February 13 in Addis Ababa, Ethiopia, to sign the agreement, which will expand the Church's efforts to care for AIDS orphans and people living with HIV/AIDS, and to prevent future infections.
"Saving life is the Church's fundamental obligation and its sacred duty and responsibility," said His Holiness Abune Paulos, Patriarch of the Ethiopian Orthodox Church, at the signing ceremony. "This new project will go a long way in helping us expand the scale and intensity of our interventions."
The three-year, $6 million project, supported by the U.S. Agency for International Development (USAID), will offer faith-based community care to nearly 9,000 AIDS orphans and vulnerable children, and palliative care to more than 26,000 people living with HIV/AIDS by 2007.
The project also seeks to reduce the incidence of HIV/AIDS infections in Ethiopia through a massive public education campaign, which will promote the importance of abstinence and/or faithfulness to one partner.
U.S. Ambassador to Ethiopia Aurelia E. Brazeal praised the three-way agreement as an example of the "crucial role that faith-based organizations can play in addressing HIV/AIDS. … They are a valuable resource," she said.
Also attending the signing ceremony were William Hammink, director of USAID in Ethiopia, and Constantine M. Triantafilou, executive director of IOCC, the humanitarian aid agency of Orthodox Christians.
"As faithful children of God, we must come together to fight this deadly disease and all suffering around the world," Triantafilou said. "It is with great hope that I stand with you today to formally undertake this urgent effort."
Triantafilou praised Patriarch Paulos as an "outspoken leader on the challenge of HIV/AIDS in Ethiopia."
IOCC has been active in Ethiopia since 2001, when it began supporting small-scale agricultural projects in partnership with the Church's relief office, the Development and Inter-Church Aid Commission (DICAC). IOCC currently is hiring senior staff to lead the HIV/AIDS project in partnership with DICAC.
A country of 70 million people, Ethiopia has the third largest number of HIV-positive people in the world (an estimated 2.2 million, including 250,000 children under age 5). Approximately 1.2 million Ethiopian children have been orphaned by AIDS.
Patriarch Paulos said the disease, first reported in Ethiopia in 1986, threatens the future of the Ethiopian people and undermines the country's development. "Our resolve and determination to prevent further spread of this pandemic and save our people … from self-destruction is stronger than ever," he said.
Because of its size, the Ethiopian Orthodox Church is uniquely equipped to deliver an anti-AIDS message to a large segment of the population, Ambassador Brazeal said. With 35,000 churches and monasteries, and 500,000 clergy (including priests, deacons and monks) the Church has access to the most remote parts of Ethiopia.
The Church and IOCC will implement the AIDS project in the 11 largest urban centers in the Southern Nationalities & Nation-People Region and the regions of Amhara, Oromiya, Benishangul Gumuz, Gambella and Tigray.
IOCC and DICAC, with a joint contribution valued at $1 million, will conduct its expanded AIDS education campaign through public rallies, peer counseling, posters, literature, T-shirts, skits and musical productions.
Another component of the project is the training of counselors who will spread the message of AIDS prevention beyond the life of the program, and who will train others. With this model of "trained trainers," thousands of counselors will be available to support the anti-AIDS campaign by 2007.
###