IOCC Expands Education Program Cited for Excellence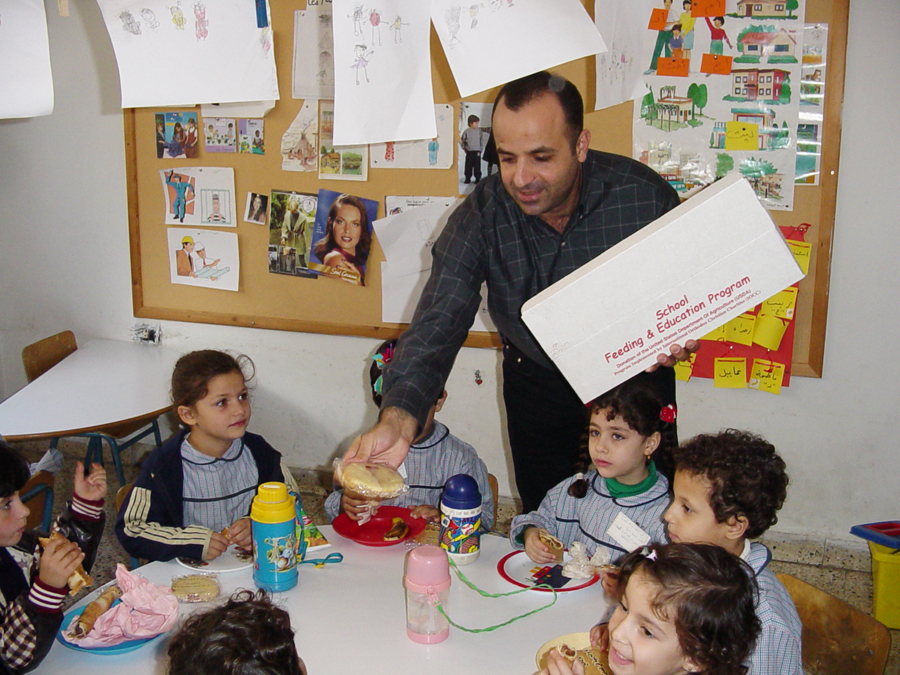 Baltimore, MD (October 20, 2003) — Tens of thousands of children in Lebanon won't have to learn on an empty stomach or go without critical school supplies thanks to a newly-expanded education program by International Orthodox Christian Charities (IOCC).
U.S. Agriculture Secretary Ann M. Veneman cited the program, funded by the U.S. Department of Agriculture, for its success in improving child nutrition and learning in Lebanon.
"Teachers [in Lebanon] report that children have more energy, concentrate better and learn faster since the school meals began," Secretary Veneman said, "while more parents are learning the value of education, especially for their daughters."
Now in its third year, the program will deliver nutritious meals, school supplies and lessons in health and hygiene to an estimated 35,000 Lebanese children in 180 public elementary schools — nearly three times the size of last year's program.
IOCC, the humanitarian aid agency of Orthodox Christians, recently was approved by USDA to continue the program in Lebanon for the 2003-2004 school year.
"We know, after two years of doing this, that giving meals to underserved children on a daily basis has a significant impact on how well they do in school," said IOCC Director of Operations Samir Ishak, who recently visited Lebanon to oversee the program's extension. "The school lunch program holds out the promise of a brighter, healthier future for these children and for Lebanon."
Poor school performance in Lebanon is often attributed to absenteeism, poor health and hunger in children. Public schools enroll some of the most economically-disadvantaged children in the country, many of whom suffer from deficiencies in vitamin A, iodine and iron, according to USDA's Foreign Agriculture Service.
IOCC's program addresses these deficiencies, increasing student motivation, improving concentration, enhancing energy levels and providing an incentive for children to come to school, Ishak said.
"It is a joy to wake up every day knowing that I will receive a meal at school," said Marlene, a student at Achrafieh School for Girls in Beirut. "This proves that someone cares for me, for my brother and for my friends."
In addition to the meals, IOCC provides school supplies, lessons in good health and hygiene habits, and training for parents and teachers. Making physical repairs to participating schools and providing schools with equipment is also part of the program.
Launched as a USDA pilot project in 2001, the McGovern-Dole International Food for Education and Child Nutrition Program is currently being run in 21 countries in Africa, Asia, Latin America, the Middle East, and Eastern Europe.
IOCC operates the $8 million program in northern and southern Lebanon and in Greater Beirut, in cooperation with the University of Balamand and the Lebanese Ministry of Education. The food is prepared and distributed by IOCC with the help of local non-governmental organizations.
###