IOCC Expands Relief Efforts in Syria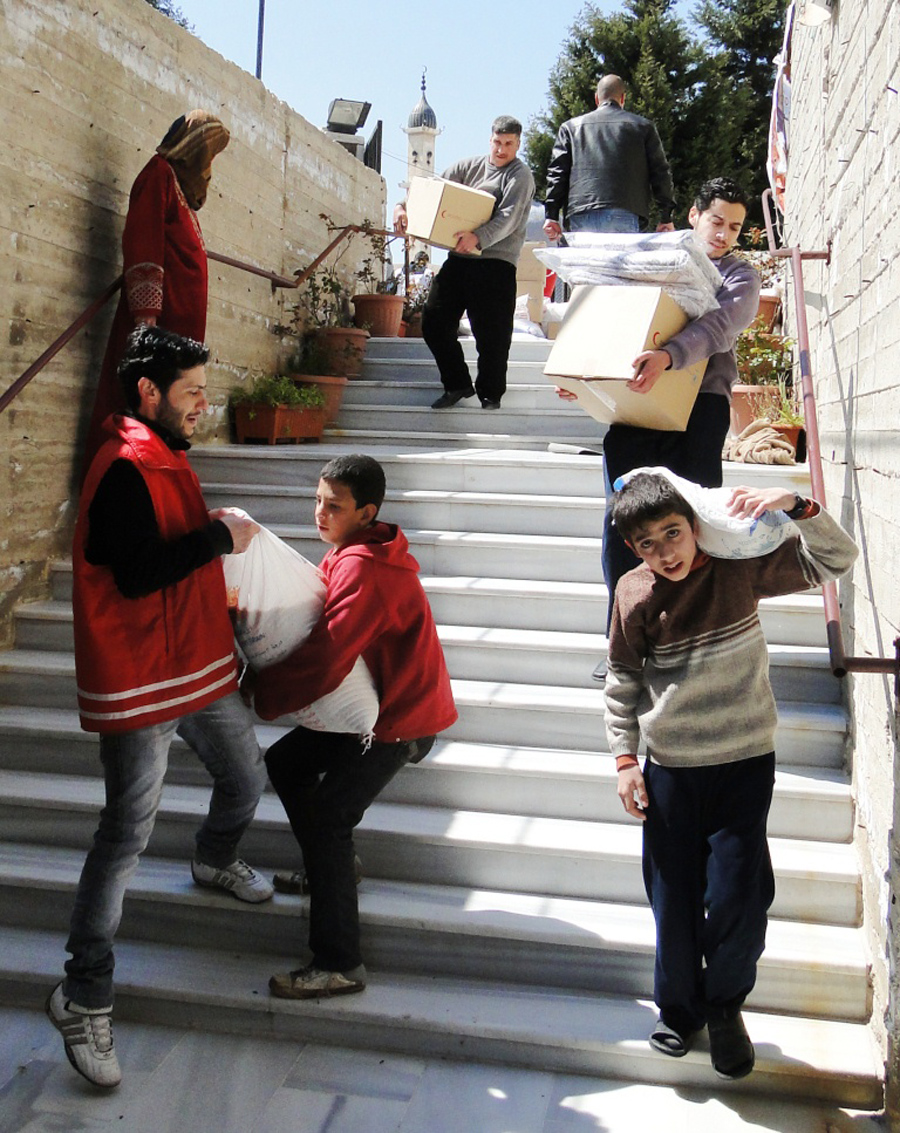 Baltimore, MD (October 29, 2012) — Her days as a kindergarten teacher in Sabil, Syria, are a distant memory for Katia, 20. Eight months ago, she and her family fled their home to escape fighting in the neighborhood and have been displaced ever since. Left with no job and nothing to do, Katia turned to a local church for guidance and is now helping assist other Syrians who were driven from their homes by the conflict that has engulfed Syria.
International Orthodox Christian Charities (IOCC), a member of the ACT Alliance, is working in partnership with the Greek Orthodox Patriarchate of Antioch and All the East (GOPA) to respond to the urgent needs of thousands of internally displaced Syrian families. Katia represents a small but growing group of dozens of displaced Syrians who are volunteering their time and talents in the Homs region to help IOCC distribute bedding and personal health kits, deliver humanitarian aid to people's homes, and work in teams to visit displaced families and assess their most pressing needs for assistance.
The destructive and widespread conflict in Syria has left more than 1.2 million men, women and children displaced in their own country. IOCC is expanding its response to the spreading humanitarian crisis with the staffing of two new regional offices in Homs and Wadi al Nasara, and plans to open a third office in Aleppo. The expansion locations were selected to increase and improve IOCC's access in delivering humanitarian aid to the affected Syrian people in those areas.
His Beatitude Ignatius IV, Greek Orthodox Patriarch of Antioch and All the East, issued an appeal for humanitarian assistance to all Syrians who have been victims of violence in their country. "Syrians, in spite of their religious backgrounds, have the right to live in their country with pride and dignity. It is important for us as Orthodox Christians to help whoever extends their hand to ask for assistance regardless of their background."
For volunteers like Katia, the plight they share with other displaced Syrians has forged a common desire for life as it was before the conflict turned their world upside down. "We are all displaced, so I share the struggles of displaced families and the difficulty of life," she says. "I feel that it is our duty to help one another, to stand together and to bring comfort to one another."
HOW YOU CAN HELP
You can help the victims of poverty and conflicts around the world, like those in Syria, by making a financial gift to the International Emergency Response Fund which will provide immediate relief as well as long-term support through the provision of emergency aid, recovery assistance and other support to help those in need.
To make a gift, please visit www.iocc.org or call toll free at 1-877-803-IOCC (4622), or mail a check or money order payable to IOCC, P.O. Box 17398, Baltimore, MD 21297.
###
IOCC is the official humanitarian aid agency of the Assembly of Canonical Orthodox Bishops in North and Central America. Since its inception in 1992, IOCC has delivered more than $400 million in relief and development programs to families and communities in 50 countries. IOCC is a member of the ACT Alliance, a global coalition of more than 130 churches and agencies engaged in development, humanitarian assistance and advocacy.