IOCC Food and Medical Assistance Reach Pakistan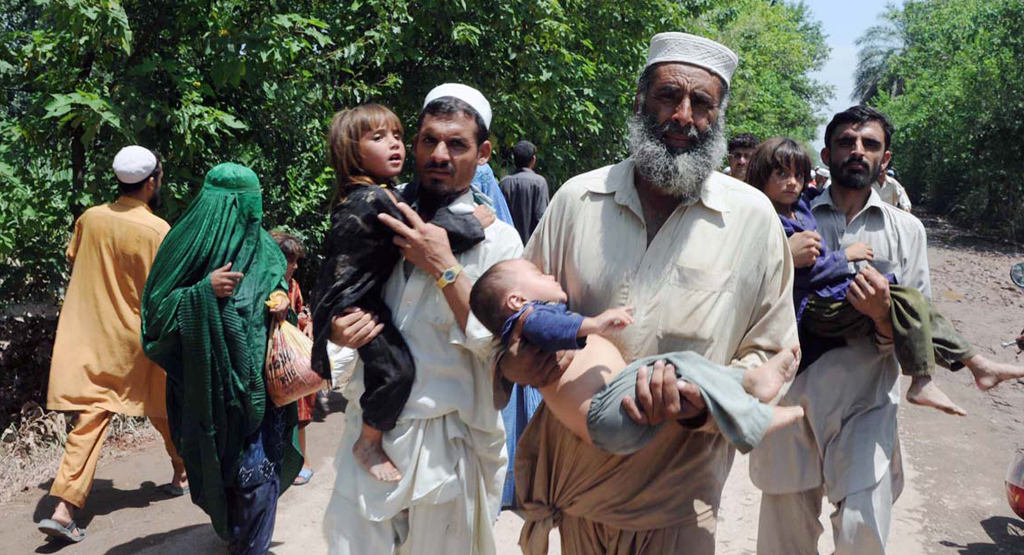 Baltimore, MD (September 16, 2010) — International Orthodox Christian Charities (IOCC) has expanded its distribution of emergency supplies to flood-ravaged areas of Pakistan. While water is receding in many areas of the country, the devastation caused to homes, infrastructure and farm land has left many people without adequate access to clean water, food and medical assistance. Aid provided by IOCC has focused on the medical needs, especially the threat of water-borne diseases, and immediate provision of food supplies through the Orthodox Mission in Pakistan.
In partnership with Medical Teams International, IOCC is providing two cholera kits to areas in the north of Pakistan. The kits will provide medical camps established in four of the hardest hit regions of the Khyber Pakhtunkhwa region. Each cholera kit contains basic pharmaceuticals and supplies to treat up to 700 severe and moderate cases of cholera, including those affected by dysentery. The shipment, valued at $265,000, has been made possible through support from the Greek Orthodox Ladies Philoptochos Society.
"It was with great sadness that we learned of the loss of life and devastating destruction in Pakistan," remarked National Philoptochos President Aphrodite Skeadas, "and this contribution, through IOCC, demonstrates the generosity and will of our chapters throughout the country to assist the flood victims there."
IOCC is also assisting the Orthodox Mission in Pakistan to provide immediate food assistance to over 2,200 people in the flood-affected areas of Wazirabad, Faisalabad, Gujranwala, Pannu Aqil, Nawabshaw and Larkana in River Chenab, Sindh, and Nowshera provinces. A new effort in the hard-hit Nowshera province is targeting families that have not received aid by providing 175 quilts, 50 four-person tents, and school assistance to 25 vulnerable children.
In addition to the food aid and cholera medicines, ten "Ready Relief Boxes" provided from partner Heart to Heart International arrived to Pakistan on September 14. The boxes, with a total value of $75,000, contain essential medications such as pain relievers, antibiotics, vitamins, and rehydration packets which can serve up to 4,000 patients. These will be distributed through the Orthodox Church in Pakistan and longtime ecumenical partner Church World Service. The medicines will be used to assist patients at a hospital in Balakot and to stock mobile health clinics serving the areas of Swat, Kohistan and Mansehra.
You can help the victims of disasters around the world, like the floods in Pakistan, by making a financial gift to the IOCC International Emergency Response Fund, which will provide immediate relief as well as long-term support through the provision of emergency aid, recovery assistance and other support to help those in need. To make a gift, please visit www.iocc.org, call toll free at 1-877-803-IOCC (4622), or mail a check or money order payable to IOCC, P.O. Box 17398, Baltimore, Md. 21297-0429.
###
IOCC, founded in 1992 as the official humanitarian aid agency of the Standing Conference of Canonical Orthodox Bishops in the Americas (SCOBA), has implemented over $330 million in relief and development programs in 33 countries around the world.