IOCC Founding Hierarch Remembered for Vision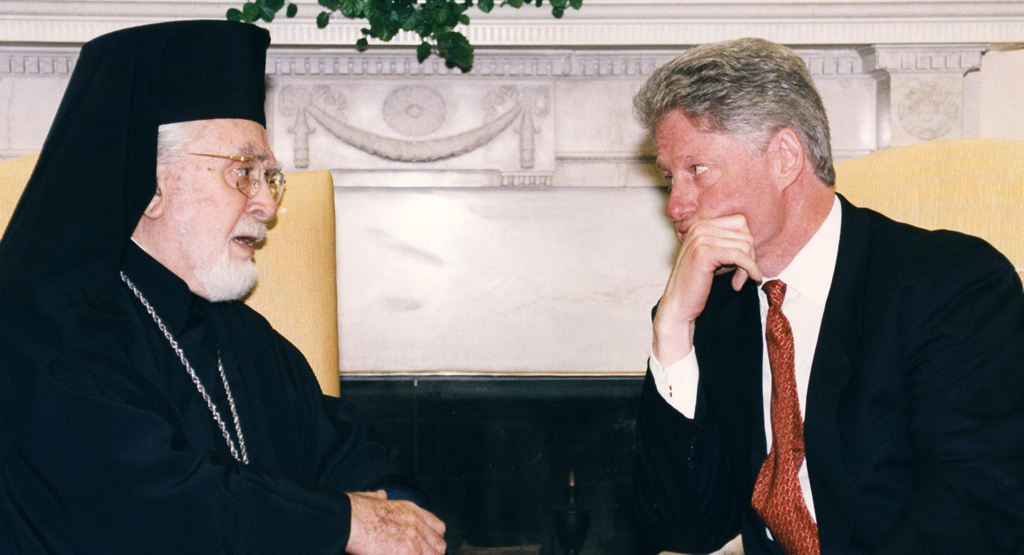 Baltimore, MD (April 11, 2005) — International Orthodox Christian Charities (IOCC) mourns the loss of His Eminence Archbishop Iakovos, the Orthodox hierarch most responsible for the founding of IOCC in 1992.
Archbishop Iakovos, 93, passed away on Sunday, April 10, in Stamford, Conn., from a pulmonary ailment. He was primate of the Greek Orthodox Archdiocese of America from 1959 to 1996.
His Eminence was chairman of the Standing Conference of Canonical Orthodox Bishops in the Americas (SCOBA), the parent body of IOCC, at the time of IOCC's founding in 1992.
"The longtime support and encouragement of IOCC consistently voiced by Archbishop Iakovos flowed out of his larger vision for a just and peaceful world," said IOCC Chairman of the Board Bert W. Moyar. "His leadership helped set the course for what has now been 13 years of effective humanitarian outreach to some of the most vulnerable people in the world."
Prior to 1992, Orthodox Christians in North America had no humanitarian aid agency to call their own. But with the Eastern European revolutions of 1989 and the breakup of the Soviet Union in 1991, the plight of people of all faiths living in historically Orthodox lands came to new light in the West.
SCOBA, under the leadership of Archbishop Iakovos, responded in early 1992 by uniting several Orthodox relief initiatives already under way and joining them into one agency — IOCC.
"This is something that I felt we should do, all the members of SCOBA, in order to solidify the basis of our working together," Archbishop Iakovos said in an interview in 2002. "It is a great project, but it needs the help and the assistance of all, and especially of all the Orthodox."
IOCC Executive Director Constantine M. Triantafilou praised Archbishop Iakovos as a visionary leader. "His faith, courage, dignity and love were exemplified in his life and ministry," he said. "We are saddened by his passing but know he is resting in peace with our Lord. May his memory be eternal."
###