IOCC Frontliners Respond to Tornado Survivors in Central Oklahoma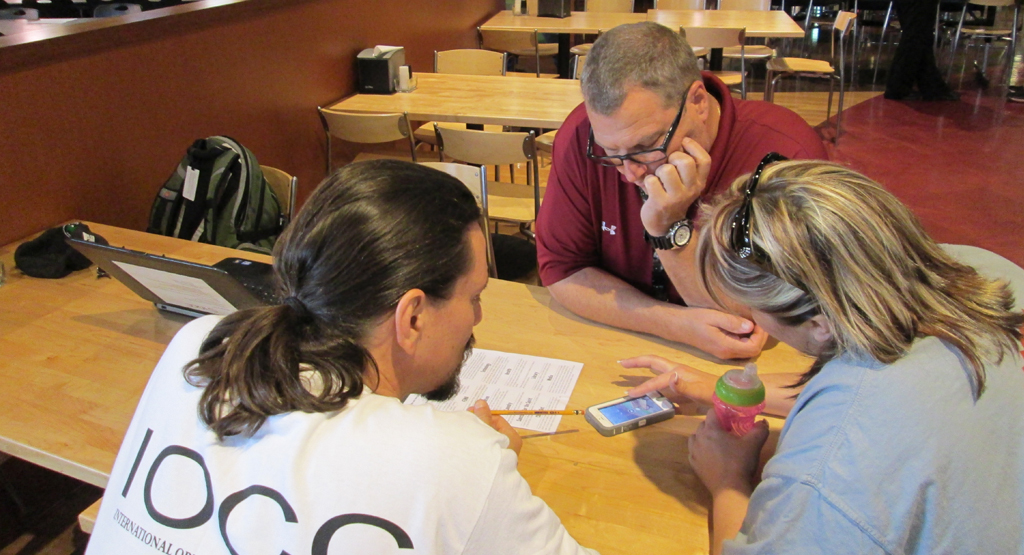 Fr. Srdjan Veselinovich (left) and Michael Claypool view pictures and video of the approaching tornado shot by Brandi, a survivor of the storm who found shelter at the University of Oklahoma campus in Norman, Oklahoma, with nine members of her extended family. Even though the family lost their homes to the tornado, they were able to rescue her nephew from inside the collapsed Briar Creek Elementary School he attended. "I tell people we are not victims, we are just temporarily misplaced," said Brandi, "but we will get back on our feet."
Fr. Srdjan and Mr. Claypool, members of the IOCC Emergency Response Network, or Frontline, were dispatched together with IOCC US Country Representative, Dan Christopulos, to central Oklahoma on May 22 to ascertain how IOCC might most appropriately respond on behalf of Orthodox Christians to the needs of those affected by the recent tornado. The team met with IOCC Board Chairman, Michael S. "Mickey" Homsey, who resides in Oklahoma City, as well as with Orthodox Christian clergy in the greater Oklahoma City area to assess the situation and current needs. The team also met with officials at the University of Oklahoma about helping serve the needs of 300 displaced people like Brandi and her family who are being sheltered in campus housing, as well as 500 first responders staying on the campus.
IOCC is delivering emergency clean-up buckets, personal hygiene kits and blankets that will be distributed through the University of Oklahoma and Holy Ascension Antiochian Orthodox Church in Norman. Members of the IOCC Frontline together with Fr. Justin McFeeters of Ascension Antiochian Orthodox Church are also on campus to provide emotional and spiritual care for the hundreds of adults and children staying there. IOCC will continue to assist in this critical activity while displaced people remain housed at the University.
HOW YOU CAN HELP
You can help the victims of disasters in the United States, like the Oklahoma Tornadoes, by making a financial gift to the United States Emergency Response Fund, which will provide immediate relief as well as long-term support through the provision of emergency aid, recovery assistance and other support to help those in need. To make a gift, please visit www.iocc.org, call toll free at 1-877-803-IOCC (4622), or mail a check or money order payable to IOCC, P.O. Box 17398, Baltimore, Md. 21297-0429.
IOCC also anticipates the need for Emergency Clean-Up Buckets which are in low supply due to the recent response to Superstorm Sandy. For directions on how to assemble Emergency Clean-Up Buckets, please visit www.iocc.org/kits.
###
IOCC is the official humanitarian aid agency of the Assembly of Canonical Orthodox Bishops of North and Central America. Since its inception in 1992, IOCC has delivered more than $438 million in relief and development programs to families and communities in 50 countries. IOCC is a member of the ACT Alliance, a global coalition of churches and agencies engaged in development, humanitarian assistance and advocacy.