IOCC Helping Iraqi Families Address Food Needs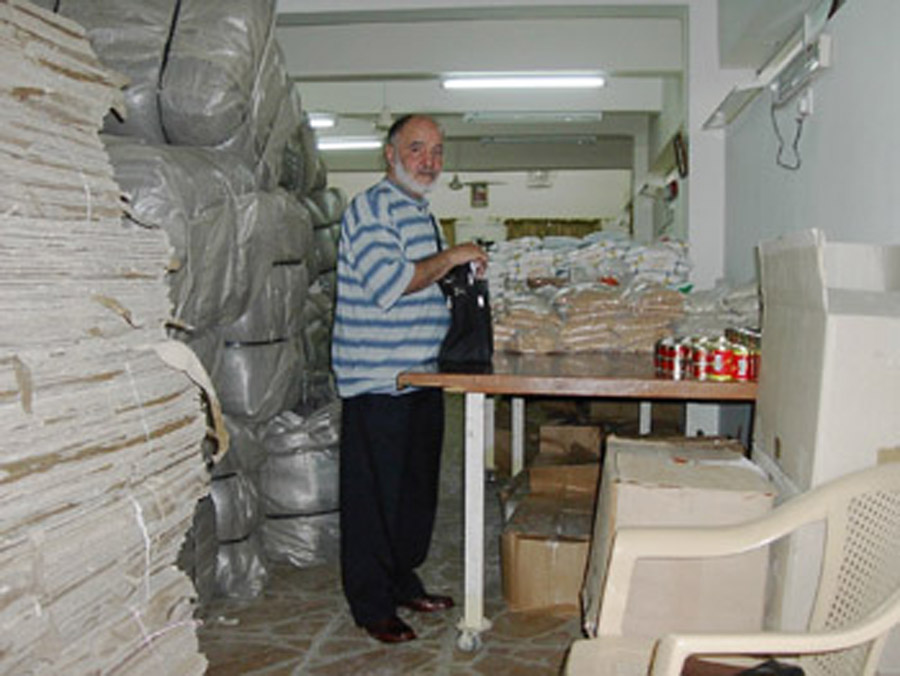 Baghdad (May 14, 2003) — In Baghdad, where 2½ pounds of apples can cost a month's salary, International Orthodox Christian Charities (IOCC) is working with its church partners to improve the food security of needy families.
One thousand IOCC food parcels have arrived in Baghdad for distribution to families who increasingly can't afford even the most basic food items. The problem is not only a lack of food but also the lack of employment and rising food prices, said Edmond Adam, a coordinator for IOCC's partner, the Middle East Council of Churches.
"Millions of families could be without adequate food in a couple of months," Adam said. "The outlook is bleak if people don't start earning salaries soon, enabling them to buy food."
The food parcels were delivered recently as part of a six-truck humanitarian convoy organized by IOCC and other members of the global humanitarian alliance Action by Churches Together.
Each food parcel contains cheese, tea bags, lentils, white beans, chick peas, milk powder, tomato paste, sugar, rice, vegetable oil and other items – enough to supplement a family's diet for a month.
Also delivered were 2.2 tons of high-protein biscuits, 250 tents, 19,200 cans of meat, 6,400 blankets and a 40-foot container of medicines. The medicines were immediately delivered to hospitals in the area.
Distributions are being made through a network of churches and mosques in Baghdad and Mosul, including Baghdad's Antiochian Orthodox parish, pastored by Fr. Younan Yagoob.
Other parcels and relief supplies are being stockpiled in churches for future emergencies. "There is a real fear that current rations distributed to people by the old Iraqi regime under the oil-for-food program will run out mid-year," Adam said, "at which point people could start experiencing severe food shortages."
In response to the current crisis, IOCC is appealing for $1 million to provide emergency relief, life-saving medicines and medical supplies to suffering people in the Middle East.
IOCC's parent body, the Standing Conference of Canonical Orthodox Bishops in the Americas, is encouraging all Orthodox Christians to support IOCC's efforts in Iraq through prayer and giving.
IOCC has worked in the Middle East since 1997 and currently has programs in the Holy Land and Lebanon. Since 1992, IOCC has distributed more than $160 million in relief and development assistance in 21 countries.
###