IOCC Helping Restore Homes and
Livelihoods for Typhoon Haiyan Survivors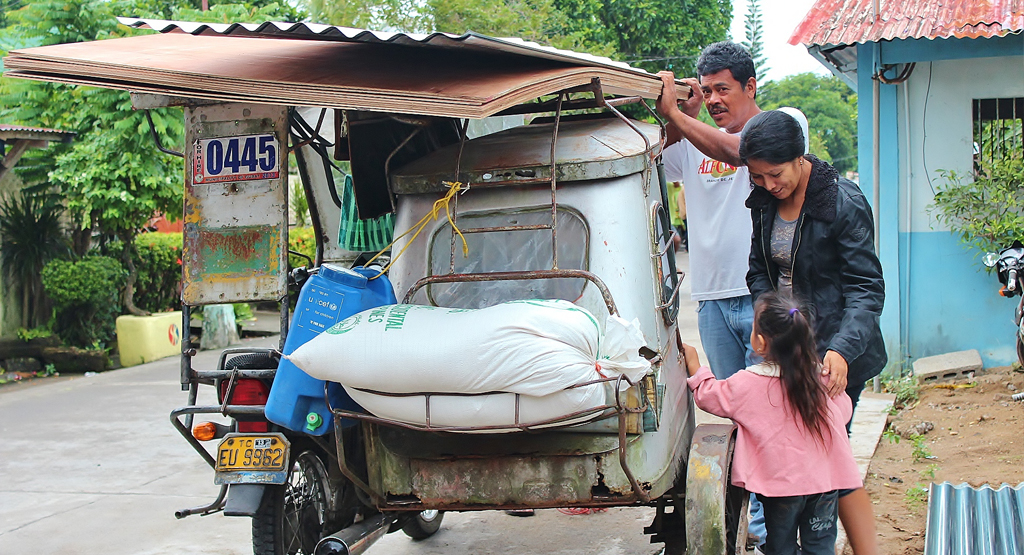 Baltimore, MD (April 11, 2014) — For years, Orlando supported his wife and five children by selling a daily catch of tilapia and milkfish snared from the coastal waters of Luzon, the largest and most populous island in the Philippines. On November 8, Orlando's livelihood was abruptly swept away along with his fishing boat and family home. Typhoon Haiyan unfurled its destructive force of 195-mile winds and torrential rain across the Philippines and demolished everything in its path. The family was suddenly left homeless, destitute and frantic to find shelter, food and a source of income.
Orlando and his family share the plight of more than 13 million people across 41 provinces uprooted by Typhoon Haiyan. More than a million homes were destroyed that day. Months later, millions of survivors are still homeless and poverty has become a way of life for parents like Orlando and his wife, Aludia, who face a daily struggle to feed and shelter their children. International Orthodox Christian Charities (IOCC) and church partners in the Philippines are working to ease the hardship of thousands of Haiyan's survivors with the distribution of much needed food and construction materials, and access to short-term jobs to repair homes and improve living conditions.
Working in cooperation with the Orthodox Metropolitanate of Hong Kong and Southeast Asia and the Metropolitanate of the Antiochian Orthodox Christian Archdiocese of Oceania, IOCC is providing support for families in need from the Sorsogon Province of Luzon Island through a cash-for-work program to repair 36 homes in the area's hardest hit villages. IOCC is providing much of the construction materials, but members from the 36 affected families also contributed construction materials that they were able to salvage or purchase. Selected workers, supervised and assisted by skilled tradespeople where necessary, receive compensation for working side by side with members from the 36 families to help restore shelter. The cash-for-work program provides jobless Filipino men like Orlando with an opportunity to earn much-needed income as they re-establish their own homes and livelihoods.
Funding for these relief efforts comes from the generous support of many including the Greek Orthodox Archdiocese of America. "The funds collected by our Archdiocese for the people of the Philippines are an expression of the sincere concern of our faithful, who are always ready to extend a hand to help those affected by disasters, regardless of where these calamities take place," stated His Grace, Bishop Andonios of Phasiane. "We are pleased to work through IOCC in the Philippines, and we continue to pray for those who lost their lives as well as for those who survived and are on the road to recovery."
IOCC relief efforts in the Philippines have reached nearly 9,000 Typhoon Haiyan survivors with assistance including food, medicine, emergency first aid, water purification tablets, and shelter repair assistance. The need for emergency hygiene kits continues to grow. Instructions on organizing a kit assembly drive can be found on the IOCC website at www.iocc.org/kits.
HOW YOU CAN HELP
You can help the victims of disasters around the world, like the natural disaster in the Philippines, by making a financial gift to the International Emergency Response Fund, which will provide immediate relief as well as long-term support through the provision of emergency aid, recovery assistance and other support to help those in need. To make a gift, please visit www.iocc.org, call toll free at 1-877-803-IOCC (4622), or mail a check or money order payable to IOCC, P.O. Box 17398, Baltimore, Md. 21297-0429.
###
IOCC is the official humanitarian aid agency of the Assembly of Canonical Orthodox Bishops of the United States of America. Since its inception in 1992, IOCC has delivered $438 million in relief and development programs to families and communities in more than 50 countries. IOCC is a member of the ACT Alliance, a global coalition of more than 140 churches and agencies engaged in development, humanitarian assistance and advocacy, and a member of InterAction, the largest alliance of U.S.–based secular and faith-based organizations working to improve the lives of the world's most poor and vulnerable populations.