IOCC Medical Aid Provides Vital Lifeline for Greece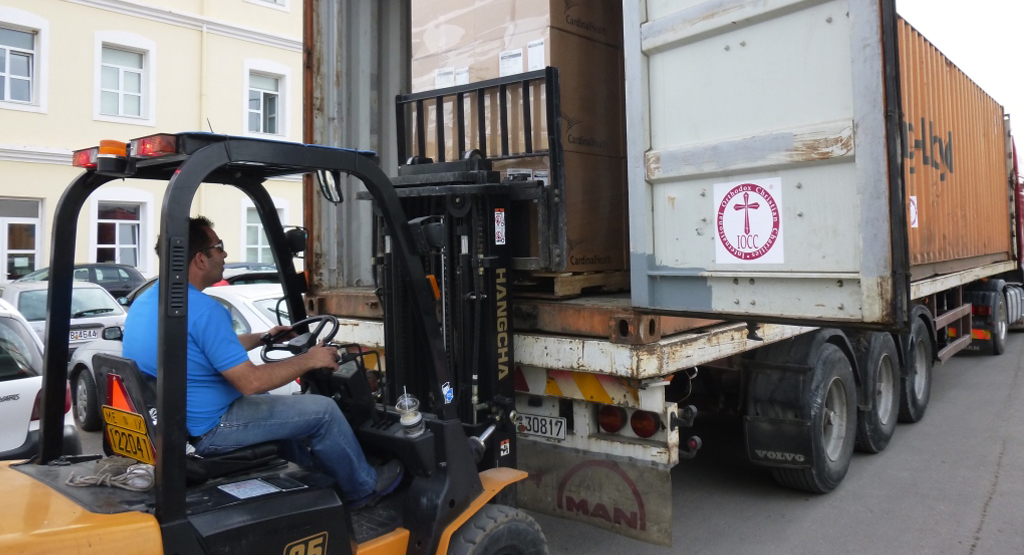 Baltimore, MD (June 28, 2013) — The 52,000 residents of Chios rely on the remote Greek island's sole hospital to help them stay healthy, but austerity measures put into effect by the Greek Government have dramatically reduced funding and crippled the medical institution's ability to function. Doctors and medical staff struggle daily to care for patients without essential medical supplies like surgical gloves, syringes, vials for blood samples and suture needles that the hospital can no longer afford to supply.
International Orthodox Christian Charities (IOCC), with support from American Hellenic Educational Progressive Association (AHEPA) and Chios Society member, Stas Margaronis, delivered more than $740,000 in medical supplies to Skylitsion General Hospital of Chios. The government-run hospital serves the medical needs of young and old living on Chios and the neighboring islands of Psara and Oinousses.
The hospital's administrator said his staff was overwhelmed with emotion by the donated medical supplies and grateful for IOCC's humanitarian assistance to the people of Greece. "This donation will solve the hundreds of daily problems we face due to the lack of supplies," said Pantelis Boubaris. "It is an act of solidarity, not charity, and at this stage the hospital will do whatever is possible to use the specific supplies for the benefit of staff and patients."
Shortages in medical supplies are plaguing public hospitals across Greece and threatening access to quality health care that some of the most vulnerable Greeks – the elderly, chronically ill patients, and the poor – are dependent upon for their well-being. IOCC continues to respond to Greece's deepening crisis with direct assistance and in support of Apostoli, the social service agency of the Greek Orthodox Archdiocese of Athens. To date, IOCC has distributed more than $3.5 million in medical aid to Greek hospitals in greater Athens, Thessaloniki and Crete, and to free clinics across Greece.
HOW YOU CAN HELP
You can help make a difference for people in need around the world, like those in Greece, by making a financial gift to the International Emergency Response Fund, which will provide immediate relief as well as long-term support through the provision of emergency aid, recovery assistance and other support to help those in need. To make a gift, please visit www.iocc.org or call toll free at 1-877-803-IOCC (4622), or mail a check or money order payable to IOCC, P.O. Box 17398, Baltimore, MD 21297.
###
IOCC is the official humanitarian aid agency of the Assembly of Canonical Orthodox Bishops of the United States of America. Since its inception in 1992, IOCC has delivered $438 million in relief and development programs to families and communities in more than 50 countries. IOCC is a member of ACT Alliance, a global coalition of more than 130 churches and agencies engaged in development, humanitarian assistance and advocacy.